TEXA OHW Diagnostic Rental Kit
files/Icon_Black_D.png

TEXA OHW Diagnostic Rental Kit
Black Friday Sale Nov. 24 - Dec 8! At least 5% Off Every Product!
See Details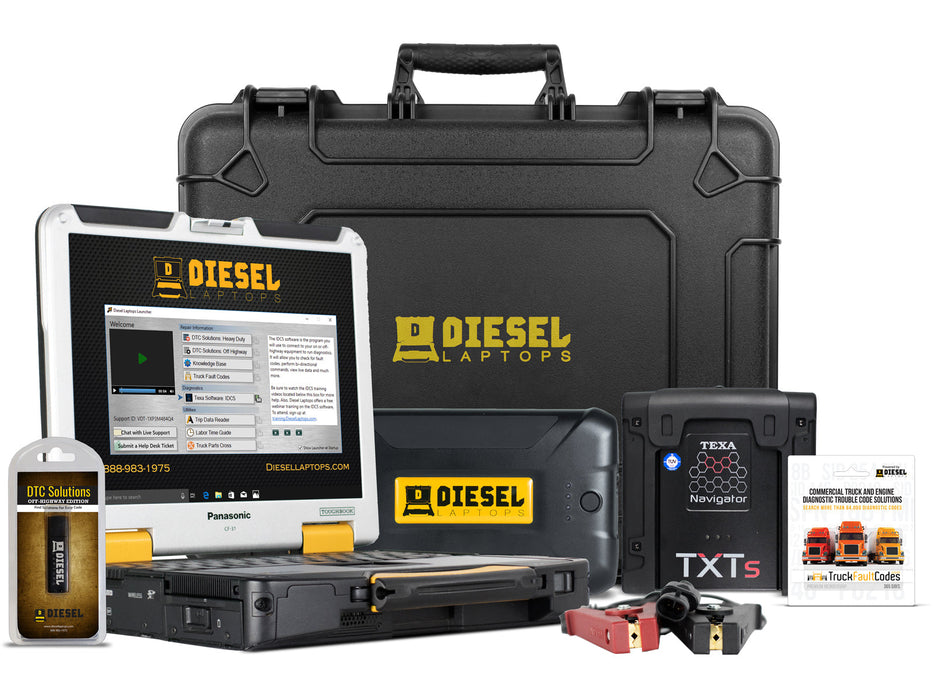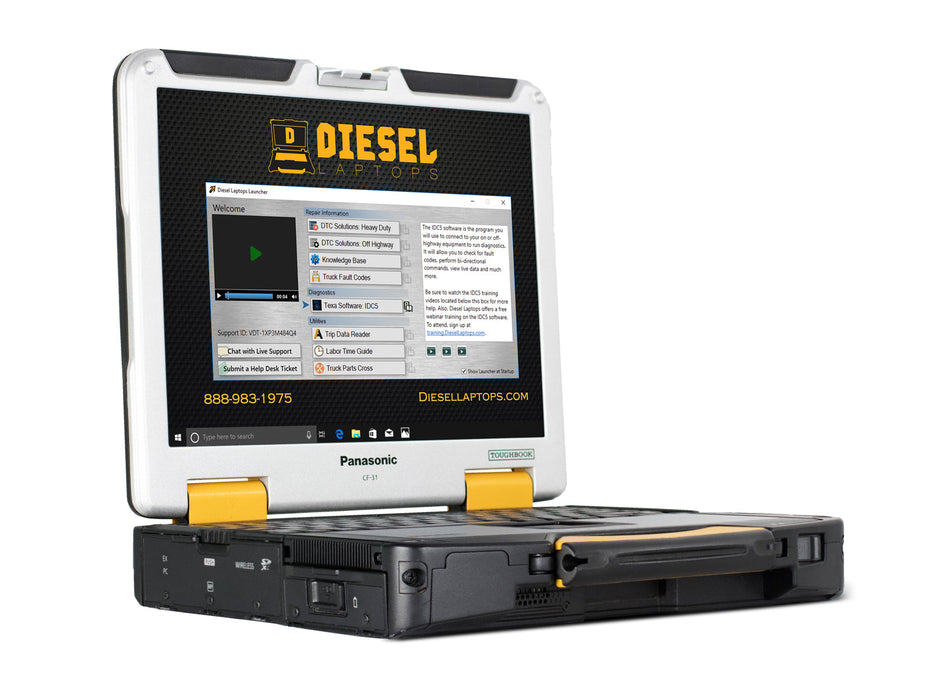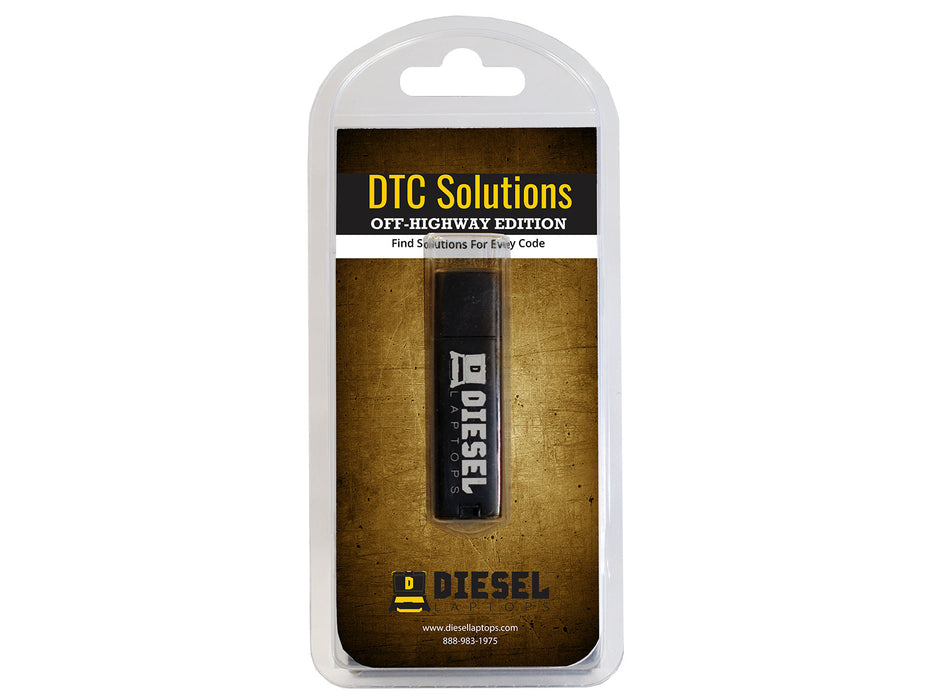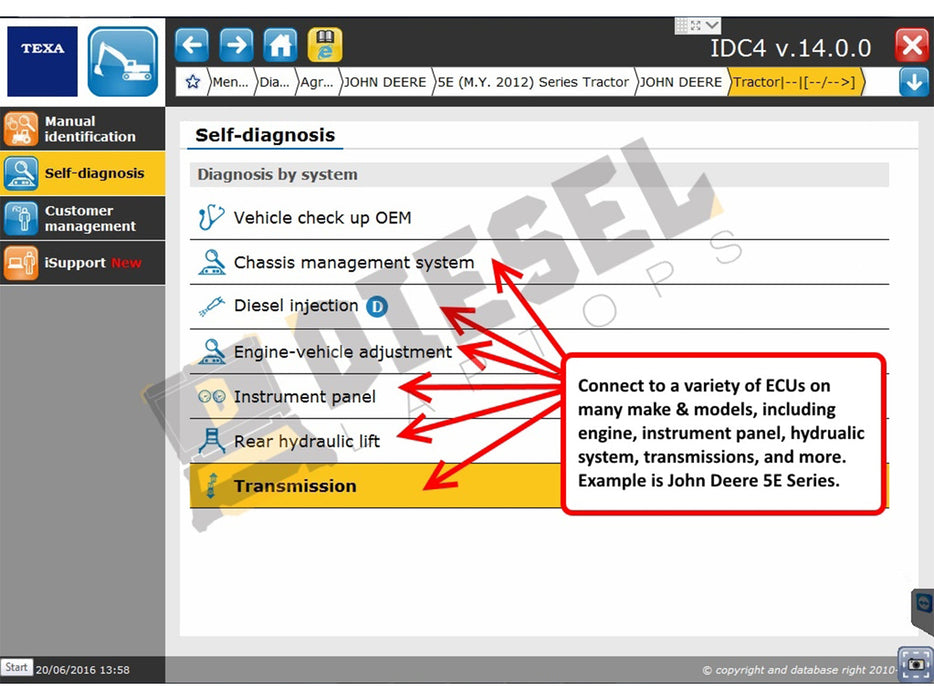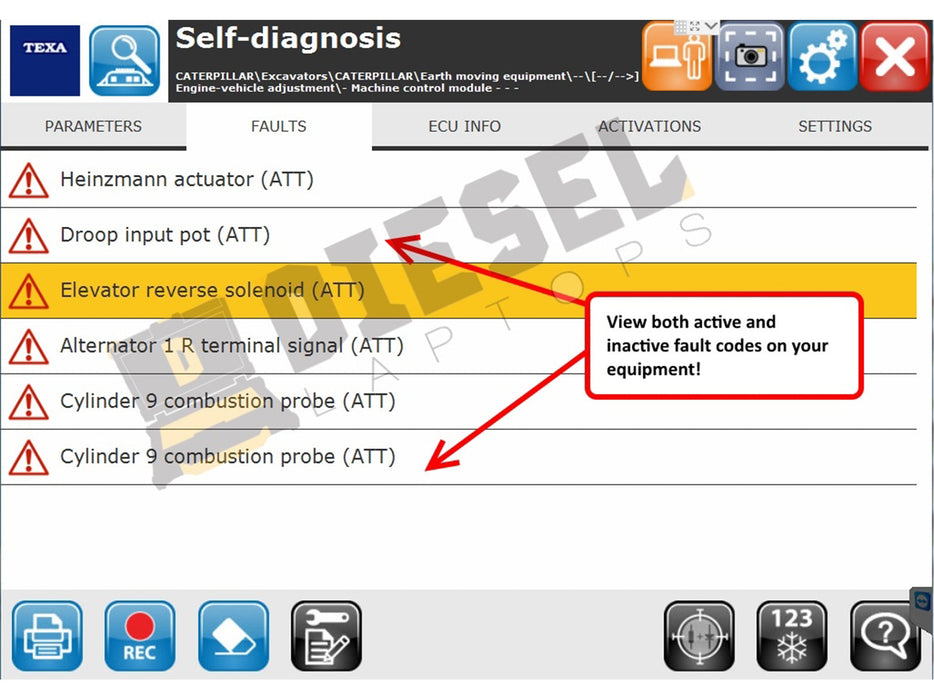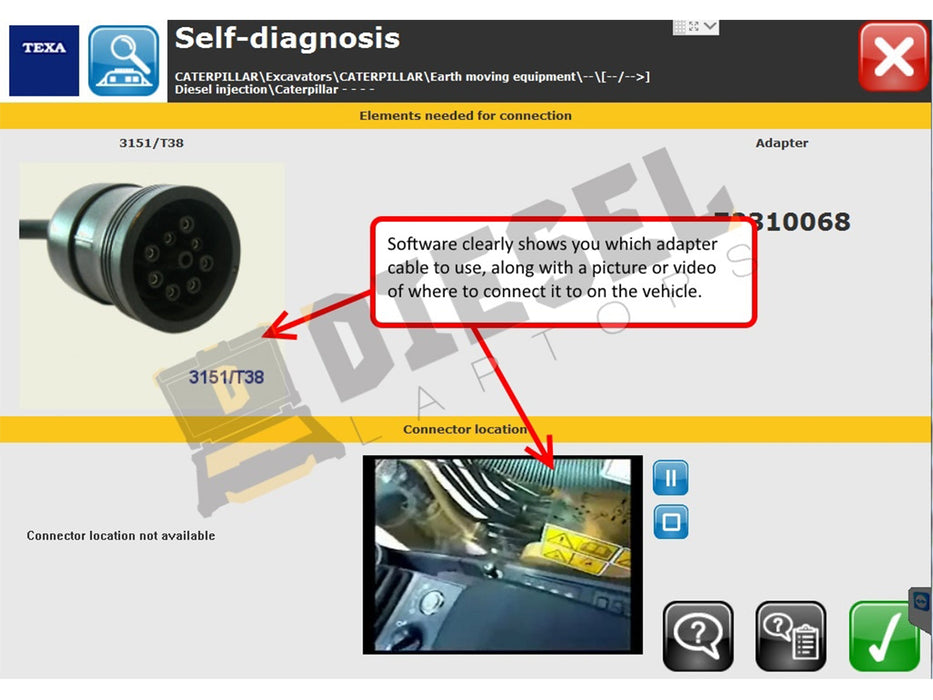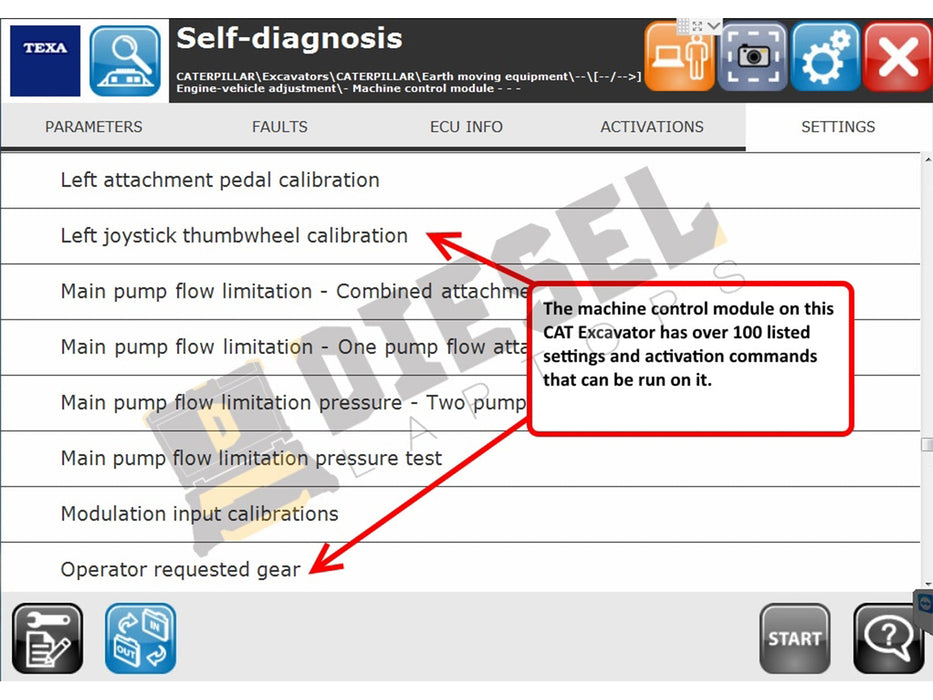 Our premiere dealer level kits from TEXA and Cojali are available to rent. Even better is that every month you rent a kit, a portion of that payment can be used towards a down payment on the purchase of a new unit for when you are ready to buy.
Rentals are month-to-month. Upon signing a rental agreement and your first months payment a kit will be shipped to you.
When it comes to off-highway diagnostics for construction and agriculture equipment such as CAT, John Deere, Case, Komatsu, and more, look no further than the TEXA Diagnostic Scanner for Off-Highway.
Unrivaled Off-Highway Coverage
This tool will allow you to connect to engines, cab controllers, hydraulic systems, GPS, and a variety of others. You can run a variety of commands including stationary regens, cylinder cut-out tests, joystick calibrations, injector programming, and thousands of other controls.
See Coverage
Engines
Caterpillar
Cummins
Detroit Diesel
Deutz
FPT (Iveco Motors)
Isuzu
John Deere
Kohler
Kubota
Mercedes-Benz
MTU
MWM
Perkins
Scania
Sisu
VM Motori
Volvo Penta
Yanmar
Agriculture Vehicles
Agricultural Trailer
Belarus
Buhler Versatile
Carraro
Case IH
Caterpillar
Challenger
Claas
Deutz-Farh
Dieci
Energreen
Faresin
Fendt
Franz Kleine
Grimme
Holder
Horsh
Hurlimann
JCB
JLG
John Deere
Kamaz
Krone
Kubota
Lamborghini
Landini
Laverda
Lindner
Mac Don
Manitou
Massey Ferguson
McCormick
Merlo
New Holland
Renault Agriculture
Ropa
Same
Steyr
Ursus
Valtra
Yanmar
Valtra
Volentiere Pellenc
Construction & Special Vehicles
AEBI
Astra
Atlas
Atlas Copco
Bell
Bobcat
Bomag
Carraro
Case
Caterpillar
CVS Ferrari
Doosan
Fantuzzi
Fiat-Kobelco
Genie
Grove
Hamm
Hidromek
Hitachi (Fiat-Hitachi)
Hydrema
Hyundai Construction Equipment
Iturri
JCB
JLG
John Deere Construction Equipment
Kassbohrer Gelandefahrzeug
Kalmar
Kawasaki
Kobelco
Komatsu
Kramer
Kubota
Liebherr
Link Belt
Mecalac
Merlo
Mow
New Holland
O&K
OshKosh
Perlini
Pettibone
Randon
Rosenbauer
Sandvik
Sunward
Tadano
Takeuchi
Terex
Terex Trucks
Terex Demag
TigerCat
Volvo Construction Equipment
Wacker Neuson
Weidemann
Wirgen
XCMG
Yanmar
Xtreme
Forklifts & Telehandlers
Bobcat
Caterpillar
Claas
Cometto
Dieci
Doosan
Faresin
Genie
Heli
Hyster
Hyundai
JCB
JLG
Kalmar
Kone Cranes
Kramer
Kubota
Linde
Manitou
Massey Ferguson
Merlo
New Holland
Oto
Pettibone
Wacker Neuson
Xtreme
Yale
Desktop Launcher
The Diesel Laptops Desktop Launcher is the quickest and easiest way to access, learn about, or get support for all the software on your dealer level diagnostic kit and it is fully integrated into TEXA's IDC5 Software.
Exclusive Repair Information
When you don't have the best internet connection (or none at all) and can't get to our online Diesel Repair platform, our desktop versions of Diesel Repair and Equipment Fault codes allow you to get quick repair information for fault codes without the need to be connected. Pick your ECU and model, find your code, and see exactly what you need to know about that code, including components to look at for repairs.
See OHW Coverage
Available Coverage
Case Backhoe Loader
Case Dozer
Case Dump Truck
Case Excavator
Case IH
Case Skid Steer
Case Wheel Loader
CAT Engines
Cummins Engines
Duetz Engines
Doosan Excavator
Doosan Wheel Loader
FPT
Hitachi
Hyundai Excavator
Isuzu
JCB Dump Truck
JCB Excavator
John Deere Dozers
John Deere Engines
John Deere Feller Bunchers
John Deere Loaders
John Deere Skidders
John Deere Tractors
Komatsu Dump Trucks
Komatsu Engines
Komatsu Excavators
Komatsu Mobile Crushers
Komatsu Motor Graders
Komatsu Track Dozers
Komatsu Wheel Dozers
Komatsu Wheel Loaders
Kubota
LS Mtron
Mitsubishi
New Holland Engines
Perkins
Shibaura
Volvo Dump Trucks
Volvo Engines
Volvo Excavators
Yanmar Engines
ZF Transmission
Rugged Hardware and Accessories
Rest assured that your software comes pre-loaded on the toughest laptop on the planet: a Panasonic CF-31 Toughbook with 240GB SSD, 8GB RAM, Wi-Fi/Bluetooth, Windows 10 Pro and a 12-month warranty.
This kit also includes a rugged carrying case to house your laptop, cables and accessories.
See Cables and Accessories
Power pack cable kit includes auxiliary cables for powering ECMs on vehicles
CAT Off Highway Cable
Standard 6, 9, & OBDII Cable (Please contact us for pricing & information on other cables)
Technician Training is included
Not only do we offer weekly online TEXA training courses to help you get to know your software, but we offer Diesel Technician training as well.
One free Diesel Technician training class is included with your purchase.
Expert help is standing by
One year of Premium Technical Support is included. During this time, you will have unlimited access to certified IT professionals and field trained Diesel Technicians.
Our experts can guide you through any issue from basic connection issues to complex software issues and everything in between. Multi-lingual support is also available.
Want to grow your business?
Get the top 10 free resources for Diesel Technicians from Diesel Laptops.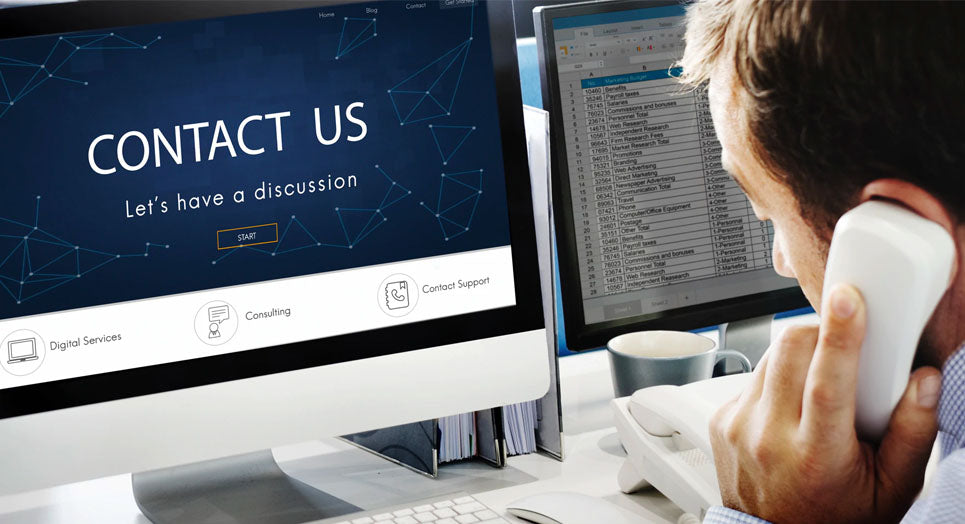 Questions?
If you have any questions about this or any other product, please don't hesitate to contact one of our Diesel Laptops experts at (888) 983-1975 or by clicking below!
Contact Us