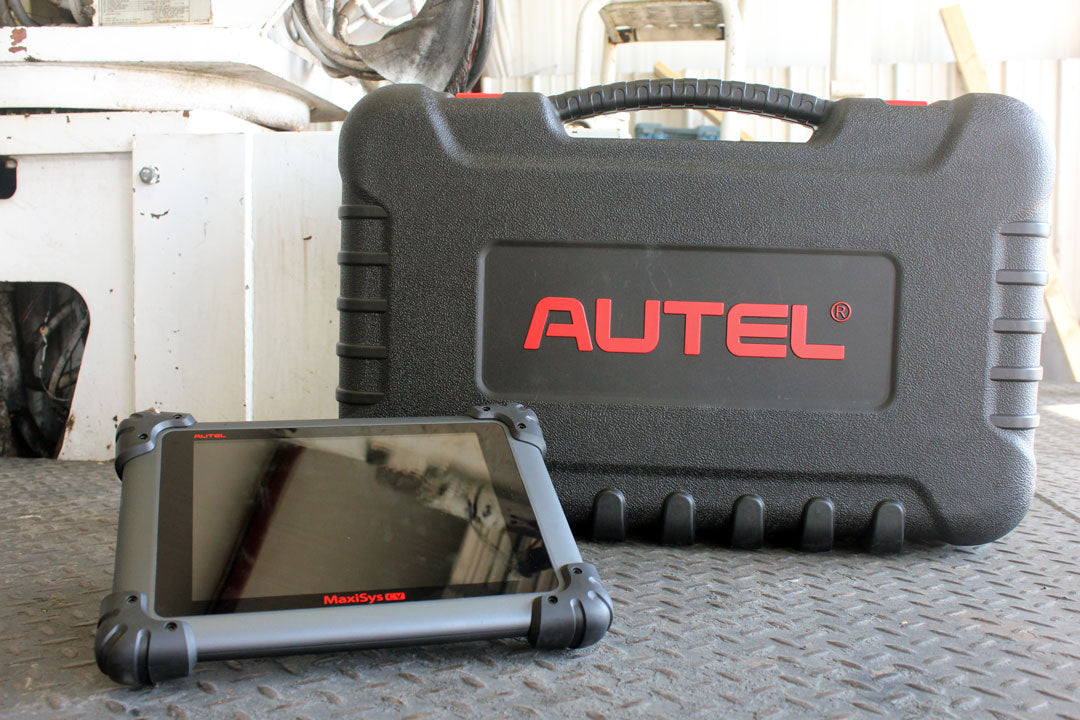 Autel MaxiSys CV (Commercial Vehicle) Review
You may be familiar with a manufacturer of auto diagnostic tools, Autel. Autel has long been in the automotive market, but they have just released their first commercial truck diagnostic kit called the Autel MaxiSys CV (Commercial Vehicle). With a retail price point of $3299, we wanted to see what this tool can do. The part number on this tool is MS908CV, and the kit includes a hard case, ruggedized 7" Android tablet, and all the cables you will need.
As with any tool, we wanted to know more about the performance, so we decided to test it out on a few commercial trucks to see what it can do.
Packaging And Appearance
The kit is packaged very nicely with a sturdy hard case that holds everything very well. Once you open the kit you will find that it is divided and labeled making it very easy to locate what you need. The kit contains the main tool being the Autel 7" tablet, a well-constructed adapter, a few cables, and a universal "build-a-cable" kit. The cables included are: OBDII, OBDII to 9-Pin, OBDII to 6-Pin, and the universal "build-a-cable" options.
The tablet itself is very high quality although it does have high glare on the screen. We found it difficult to use in direct sunlight. The adapter itself is the new Autel J2534 ECU. This is more compact design from previous Autel hardware, and it does have a rugged, sturdy feel to it. If you compare this adapter to one from same Bosch, you can notice the difference right away (The Bosch KTS adapter is made of cheap, flimsy plastic). The tool is set to run Bluetooth, so you don't have that need for cables being ran from the adapter to the tablet.
The system runs on a modified Android system (like you would find on an Android smartphone or tablet) and comes with web browsing capabilities, TeamViewer installed, and Adobe reader installed. The tablet also comes with an 11000 mAh battery, which means you get around 8 hours of continuous use.
Installation And Updates
One drawback to the Autel MaxiSys CV Kit is that it takes several hours to set up. It can be difficult to register the software because you have to register on a desktop computer, not the tablet itself. There are also loads and loads of downloads that have to be done when setting up this system. It is the old cycle similar to Microsoft Updates: Download, install, reboot, and repeat. The system is always asking you to update which can be inconvenient.
Functionality
For us here at Diesel Laptops, functionality is where rubber meets the road. We tested the functionality of the Autel MaxiSys CV Kit using our TEXA System as a baseline comparison. We have found the TEXA Truck system to have the most "complete" multi-brand coverage, and is as close to OEM software as one could expect.
We spent a day connecting to several different trucks, so that we could get a good feel for the level of functionality on this tool. One of the first things we noticed was that the tool has both Euro, Asian, and North American trucks listed in the front menu system. This is rather peculiar, since a lot of the vehicles listed have never been in the United States. The menu lists trucks such as Great Wall, Benz Truck, FIAT, DAF, etc… Our assumption is that Autel sells this unit around the world, so you basically are stuck seeing everything the tool will do.
Another little peculiar thing is that Autel is basically using the same interface and menu system they do on their automobile side. A lot of the icons in the system are pictures of automobiles, not commercial trucks. It isn't a big deal, but it is worth mentioning and it would be nice to see Autel take the effort to change this up.
Cruise control revision successfully performed on Cummins engine
DPF regen on Cummins engine.
List of available special functions
List of available trouble codes on a Volvo engine.
2017 Peterbilt With PACCAR MX Engine
When we connected the Autel MaxiSys CV, we noticed issues right away. The Autel MaxiSys CV gave us the wrong model year and the wrong make of engine (read as a 1987 with Detroit when we actually had a 2017 PACCAR MX engien). The Autel MaxiSys CV also took roughly 2 and a half minutes to scan the truck to see what would come up, which is kind of a pain. Upon using the tool, we looked at the diagnostic codes first. Unfortunately, there is no built-in repair information in this system- it essentially searches Google to get repair information. It does have the freeze-frame feature which can basically take a "snapshot" of the engine which a lot of tools don't have. We did find  the Live Data provided is good and is broken down well. The Autel MaxiSys CV picked up 5 bi-directional commands and it will perform a DPF regen. However, a huge problem is that the Autel MaxiSys CV didn't pick up all the sub-systems such as the ABS system or the body controller.
Using our TEXA as a comparison, the TEXA Truck scanned the truck in about 1 minute compared to 2.5 with the Autel MaxiSys CV. Texa would read the ABS system and body controller, while the Autel MaxiSys CV would not. While the Autel MaxiSys CV would only do around 5 commands, we found the TEXA was able to do much, much more. One of the issues with PACCAR MX engines is that if an emission code is logged for over 10 hours, it then de-rates the engine and logs a de-rate code such as P1595 or P1956.  You then need to fix the original emission code, and then run the EGR de-rate disable command. This is noticeably missing in the Autel MaxiSys CV, while it is present in the TEXA Truck.
2016 Freightliner With Detroit Engine
When we connected to the Freightliner the Autel MaxiSys CV, it did pick up the ABS system in the truck but failed to read other ECUs such as the cab and chassis ECUs. The Autel MaxiSys CV also had some problems reading codes and would only give hexadecimal codes, not flash codes. This hexadecimal codes are not valid, as Detroit uses SPN & FMI for its code information. This means that with the Autel MaxiSys CV you are reading the incorrect codes, and would have no way to troubleshoot them.
The Autel MaxiSys CV also didn't give any repair information, and even some of the codes were miss-spelled ex "oil pressure gage". It also took a long time to connect to the truck. The Autel read the emission year as 2007, which is incorrect, it is a 2016 emission year. The information displayed is not always clear and the readings can be inconsistent.
For Detroit, we did find there was a pretty good selection of bi-directional commands once we got through the initial scan. We first went into "Diesel Injection Detroit EPA07", and we found it read no codes and no commands we could do.
We then went into "Diesel Injection CPC", where we did find more functionality and it read the code, albeit the wrong ones. When we went into Active Tests, it was very confusing as you can see on the video. We had no idea what the commands did, and there were no help menus available. This was also the one tool where we did find that we could change parameters such as cruise speed, PTO settings, and a bunch more. However, we only had the ability to run a handful of bi-directional commands such as DPF regen.
Lastly, we went into "Diesel Injection SCR", which is the ECU that controls ECU functions to see if there were more commands listed. Unfortunately, we did not find any more commands we could perform, and it was a display mode only.
You will see in the video that when we connect our TEXA tool to this vehicle, it performs at a much higher level. There are dozens and dozens of bi-directional commands we can run, including both powertrain components and cab controllers.
2002 Bluebird School Bus With Cummins ISB
The Autel MaxiSys CV scanned this bus very quickly, it read codes, and gave us both the OEM flash codes and generic SAE codes. We were also pleasantly surprised to find that it had built in repair information for the Cummins ISB codes. However, the Cummins ISB was the only engine that had built in repair information on the Autel MaxiSys CV during our testing. Our assumption here is that most of the Cummins repair information is included in this machine, as it is easily obtainable from Cummins.
For coverage, we found that the Autel MaxiSys CV would only run 2 bi-directional commands, which was the Fuel Lift Pump Override and the Cylinder Cutout Test. When comparing that to our TEXA Truck, we have literally over 100 commands & parameter changes we could make. We did find that the Allison Transmission coverage was excellent, which we would call "dealer level".
The one thing we started to notice at this point, is that there is a major feature lacking in the Autel MaxiSys CV. This is the ability to change parameters such as maximum road speed, maximum/minimum cruise speed, idle shutdown timers, etc… In all of the tests we did, we could not find this in any of them.
2013 TERRA Star with Maxxforce 7
First and foremost, the menu system is lacking when connecting to a MaxxForce 7. Most of the menu commands reference MaxxForce DT or MaxxForce 11/13. This makes sense, as those were the more popular engines. However, in our testing we were working on a MaxxForce 7.
We didn't attempt to run any of the commands, but our assumption is that they work. Again, we were unable to change engine parameters with the Autel MaxiSys CV, but we could with the TEXA Truck. The Autel MaxiSys CV could perform most of the bi-directional commands, but the confusing one is that it listed an Injector Cut-off Test. However, the MaxxForce engines do not have a cylinder cut-out test, they only have a cylinder compression test. We didn't try to run it, but we aren't sure how this is even possible.
On the Allison side, the Autel MaxiSys CV performed very well. It read codes properly, along with descriptions. We found that there were dozens of bi-directional commands for Allison such as solenoid test, main pressure test, reset adaptive shift parameters, and tons more.
We also again failed to be able to do anything on the ABS system, as this truck has hydraulic brakes instead of air. Of all the trucks we connected with, only one vehicle the Autel MaxiSys CV saw the ABS module, yet all of them had one.
Summary
As with any diagnostic system there will be a list of pros and cons. In summary, here is our list of issues with this tool:
It reads Detroit codes incorrectly.
Long initial scan times. The initial scan on newer trucks takes 2-3 minutes, and then another 1-2 minutes to connect to the specific ECU after that.
Scans did not always pick-up other ECUs such as ABS, cab controller, chassis controller, etc…
Scan sometimes identified the wrong model year and engine.
Limited troubleshooting. Only Cummins appears to have troubleshooting help. Everything else is using Google.
Could only change engine parameters on 1 of the 4 vehicles we tested.
Limited bi-directional commands. In every test we were able to do much, much more with the TEXA Truck tool.
The Autel MaxiSys CV tool only found the ABS system in 25% of our tests.
Of course, there are some good things about this tool as well:
The hardware is designed well. It will hold up to shop abuse, and the carry case is well throughout.
Allison Transmission coverage is really, really good.
Repair information is included for Cummins.
While not all the commands are listed, the most common ones are usually in there.
While we didn't connect to import trucks (Isuzu, Hino, UD, FUSO), but our assumption is that coverage is probably pretty good on those trucks since the tool is from Asia, and those trucks are as well.
It appears that most of the development of this tool is done in Asia, and we find the coverage of the tool very similar to other import tools from the China/Asia area such as the CanDo HD Pro Tab, XTool, and FCAR. Our assumption is that there are one or two companies in China doing the development work, and it trickles down to these several companies, and eventually makes its way to North America. Even in the marketing videos that Autel has released they are commonly showing the tool on vehicles that aren't even in existence in North America. The videos also talk about coverage on vehicles that don't exist here, such as Benz Bus & FUSO Bus. They also reference "heavy duty manufacturers" such as Ford Trucks, yet Ford hasn't made a heavy-duty truck in over 20 years, when they sold it to Freightliner and it was re-branded as Sterling Trucks. If you don't believe us, you can watch the video below…
With all this being said, as a multi-brand diagnostic tool we would place this one slightly "below average". Autel has done very well in the automobile diagnostic market, and for a first attempt at a commercial truck diagnostic tool it does fairly well. This tool has been out for almost a year now, and Autel is still releasing updates for it. If you had no previous experience with commercial truck diagnostics you might not even know what you are missing. However, if you are spending over $3,000 and expecting to get complete coverage, you will be sorely disappointed. In our opinion, we feel the real value Autel can provide is making a dual auto & truck tool in one machine, since all the hardware is the same. If they can do that, it would be a great dual-use tool at an affordable cost point.
You can view the product list for the TEXA Truck on our website, along with the Autel MaxiSys CV for pricing and more information.