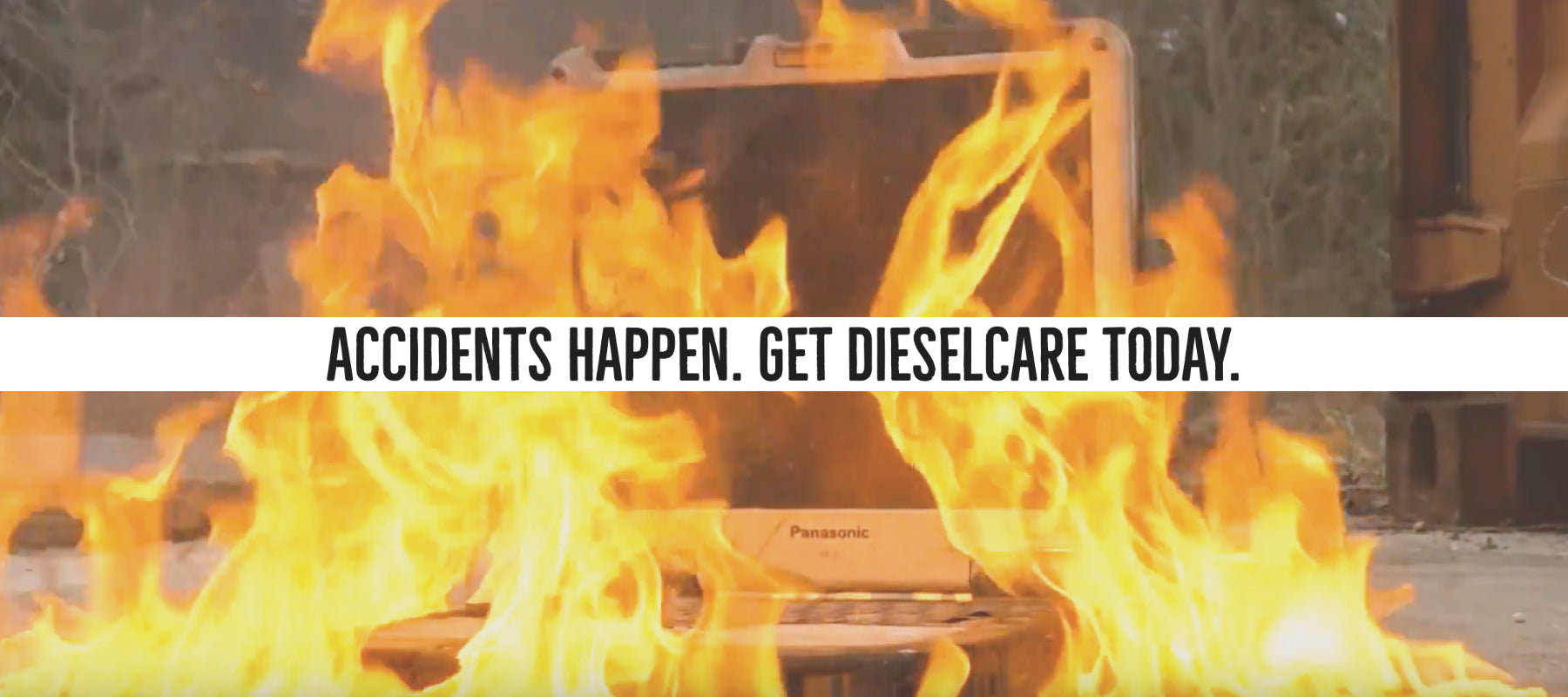 Protect your Assets with DieselCare Premium Coverage
The DieselCare Premium Coverage Program offers added premium coverage that goes beyond any other warranty or support package being offered today. While our Level Three Premium Support Packages (such as the TEXA Truck Level 3 Support Package) offer replacements for laptops and components due to defects, they do not cover accidental damage, complete loss or theft. For that type of premium coverage, you will need DieselCare Premium Coverage.
Program Overview
DieselCare grants you a free replacement item if you experience EXTREME circumstances that go beyond typical warranty coverage. This deal covers the following:
  Accidental Damage*
  Complete Loss*
  Stolen Equipment
Eligibility & Terms
All products purchased from Diesel Laptops are eligible for this program. You may purchase a DieselCare plan only at the following times:
With the initial purchase of your product.
Up to 90 days after the initial purchase of your product.

If purchasing within 90 days of receiving your product, please give us a call at (888)983-1975x1 so we can apply the coverage to the correct original invoice.

When purchasing a renewal for your TEXA or Cojali Kit.
Please note: Your DieselCare coverage will either start the day you purchase an item/kit or will be backdated to the original invoice date if purchased within 90 days.
*DieselCare is intended to cover situations that fall outside of normal warranty. Situations may include but are not limited to: 
   Running over equipment with your vehicle
   Dropping your equipment
   Water Damage
   Fire Damage
   Static Discharge Damage
Customer Responsibility
To file a claim, you will need to call our Technical Support Team at (888)983-1975 x2 for an authorization number. You will then need to fill out the DieselCare Claim Form on our website. Also, note that for all claims, we will request verification of the damage, complete loss, or stolen equipment. Examples of proof include your providing us pictures, police reports, or signing an affidavit. While not required for each claim, Diesel Laptops does retain the right to request these items.
If you have any questions on which situations are covered, give us a call at (888)983-1975x1.
---
Limited time offer
For a very limited time, DieselCare Premium Coverage is available to all Diesel Laptops customers, regardless of the date of purchase. From now until April 30, 2020, we are waiving the 90-day limitation to include all past purchases. During this limited time offer, when you purchase DieselCare Premium Coverage it will be backdated to your original invoice.
---
DIESELCARE COVERAGE FAQ
What items are covered?
Items purchased on the same invoice as your DieselCare are covered. If you are purchasing Diesel Care with a renewal package or 90 days after your original purchase, you will have coverage on the kit and/or accessories from your original purchase. If you are purchasing Diesel Care within 90 days of the original purchase, please give us a call at (888)983-1975x1 so we can apply the coverage to the correct original invoice.
What events are covered?
DieselCare covers items that have been stolen, lost, broken or damaged.
How long does my coverage last?
If purchased with an item/kit, the coverage will last for 365 days. If purchased within 90 days of your original order, the coverage will be backdated to the original item purchase date.
Can I file more than one claim?
Up to two (2) claims per year may be filed under DieselCare. Claims covered under other warranties do not count towards this limit.
What supporting documentation is needed to file a claim?
Supporting documentation will vary depending on the event. For example, we may request a copy of the police report if the item has been reported stolen. Diesel Laptops does not require elaborate claim forms and will strive to minimize any administrative burden. Our goal is to get you back up and running with a fully functional replacement unit.
Is there a cost for filing a claim?
No. There is no cost for initiating a claim, and Diesel Laptops will cover standard ground shipping for any returned unit or replacement parts. If expedited shipping is requested, you will be responsible for the difference between the cost of the actual shipping method requested and the cost of standard ground shipping.
How do I initiate a claim?
Call toll-free to 1-888-983-1975 x 1 to initiate a claim under the Diesel Care program. You can also call this number for any other questions you may have about the program. What will happen to the item being replaced? If lost, stolen, damaged or destroyed, Diesel Laptops will remove or transfer any software or licensing rendering the reported item inoperable. In the case of malfunctioning items, this will happen only after the replacement item has been shipped.
Can Diesel Care be renewed?
Yes, we recommend Diesel Care be renewed annually to ensure you have continued protection.