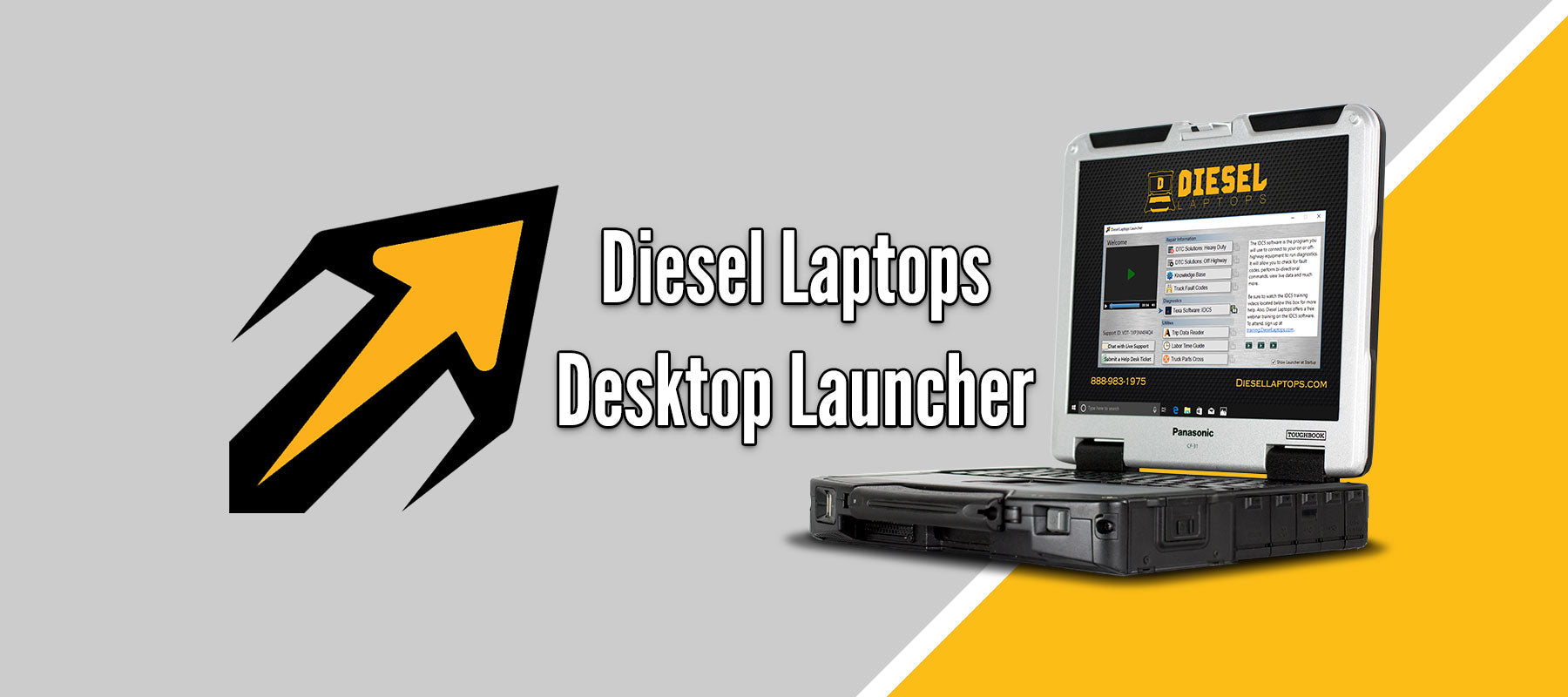 Introducing the Diesel Laptops Desktop Launcher
At Diesel Laptops, we know that you want to be a more productive technician. To do that, you need the right information at the right time. The problem is that with so many applications to keep track of, finding precisely what you need can be complicated. We believe that accessing your software should be quick and easy, which is why we developed the Diesel Laptops Desktop Launcher.
Available now, the Diesel Laptops Desktop Launcher is the quickest and easiest way to access, learn about, or get support for all the software on your dealer level diagnostic kit. 
Access all of your apps in one place
When you buy a dealer level diagnostic kit from Diesel Laptops, it is pre-loaded with all the software you need to be a successful technician. To make you as productive as possible, we put your essential software in one central hub that launches automatically to speed up your workflow and maximize efficiency.
(Please note: your Desktop Launcher may have different applications in the center column.)
Whether you need to access your diagnostic software, repair information, or shop maintenance software, it's all just a click away.
Get the most out of your kit
Our dealer level kits come pre-loaded with a wide variety of valuable software. However, most technicians rely heavily on only a handful of these applications to perform their day to day work and use the others as needed, if at all. When seldom used, unfortunately, the value and benefits of many applications may go unseen.
To eliminate this out of sight, out of mind problem, and to ensure you get the most out of your Diesel Laptops kit, the Desktop Launcher provides brief descriptions and explainer videos for each program that is pre-installed on your laptop.
To access this information, hover over the application name in the center column, and a description of the program will appear in the righthand column. A brief explanation video will appear in the upper lefthand corner. To play the video, click the play icon in the center of the video thumbnail.
Support when you need it
If at any time you find yourself needing to contact our US Based Technical Support team, you can either Chat with Live Support or Submit a Help Desk Ticket right from the Desktop Launcher. 
In the event that you need to call our Technical Support team at 888-983-1975 ext 2, you can save time by having your Support ID ready which is listed in the bottom lefthand column of the Desktop Launcher.
Available Now
The Diesel Laptops Desktop Launcher is now shipping on all new TEXA, Cojali, and Diesel Laptops Universal laptop kits. Try it today and speed up your workflow to be more productive than ever.
---
POST UPDATE - MAY 27, 2020
Free Update for Existing Customers
Note - if you have purchased a qualifying TEXA or Cojali Diesel Laptops Dealer Level Kit or a Diesel Laptops Universal Kit in the past twelve months, the Desktop Launcher is available as a free update.
Simply contact Technical Support for assistance in downloading and installing this update. Technical Support: 888-983-1975 opt 2. 
---