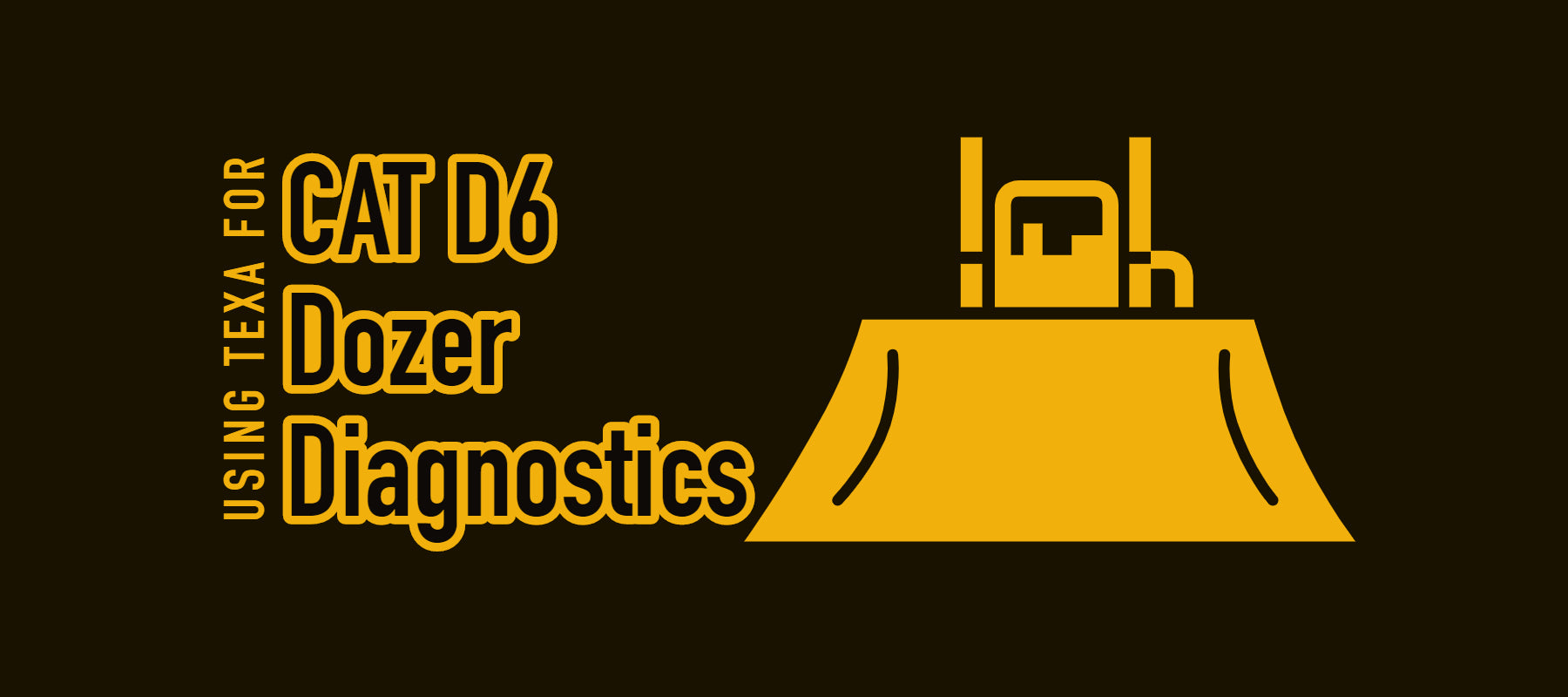 Cat D6 Dozer Diagnostics Using TEXA Off-Highway
TEXA's software is widely known for its ability to diagnose commercial trucks. They have continued to develop their software and now offer one of the only after-market off-highway diagnostic solutions for construction, agriculture and industrial equipment. The bi-directional controls and wide range of multi-brand capabilities spanning from John Deere to CAT make this a worthwhile tool for people that work on a variety of makes and models.With so many pieces of equipment in the off-highway world, and very few other after-market options, the first version of the software left a lot to the imagination. Now 10 years later, the software is on version 20.2 and has improved exponentially. It has expanded from its original focus on agriculture equipment and now includes major makes and models that are commonly worked on in the Ag, Construction and Industrial sectors. TEXA has regular updates to their software, so it is constantly improving. Those of you that already have the kit may have seen the latest one pop up on your screen on December 9th. 
What Can You Do on a CAT Dozer using TEXA TXT?
Today we will be looking at its functionality for CAT D6 Dozer on the TEXA Off-Highway Package.
This piece of equipment is found under the Construction module. To start off we ran a system scan to see what's on this machine. The software will show you where to find the data link. In this case it is in the cab, but it varies for each piece of equipment.
Engine Functionality
We will look at the engine functionality first. This allows us to view & edit important information including:
Parameters – see live data and dashboard
Fault Codes
ECU Info
Activations – including cylinder cut-off, error clearing, injector solenoid test, reading speed limiter
Settings- DPF manual regeneration, engine fan purge cycle duration, engine fan purge cycle interval, engine fan reversing feature, engine fan type configuration, engine idle shutdown ambient temperature override enable status, equipment ID, Ether solenoid configuration, high idle speed, injector exchange command, low idle speed, manual injectors coding, powertrain protection reset and test ECM commands
Machine Functionality
In the machine control module, you will still be able to see the parameters, fault codes, ECU info and activations.
The major difference is in the settings tab where you can perform changes such as:
AccuGrade System Installation Status, Add/Delete Security System Keys and Password Information, Air Conditioning system Installation, Automatic Engine Speed Control Delay Time Enable Status, Auxiliary valve solenoid maximum current, Blade angle solenoid maximum current, Blade Control Response Configuration, Cab Air Heater Installation Status, Cab Air Temperature Control System Configurations, Default Gear Ratio, ECM Date/Time (with Time Zone Bias), Fuel efficient reverse default settings, Hydraulic oil pressure sensor installation status, information unit configurations, low system battery voltage elevated idle settings, machine response rate settings, maximum forward/reverse ground speed settings, monitoring mode derates, parking brake lockout configurations, steering modulation settings, steering response rate settings, tilt left solenoid maximum current and tilt right solenoid maximum current settings.
Summary of TEXA Coverage
The coverage on this dozer is thorough. TEXA's software allows you to connect to engines, cab controllers, hydraulic systems and much more. It is fairly easy to use and doesn't require annual renewals. Some users have experienced hiccups when connecting, but this can usually be resolved with a little troubleshooting from Diesel Laptops tech support team. Take a look at the kit here or get in touch with Diesel Laptops for questions or concerns here.