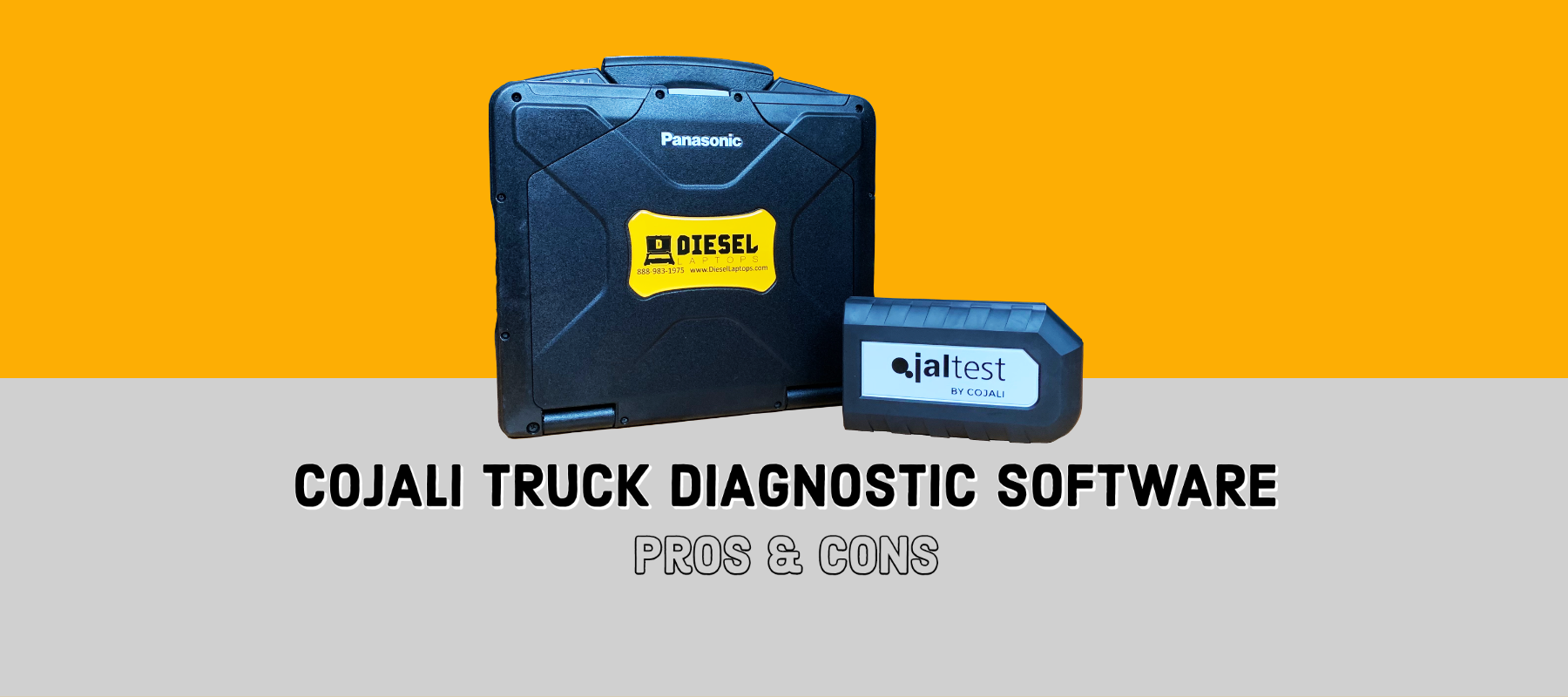 Cojali Jaltest Truck Software Pros & Cons
If you are not familiar with Cojali Jaltest, it is an industry-leading software that offers dealer-level diagnostic solutions for a wide range of commercial trucks, construction and agriculture equipment. It sounds great, but is it worth the money?                                        
Today the Diesel Laptops team runs through the pros and cons of the Truck module on the kit. In the walkthrough video below we use the kit to look at a Cummins Engine, Eaton Transmission, Bendix Radar System and a Paccar Body Controller.
Cojali Jaltest Truck - Pros:
The Cojali Jaltest software allows you to easily hook up to commercial vehicles by choosing the connector type and allowing the software to determine which modules are present on the truck. From there you are able to hook up to all systems on the truck, giving you bumper-to-bumper coverage for diagnostics and guided troubleshooting. The kit makes it easy to view live data in real time, change parameters, reset derates, force regens, test components, calibrate components and more. 
Dealer Level Functionality on 100+ Medium & Heavy Duty Trucks
Covers all systems on the truck. This includes the engine, body controllers, brake systems, transmissions, ADAS systems, trailers, reefer units, even some light and medium duty gas coverage
Eliminates the need for separate proprietary software packages & heavily reduces reliance on dealers for repairs/maintenance
Includes troubleshooting, wiring diagrams, and more
Bluetooth connectivity makes hooking up hassle-free
Construction, Agriculture, and Marine Upgrades available
Impressive updates throughout the year
Easy to use, user-friendly interface
Built in technical support
RP1210 Compliant
Cojali Jaltest Truck - Cons:  
The biggest drawback to the kit is the initial cost. Getting set up with the tool isn't cheap. But the kit drastically reduces downtime and, on average, it pays for itself after 7 repairs. Especially when you consider how much you would normally pay for dealer repairs, or various proprietary software.
Why Purchase Through Diesel Laptops?
The Cojali Jaltest software is a great tool, but when you pair it with all that Diesel Laptops has to offer it becomes a shop must-have. And the best part, we just reduced the price!
Software comes pre-loaded on a Panasonic CF-31 Toughbook with 240GB SSD, 8GB RAM, Wi-Fi/Bluetooth, Windows 10 Pro and a 12-month warranty. It also includes a rugged carrying case to house your laptop, cables and accessories
Comes with 6-Pin, 9-Pin & OBDII Cables
1 Free In Class – Training and 1 Free Online Training Class Included
Exclusive Repair information & apps Included
1 Year of Premium US based Technical Support
Diesel Laptops is the only place you will be able to find all of these add-ons in one easy to use kit. Our customer support and technical support teams are here to offer the best help possible to our customers.