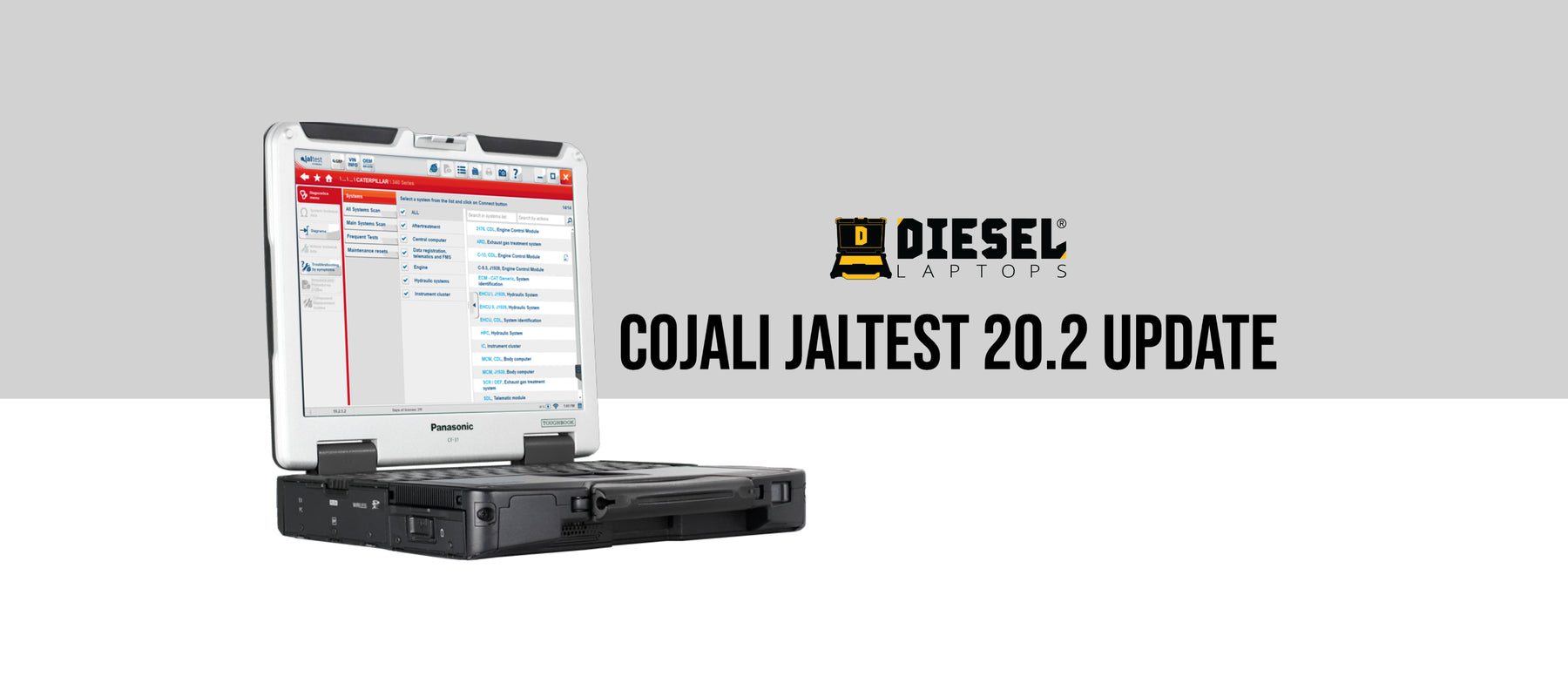 Cojali Jaltest Version 20.2 Update
If you are not familiar with Cojali Jaltest, it is industry-leading software that offers diagnostic solutions for a wide range of commercial trucks, construction, and agriculture equipment. One of the major benefits of choosing this software, other than the ease-of-use, is the impressive updates that they include throughout the year.
Today Cojali announced they will be releasing version 20.2 of their software later this month, this is the second round of updates for 2020. Our Diesel Technicians were excited to see a well-rounded update from Cojali. They highlighted the most notable additions to the software below, click on the module for a complete list of updates:
Agriculture Module
Click here to download the full PDF.  
MANUFACTURER
MODULE UPDATE
KUBOTA
Accelerator pedal calibration.
MASSEY FERGUSON
- Accelerator pedal
- Clutch pedal calibrations
- Gearshift lever calibration
Off-Highway Module (Construction)
Click here to download the full PDF.  
MANUFACTURER
MODULE UPDATE
CATERPILLAR
Ash content reset for c9.3 and c13 engines.
YANMAR
DOC and DPF replacement.
JOHN DEERE
Ash reset for level 21, 23,33 and 34 ECMs.
Commercial Vehicles Module (Trucks)
Click here to download the full PDF.  
MANUFACTURER
MODULE UPDATE
PACCAR
The Paccar section had impressive improvements.
- The PCI KWP2000 system turbo actuator position test was added.
- PCI UDS system Soot level reset command was added.
Cojali Update Highlights
In this update, Cojali was eager to emphasize the improvements and innovations to each element of the tool, including:
Software - Obtain VIN automatically, Define triggers in measurements, Measurement graph display tools, Improvements in the data recorder, System Display in functions, Report sending to an email address through GRP, etc.
Diagnostics and Systems - the coverage has grown with new brands and systems added in the different modules
Technical information for different manufacturers - technical and maintenance data of the vehicle, Wiring diagrams, System Display, and more!
Your Cojali Questions Answered!
Have questions about what was included in the update or want to get your hands on one of these Truck and Off-Highway Diagnostic kits? Our team of Diesel Techs can walk you through your options and answer any questions you have. Give us a call at (888)983-1975 or reach out online here.