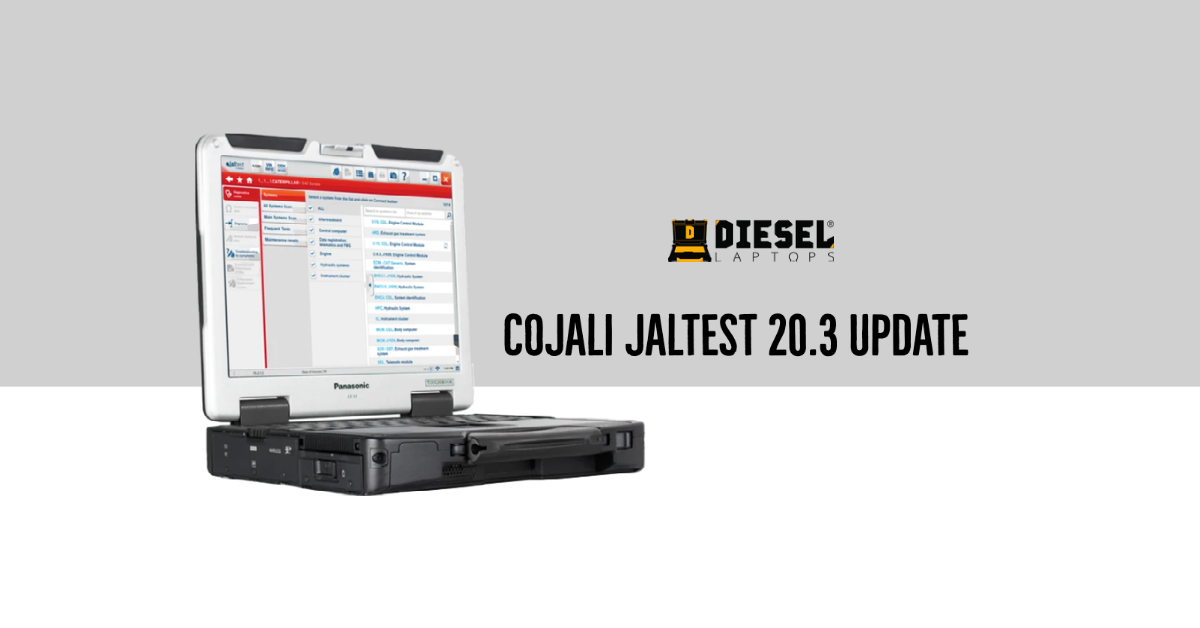 Cojali Jaltest Version 20.3 Update
The Cojali Jaltest software on Diesel Laptop's Off-Highway Diagnostic Kit has become an increasingly popular tool for technicians looking to do repairs on construction & agriculture equipment as well as generators. As the software improves the tool becomes easier to use and has more robust coverage, making it a go-to choice for reading/clearing fault codes, changing parameters, and many other bi-directional commands on over 70 manufacturers.
This week Cojali announced they will be releasing version 20.3 of their software, this is the third round of updates for 2020. Our Diesel Technicians were excited to see a well-rounded update from Cojali.
Click on the links below for a complete list of updates:
Construction Updates Full List
Here are some of the important improvements we saw :
Agricultural Improvement Highlights:
KUBOTA

ARU armrest control system.
VDC, TCU-PST and TCU-KVT transmissions.
VCU1 central computer, parking brake angle calibration.
VCU2 central computer, parameter modification. 
CHALLENGER, DEUTZ-FAHR, FENDT, JCB, LAVERDA, VALTRA, etc. brands.
EEM4 engine control system, injector coding in 3-cylinder engines and Pressure Relief Valve reset. 
Introduction of some stage 5 engine functionalities for Cummins, Deutz and FPT 
Construction (Off-Highway / OHW) Improvement Highlights:
Huge Cummins updates:

New Cummins F3.8, Cummins B6.7, Cummins X15, etc. models to cover the Stage V engines.

DCU functionality for Bobcat
Isuzu 4JJ1 and 4HK1 updates
General Software Improvement Highlights:
Software Updating Made Easier - Updates will now occur automatically, you no longer have to manually perform updates.
Your Cojali Questions Answered!
Have questions about what was included in the update, how to update your kit, or want to get your hands on one of these Truck and Off-Highway Diagnostic kits? Our team of Diesel Techs can walk you through your options and answer any questions you have. Give us a call at (888)983-1975 or reach out online here.