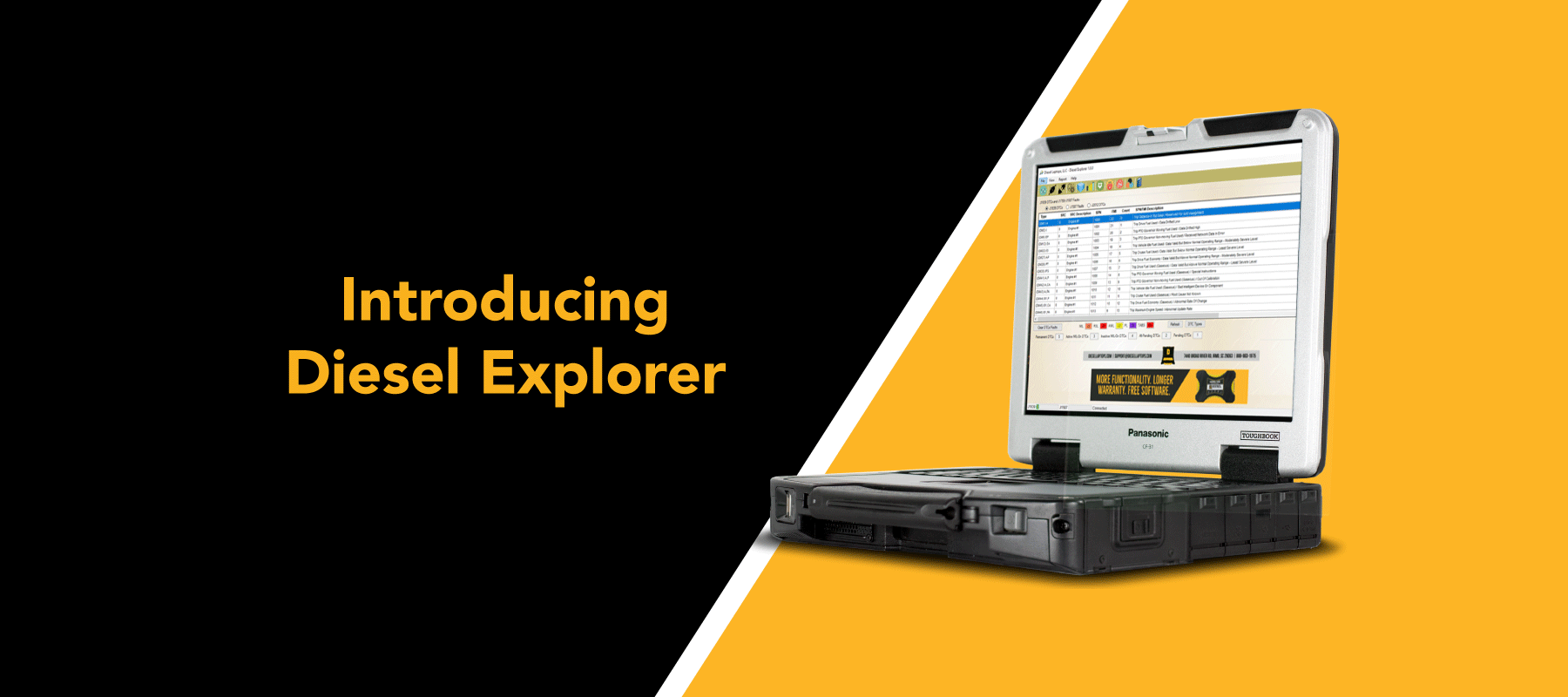 Introducing Diesel Explorer!
Diesel Laptops is excited to announce our brand new diagnostic software application: Diesel Explorer! Diesel Explorer is a comprehensive software used for diagnostics on heavy-duty and medium-duty vehicles. The software will allow you to read all DTCs and faults from all standard vehicle modules while also giving you access to live data and trip information. Diesel Explorer even has built-in HTML reporting features.
Our software is RP1210 compliant so it will work with any normal datalink adapter that you commonly use with other aftermarket and OEM software. Setting up your adapter is made easy with Diesel Explorer because the software provides pictures of different adapters so you can ensure you're on the right settings. 
Easily See Every DTC
The DTCs screen is the default screen that will show up once you've connected your datalink adapter. From here, you're able to view all your active and inactive codes and see code information, including SPN, source description, FMI, count, and code description. You can also easily see your total code count, refresh, and clear codes. Depending on what vehicle you're connected to, you can also see faults on other datalinks.
Information about Components
Here is where you'll go to see all the modules that the adapter and software are picking up as well as information on those modules including manufacturer, serial number, and part number. This screen also has a refresh button so technicians can easily see if a module has fallen off.
View Live Parameters 
This tab will show you live vehicle information that is updated in real-time, including coolant temperature, boost pressure, accelerator pedal position, and more. This data is listed in English, metric, and even binary values when applicable. Because this screen contains so much information, we've enabled a hide column feature that allows you only to see the information you need.
Total Vehicle Data and Trip Data
On this tab you can view static parameters such as fuel economy, total vehicle hours, and total distances. You can choose to view either accumulated vehicle totals or just data for the specific trip. You also have the ability to reset a trip here. 
Built-in Reporting Features
Diesel Explorer has a built-in reporting feature that allows you to save the information obtained during the scan into a neat, organized HTML file. This file can be saved for technicians to use as a triage tool and for shops to quickly see an overall health report for vehicles. The file can also be printed out to give to customers. To see an example of what these reports look like, click here.
Get Diesel Explorer
Diesel Explorer is available for purchase on our website. Usually, it runs at $199 but for a limited time only we're giving it away for free! Get your download
here
. We'll also be including it with any of our kits and bundles that include an RP1210 adapter.