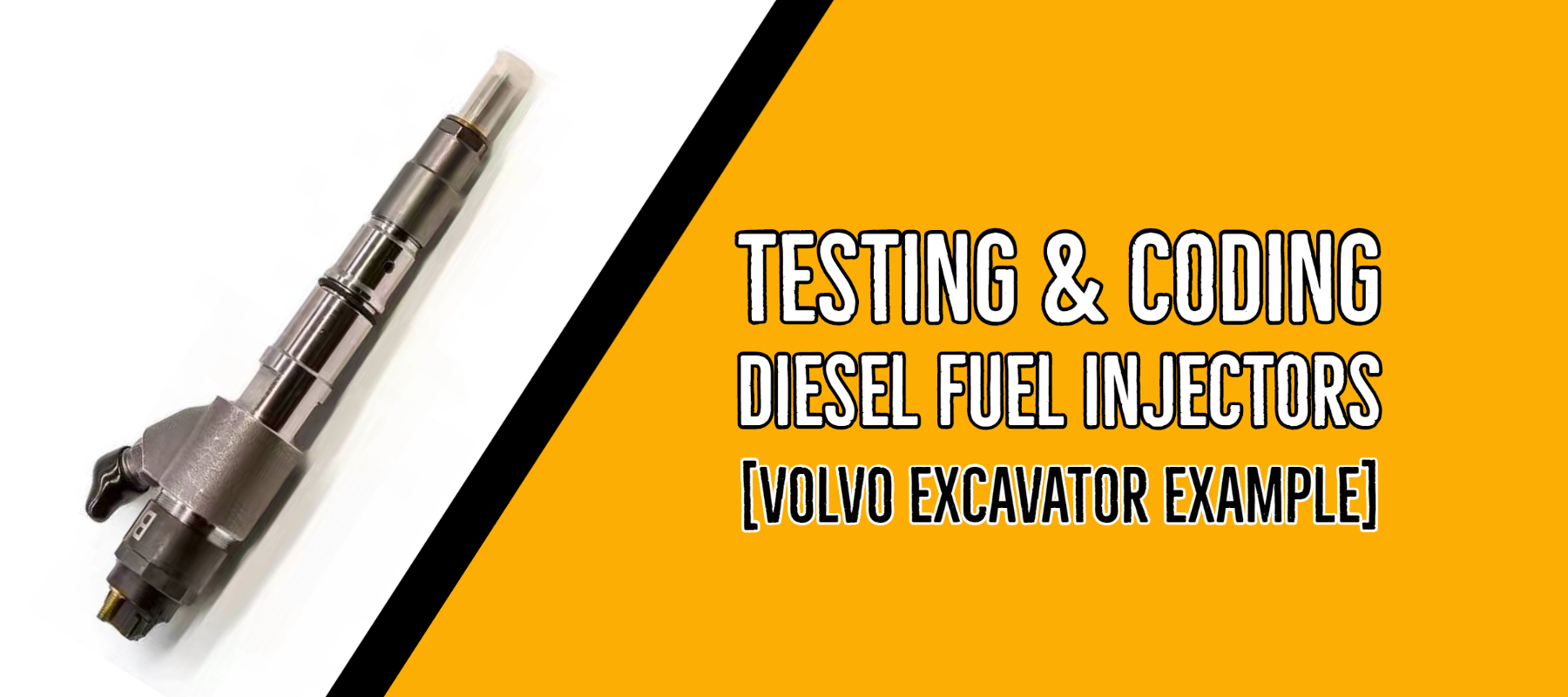 How to Test and Code Diesel Fuel Injectors [Volvo Excavator Video Example]
Today we will walk through how to code an injector on Volvo 350 EL Excavator using a Diesel Laptops Kit with TEXA software and do a quick overview of the TEXA's capabilities & functionality.
Why Diesel Fuel Injectors Fail
Newer common rail diesel engines can operate at a pressure of up to 29,000 psi and can fire two to three times per engine cycle. This is double or triple the wear we are used to seeing in the past. Fuel is now all ultra-low sulfur to prevent damage to your Diesel Particulate Filter (DPF). However, this takes away from the lubricity of the fuel so additives were then added by the refineries to compensate for this. The majority of failures are due to fuel contamination and fuel filtration. 
With Volvo there are typically two tests that can be performed to help diagnose the issue through a diagnostic tool:
Balance test - This is done at idle. If you see several positive compensations the injection interval is increased to try to achieve regular operation. This may mean problems with more than one cylinder. The engine control module (ECM) is trying to compensate for other cylinder(s) not functioning properly. If one or more cylinders are above 80%, there is a fault in that cylinder. 
Cylinder cut out - This is mostly done audibly by listening to see if there is or is not change as a cylinder is deactivated.
Why We Code Injectors
The injector code is programmed to the ECM for accurate injection control. This became more important once emissions systems were in place to more accurately control the flow of fuel in order to accomplish better combustion efficiency. 
Volvo Excavator Injector Coding Steps with TEXA Software:
To get started we will hook up to the Volvo Excavator using TEXAs T11B 8 Pin Cable for Tier 4 Interim and older or OBDII for Tier 4 Final models.
Under the 'Off-Highway' Module select 'Construction Vehicles & Special Vehicles'
Choose 'Volvo CE' as the manufacturer
Choose the model    'Excavator'
Select engine type, which is 'Volvo'    Tier 4 Final
Get connected to the machine, you will not need external power
Under settings tab select 'Injector Coding', press 'Enter'
Verify conditions & 'Confirm'
Now it is going to find the current injector codes
Enter the Injector information and 'Confirm'
Turn the key to stop and 'Confirm' again
Finally, go back to Settings to the Injector Coding option to verify that it was input correctly
TEXA Capabilities on Volvo Excavator
Performing Injector Coding is just the tip of the iceberg when it comes to TEXAs software capabilities. The software has several modules: truck, construction, off-highway (agriculture), and marine. Each of these modules provides the ability to perform bumper to bumper dealer-level commands on countless makes and models. For this demo, we used Diesel Laptops Construction & Off-Highway Diagnostics Scanner Laptop Tool which is equipped with the TEXA Software. This allows you to connect to engines, cab controllers, hydraulic systems, GPS, and more. Here is a quick overview of what you can do with the tool:
Checking Fault Codes
See ECU Information & Part Numbers
View and Adjust 121 Live Parameters
Access to a Dashboard Feature with Picture View That Shows How the System Works
Activations Tab Which Includes Tests such as Direct EGR Valve Command, Error Clearing, Injector Test and Much More
Settings Tab Lets You Force Regens, Run Calibrations, etc.
For a full breakdown of features included in the Texa Off-Highway Complete Kit visit our website or talk to one of our on-staff Diesel Techs.
If you'd like help diagnosing an issue with your Diesel Laptop contact our support.