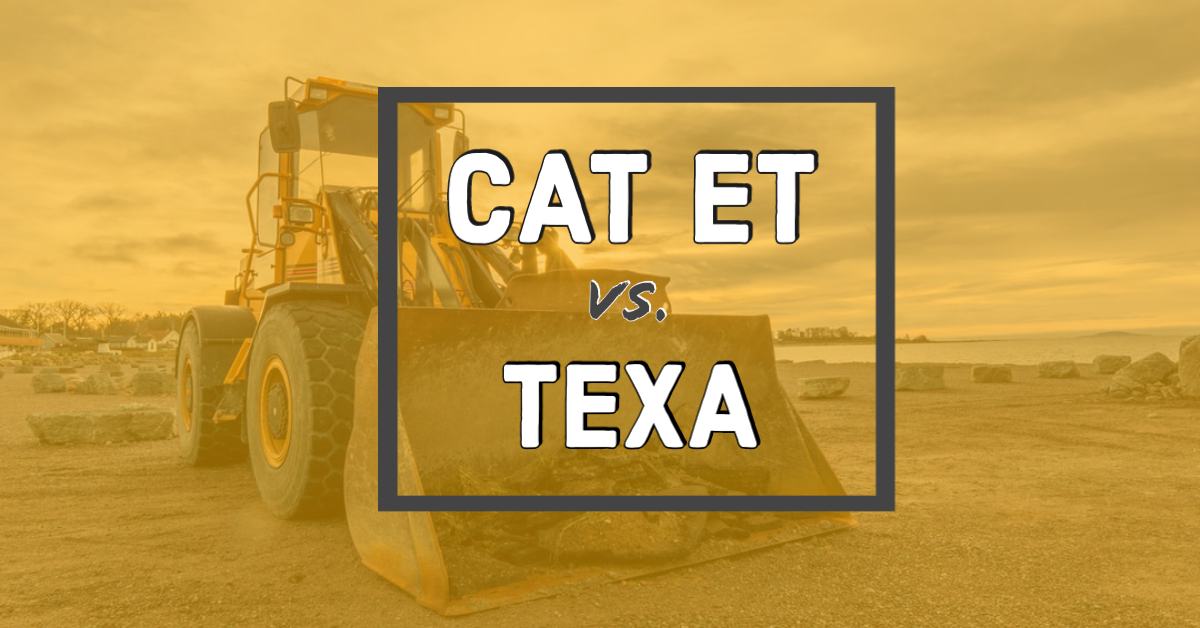 Is TEXA a Good Alternative to CAT ET? [CAT C7.1 Engine Example]
Today we will be comparing Caterpillar's OEM software CAT ET to the TEXA IDC5 software.
The TEXA IDC5 software is a multi-brand aftermarket tool that offers modules covering diagnostics for cars, heavy-duty trucks, marine, motorcycles and off-highway equipment. With the off-highway module, it covers 70+ manufacturers of equipment. This tool not only covers engine diagnostics but also cab controllers, hydraulic systems, transmissions, and more.
CAT ET covers Caterpillar equipment and engines for on and off-highway applications. If you are using it with on-highway trucks the tool can be paired up with your favorite RP1210 compliant adapter however if you are working on offroad equipment you will need the Cat Comm3 to communicate.  
The Breakdown: How Does CAT ET Compare to TEXA on a CAT C7.1 Engine
For today's testing, we found a 2018 bulldozer running a C7.1 and a local company that had ET software so we could really see how they compare on the engine. 
Live Data
We started by looking at live data on the TEXA and found 122 values here which were equivalent to CAT ET as you can see below.
Bidirectional Commands
For the bidirectional commands, these are listed in different places with each tool. We will look at ET first. For our tests there are the following;
Comparing this to TEXA we have all the same tests available with the exception of the wiggle test and the DEF Line Heater Test.  These are located in the "Activations" tab of TEXA with the exception of a few falling in the category of "Settings" with TEXA.
Calibrations and Aftertreatment Functions
Looking at Calibrations and aftertreatment functions we can see CAT ET offers Injector coding, High Pressure Fuel Pump Calibrations, Manual Regen, Aftertreatment Sulfation Recovery, Aftertreatment Recovery Procedures along with the Powertrain Protection Reset.
These same commands are found in the Settings tab of TEXA.
The Best Alternative to CAT ET
Having the OEM software is always the best possible option to diagnose your heavy machinery however when you cover multiple manufacturers, a robust aftermarket tool, like TEXA, with bi-directional commands will be your most affordable option. When we compared the tools side by side we found that they have very similar functionality, with only a few capabilities missing from the TEXA software. Overall, we felt like TEXA was a strong alternative to Caterpillar's OEM software.
Most OEM software cannot be purchased for off-highway diagnostics which makes this a challenge in itself. If you could purchase these, between all of the adapter and software configurations, you would likely be over $20K a year and still have mandatory renewals.  We offer the two best options for Off-Highway Diagnostics, TEXA and Cojali, allowing you to continue working on your own equipment at a fraction of the cost and avoiding those dealer service calls. 
Click Here to View the TEXA Diagnostic Kit Specs
Click Here to View the Cojali Diagnostic Kit Specs