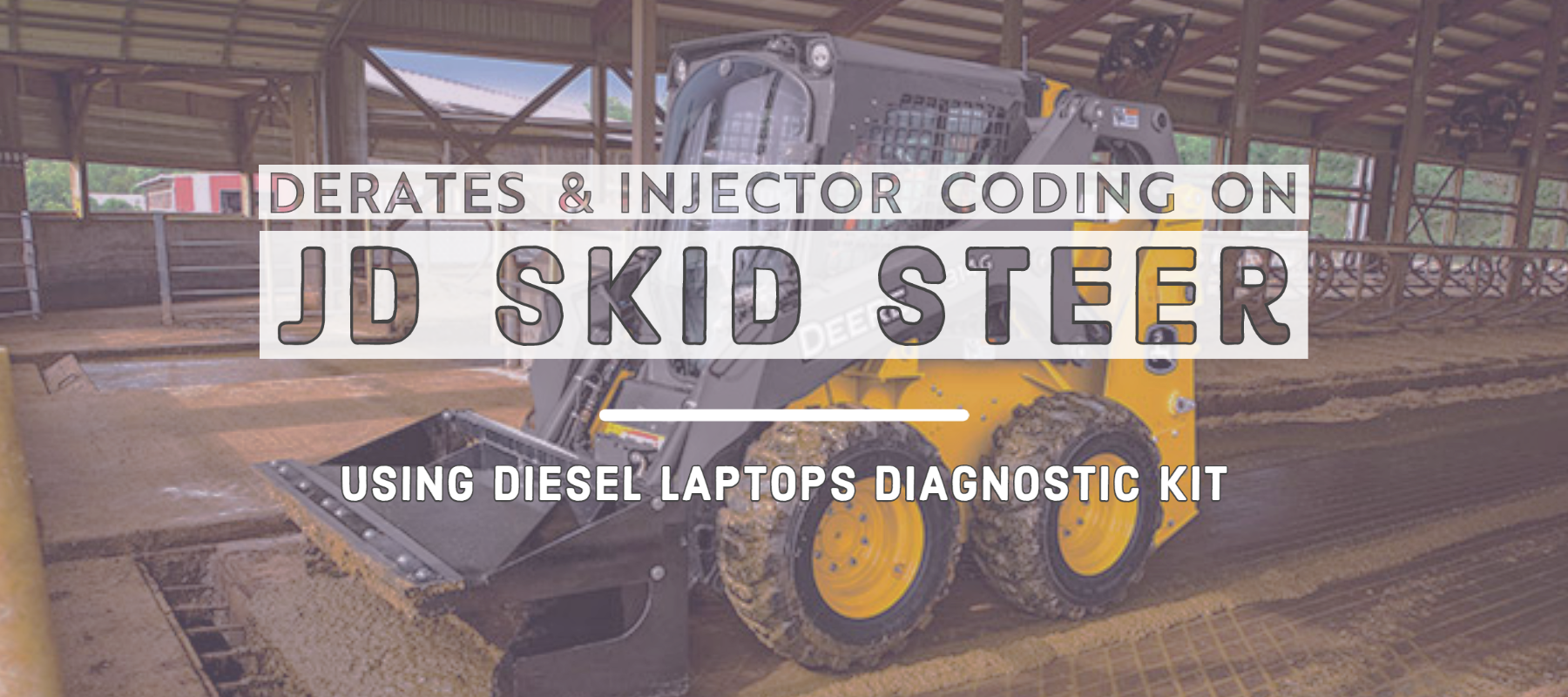 John Deere Skid Steer OEM Capabilities Using Diesel Laptops Kit
If you're working on a John Deere skid steer repair it probably didn't take you long to notice that these machines have Yanmar engines.  These engines do not use the proprietary Yanmar data link to communicate. Instead, they use the standard 9-Pin typical of other John Deere equipment.
By using the John Deere Diesel Laptop Kit we are able to easily connect to look at fault codes, view around 120 parameters, diagnose them with the correct repair information and run many bi-directional commands including:
Perform Regens
Code Injectors
Code the DPF
& Much more!  
Derates on John Deere Skid Steers
Anytime a Yanmar engine, like the one found in John Deere Skid Steers, has an extremely high soot load fault it will throw a derate fault code for "Backup Mode". This is a derated condition. In order to correct this issue the first step of the procedure is to run a "Recovery Regen". During this recovery regen you may notice after an hour the machine stops the regeneration. This means it is not going to clean the filter and we need to replace it.  
With the Diesel Laptop Diagnostic Kit we are able to run all four types of regenerations associated with Yanmar engines and code the DPF or let the ECM know you have cleaned it.  Of course, if you were having a high soot load we need to investigate what caused the issue.  This may be due to a bad injector. 
Coding Injectors on John Deere Skid Steer
The steps below walk through you through the steps to code an injector using the TEXA Diesel Laptop Kit on a John Deere Skid Steer running a 4TNV98 Yanmar engine.
How to Code Injector in Yanmar Engine:
Get connected to your Diesel Laptops TEXA Kit and select your machine (John Deere Skid Steer/Yanmar)
Go to 'SETTINGS' then 'INJECTOR CODING then 'CONFIRM'
Enter the new 8 digit injector code for whichever injector you are replacing
Press 'CONFIRM' and turn the engine off
Wait 2 minutes for the control unit to reprogram itself
Turn the ignition back on
If you'd like help diagnosing an issue with your Diesel Laptop contact our support. To browse diagnostic options, click here.