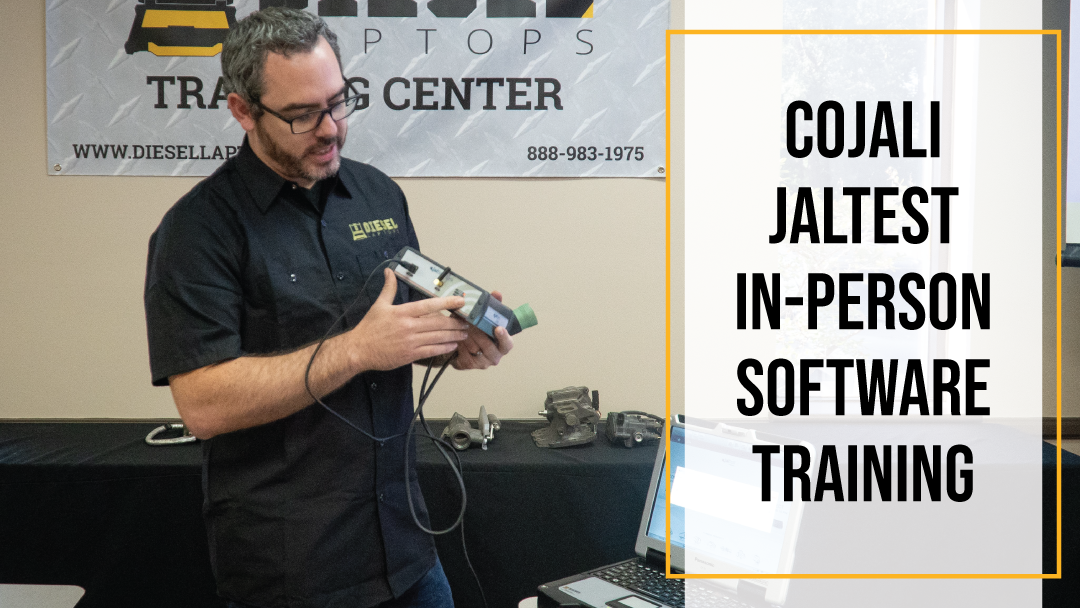 Learn Jaltest in Less Than a Day!
Diesel Laptops is continuing its commitment to customer education with an exciting new in-classroom training opportunity! For the first time, Diesel Laptops customers will have access to hands-on Cojali Jaltest Training designed by Master Certified Diesel Technicians. This class is designed to teach students the ins and outs of Cojali Jaltest software and how to navigate exclusive software available only from Diesel Laptops, such as DTC Solutions, Labor Time Guide, and KnowledgeBase.
The following topics will be covered in this half-day course:
Cojali Jaltest Software
After an introduction and overview of the program, students will learn how to launch and navigate the Jaltest software. By the end of the course, students will be able to read and clear codes, change engine parameters, and perform bi-directional functions such as DPF regenerations and cylinder cutout tests.
Diesel Laptops Exclusive Software
Students will also get an introduction to exclusive software by Diesel Laptops including DTC Solutions, Labor Time Guide, KnowledgeBase, and more! They'll learn how to incorporate these applications within their workflow to enhance the Jaltest software.
Hands-on Instruction
In this portion of the class, students will get hands-on experience using the Cojali Jaltest software on an actual vehicle. Students will change parameters, view live data, learn how to perform datalog recordings, and perform tests on real vehicles at our facility.
Cojali customers who have purchased in the last 12 months may be eligible to receive this class for FREE! To check your eligibility please call 888-983-1975 ext 755. Please note that this training will be held at the Diesel Laptops training facility in Irmo, SC. If you're interested in learning about all of the training opportunities offered by Diesel Laptops, head over to our training website for a complete list!