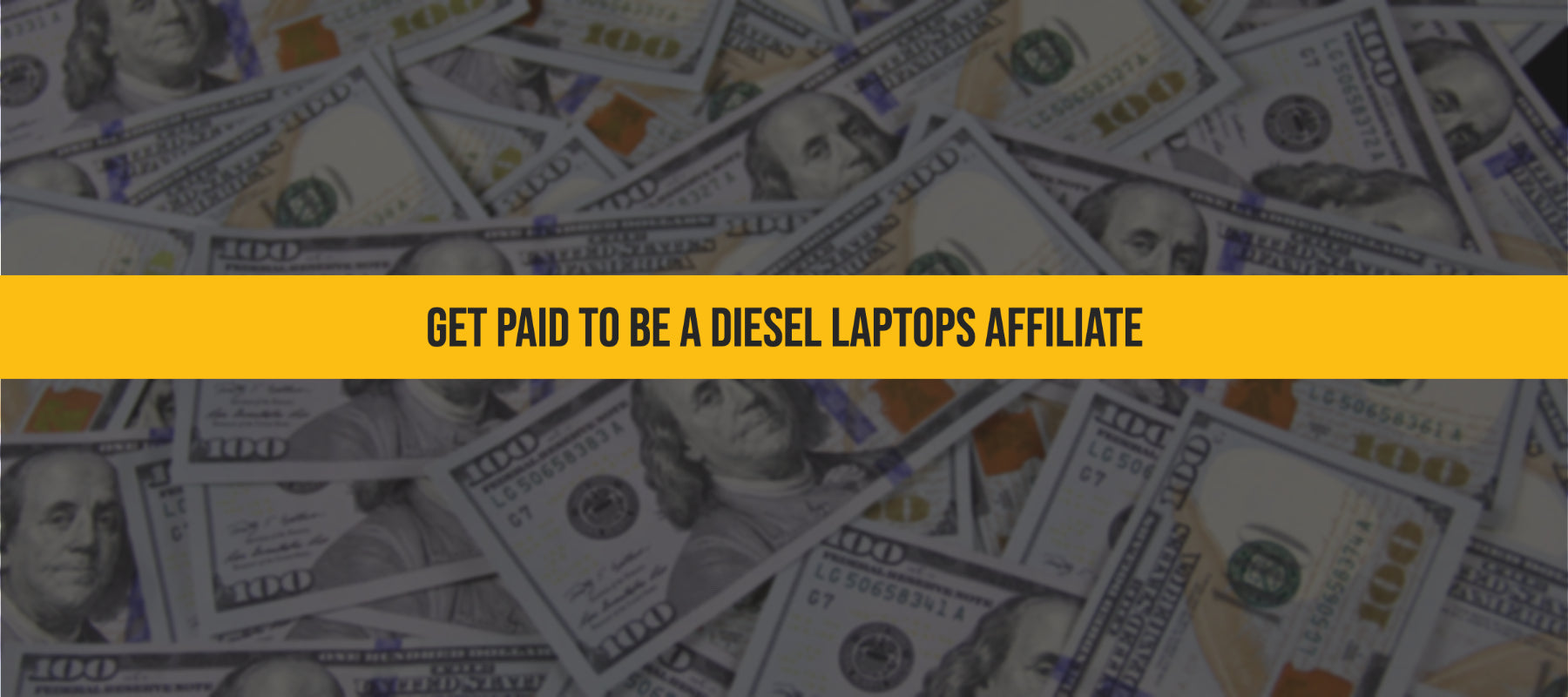 Start Earning Today with the Diesel Laptops Affiliate Program
Do you want to profit from the Diesel Laptops brand name? Join the new Diesel Laptops Affiliate Program and you could start earning up to a 15% commission for a successful referral. 
What is Affiliate Marketing?
Simply put, affiliate marketing is the process of earning a commission by promoting another company's brand. Once you register to become an affiliate, you place an advertisement for a product on your website/blog/social media. When a customer clicks your advertisement and makes a purchase from the website, the conversion is tracked and you earn a commission for the sale. 
How does the Diesel Laptops Affiliate Program Work?
---
Join
It's free and easy to join. You can get up and running today by creating a free account. You will have the option to create an account using your email address or you can create an account by connecting to your Google or Facebook account.
---
Promote
Choose from our products to advertise to your customers.
Whether you are a large marketplace, content site, social media influencer, or blogger, we have simple linking tools to meet your advertising needs and help you monetize.
---
Earn
Get up to 15% in commissions on successful referrals. Earn commissions from all qualifying purchases, not just the products you advertised. Plus, our competitive conversion rates help you maximize your earnings.
---
Affiliate Program Commissions Schedule
This Associates Program Advertising Fee Schedule ("Schedule") is part of the Operating Agreement that governs your participation in the Associate's Program. This Schedule describes the advertising fee rates you may earn as a participant in the Program. It also describes the limitations that apply to earn advertising fees on certain Products.
From time to time, we may modify this Schedule in accordance with the Operating Agreement. All capitalized terms used below that are not defined on this page have the meanings given to them in the Operating Agreement.
During each calendar month, you may earn advertising fees for Qualifying Purchases. Most advertising fees are calculated as a percentage of Qualifying Revenues based on the tables below and are subject to the limitations described in the "Limitations on Advertising Fee Rates for Certain Products" section below. We also may offer advertising fees in the form of bounties or other special offers as described in the "Special Offers and Promotions" section below. "Qualifying Revenues" mean amounts we receive from customers' Qualifying Purchases, excluding shipping, handling, and gift-wrapping fees, taxes, and service charges, and less any rebates, credit card processing fees, returns, and bad debt.
The Program's standard advertising fee structure is described in Table 1. The advertising fee rates you may earn will vary depending on the category of Products that are shipped, streamed, or downloaded (as applicable) in a given calendar month that constitutes Qualifying Purchases. We will determine the classification of Products in each category set forth in Table 1 below or otherwise described on this page.
Standard Commission Structure
A standard commission of up to 5% is given on all products, excluding the ones listed below.
Special Offers and Promotions
Important Note
From time to time, we may make changes to the advertising fee rates including but not limited to 1.) Exclude certain products or categories of products from earning advertising fees and/or 2.) Reduce or Increase the advertising fee for specific products or categories of products. We may also run special or limited time offers or promotions under which you may earn advertising fees on Products or categories of Products that were previously excluded from earning advertising fees, or you may earn increased advertising fee rates from those set forth above.
We may notify you about these exclusions, rate changes, special offers or promotions by updating this page or through emails, blog posts, or other means.
More Information
For more information on becoming an affiliate, please call (888)983-1975.