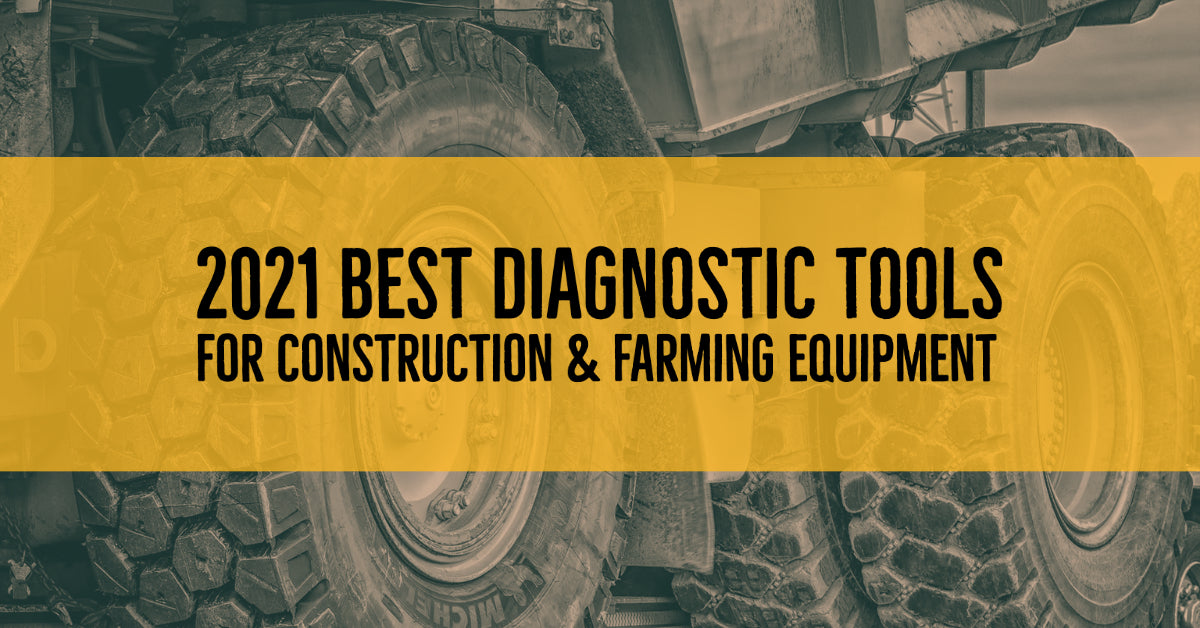 The Best of 2021 Construction and Agriculture Equipment Diagnostic Tools
To make as easy as possible for Diesel Technicians to find the top-of-the-line aftermarket diagnostic tools for construction and farming equipment, Diesel Laptops has put together walk through videos of the two top selling tools: TEXAs IDC5 and Cojali Jaltest.
These diagnostic tools paired with our exclusive off-highway repair information apps, DTC Solutions Off Highway and Equipment Fault Codes, allows you to quickly get your machine up and running. Let's dive right in.
Diagnostic Tools
COJALI JALTEST
TEXA IDC5
Why we like them?
What's most impressive about both of these software options is their compatibility. Both TEXA IDC5 and Cojali Jaltest offer robust bi-directional coverage over 80 brands of construction & agriculture equipment as well as industrial engines. The exact makes/models covered vary slightly – so this will be the biggest determining factor on which software is the right fit for your specific fleet. 
They are powerful tools that are really neck and neck in terms of functionality. Both give users the ability to perform dealer level commands, read/clear codes, system checks, view/change parameters, perform maintenance and calibrations and tons more.
Unlike most diagnostic software these options do not have a required annual fee. This is huge. Updates to the software are included for the first year. After that, the choice is yours. If you are happy with the coverage you can keep the tool as-is and continue using it on the current version. If you want to continue receive updates and tech support, there is an optional fee.
The software can be found on Diesel Laptops diagnostic kits. These kits come with the software of your choice pre-installed, basic cables you need to get hooked up, training and tech support – so getting started with the kit is unbelievably user-friendly. As you saw in the videos, there's a ton that this kit can do. Check out this Unboxing video to get an idea of what to expect when you receive your kit, what's included, and how to set it up. 
Repair Information
 DTC Solutions Off-Highway Edition / Equipment Fault Codes
What we like about it?
There's no doubt that DTC Solutions Off-Highway Edition is best heavy equipment diagnostic trouble code program on the market. This software is the only aftermarket software that offers repair information for countless construction and agricultural machines as well as generators and industrial equipment. If you click a fault code you get a helpful description of what the fault code means, a list of possible factors that caused the code, and some possible conditions on how to clear it. Some of them even have wiring diagrams built in. The coverage and functionality is constantly growing with substantial updates released several times a year.
Diesel Laptops released Equipment Fault Codes at the end of 2020 which is available as part of their Diesel Repair and Diesel Parts platforms. It has similar functionality as DTC Solutions Off Highway Edition – along with TONS of other helpful resources all in one place, including Truck Fault Codes, Technical Repair Docs for Commercial Trucks, Parts Cross Reference, Components Finder, and others.
Take a look at all they have to offer here:
Diesel Laptops has all of the tools you need to knock out off-highway diagnostics. Reach out to our team and we can discuss your fleets needs to help you find the right tool for you.