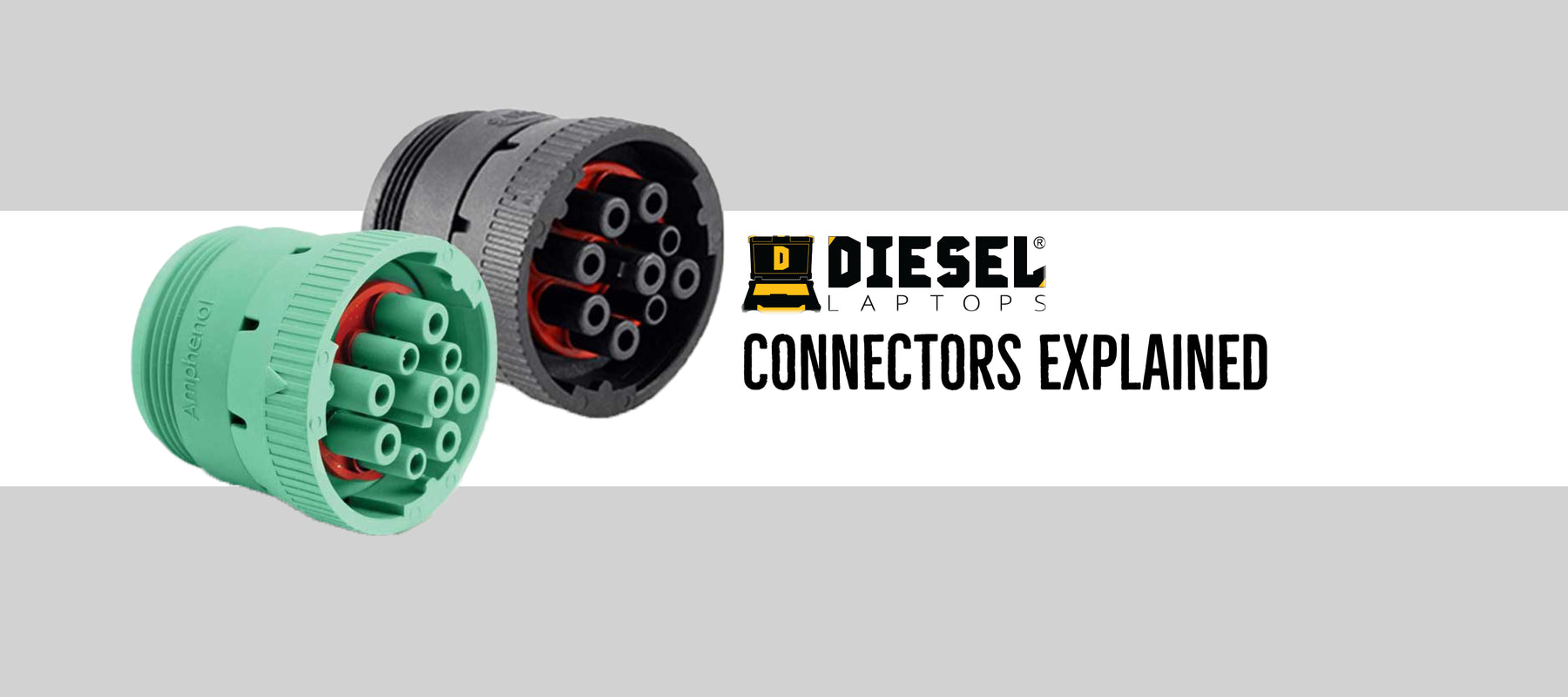 The New Green 9-pin J1939 Connectors Explained
Introduction To The Green Type Ii Can 500 9-pin
Starting with model year 2016 and newer trucks, commercial vehicles started showing up with the new green 9-pin plug in the dash. Previously they were black in color and now they are green. If you have a black cable, you will find that it will not physically fit into the green diagnostic port; this left technicians with new many questions, including:
So, what is going on here?
Why did the truck manufacturers make our lives more difficult?
Can I just but a new cable for my truck adapter?
All of these are very good questions but before we can answer those we need to dig a little deeper and explain why the change occurred. You will also see this new green connector referred to in several different ways:
Type II Connector/Cable
CAN500 Connector/Cable
Green Connector/Cable
Black 9-pin connector found on 2015 & older commercial trucks.
Green 9-pin connector found on 2016 & newer commercial trucks.
The adapter connectors on trucks have been evolving since trucks first went electronic. We have a very popular blog post that goes into the history of the first two setups and explains J1708 and J1939. Essentially, trucks have gotten more and more complicated-there are more computers, more wires, more sensors, and more technology on trucks. While 10 years ago trucks may have had 2 or 3 Electronic Control Units (ECUs), today's modern trucks are quickly approaching 20 different ECUs. With all this new "traffic" on the vehicle network, the old speeds of the "black" connector trucks were limited at 250 kbs on J1939. With the new "green" connectors, this speed is doubled to 500 kbs.
The main reason for the new "green" connector is that not all truck adapters and scanning tools are capable of reading 500 kbs, and it was feared that technicians would hook up older tools and cause damage to the tool, the truck, or both. The solution was to make the "Green" adapter slightly different so that it works on both the green and black adapter, thus making it backward compatible.
To further explain this, 250 kbs and 500 kbs are the speeds at which messages are broadcasted on the vehicle. There can only be one speed per datalink, so if any devices (truck vs adapters) on the datalink are set at different rates the entire datalink will crash.
Controller Area Network (can) Channels Explained
To make things more confusing, in 2017 we started to see the introduction of multiple CAN channels. Think of a CAN channel as its own network on the vehicle, and it is running at the 500 kbs speed. Well, even though the speeds are greatly increased there is still a LOT of traffic going through it with the number of sensors and ECUs. For this reason, the introduction of multiple CAN channels came to be. The first iteration of this setup was simply using one CAN channel for "powertrain" components, and another CAN channel for everything else such as body controllers, radios, seats, and whatever else.
Normally you will find all your traffic for powertrain on CAN1, however that changed for the first time in 2016. This is when Peterbilt, Kenworth, and Volvo decided to move the powertrain traffic over to CAN3, which now created a problem. Using your "normal" diagnostic tools with green connectors as explained above, they will not function. You now need to purchase a CAN3 to CAN1 cross over cable.
Type I and Type II Connector Differences
Since the design change was made on the diagnostic ports on the commercial trucks, all diagnostic cables also went through a design change. You will notice in the picture below that the pin at the top center is different in diameter. In 2015 and older trucks, the top pin has a larger diameter, and the green pin used on the 2016 and newer is thinner. This prevents the use of a black cable being plugged into a green diagnostic port.
CAN & Speed Summary
To summarize, I'll use an analogy. Let's take the modern Interstate system, and think of all its roads as our vehicle network. Cities would be the equivalent to truck ECUs. Everything is going along great, traffic isn't bad, but now are cities are growing in population so we have more traffic and everyone is complaining about how slow it is. The first solution we have is to increase the road speed (Our network speed from 250 kbs to 500 kbs). This works for a while, but we again continue to grow and everyone complains. To increase the speed anymore would be unsafe, so the next solution is to add more lanes to our Interstate system (Adding more CAN channels). However, not all our vehicles can handle this nice new Interstate system and road speeds, os residents need to purchase new vehicles (Green Type II connectors) in order to do so.
Upgrade Options For Customers
So where does this leave technicians, shops, and fleets that have older diagnostic scan tools with the "black" cables and can't physically connect to the newer trucks? The answer to that question depends on which diagnostic tool that you have. If your datalink adapter is cable of working with the CAN 500 kbs network speeds, you can simply look at purchasing a "black to green" cross over cable. Other datalink manufacturers have released their own "green" cables, while other manufacturers have done nothing. So let's take a look first at all the options that can convert a black cable to a green cable for your tool, along with the CAN3 to CAN1 cross over cables.
Universal Black To Green Converter
Grandview Engineering has designed a universal adapter to convert your current cable and setup so you can use your cables with the black end on the new green connectors found in 2016 and newer vehicles. The important thing for you to find out before using this option is making sure your tool can work on CAN500 vehicle networks. The following list of tools have been validated to work with this adapter. If you find another one that does as well, please let us know so we can add to the list!
Cummins Inline 5
Nexiq USB Link
---
Nexiq Usb Link Green Cable
The world's most popular adapter with over 140,000 sold was discontinued in 2014, but there are a lot of them out there. This cable is manufactured by Diesel Laptops and is a direct upgrade for your Nexiq USB Link original. This "Y" cable features the new green 9-pin connector and the black 6-pin connector.
---
Noregon DLA+ 2.0 Adapter
Another popular adapter that has been around for years, this cable will upgrade any DLA+ 2.0 adapter to connect to 2016 and newer trucks with the green connector. This cable is manufactured by Noregon, and Diesel Laptops is one of the few places you can purchase cable replacements from.
---
Dg Tech DPA5 Adapter
DG Technologies has manufactured the DPA5 for years and is manufactured by Diesel Laptops for the DPA5. This cable includes the new green 9-pin and the standard OBDII cable, all for under $60.
---
Bosch KTI Adapter
This adapter is used with the Bosch ESI truck software and was very late to the party. Bosch finally released this cable in October 2017, roughly 2.5 years late. Regardless, this cable is now available to be used.
---
TEXA TXTs Adapter
TEXA changed to the green connector style in late 2015, but in doing so they also changed the cable configuration. Today's configuration is a two-piece setup. Your first cable goes from the TXT box to an OBDII cable. You then have an OBDII to 6-pin, 9-pin, and OBDI cable. For customers that purchased previous to late 2015, you will have a different two-piece setup. You have a "master" cable that goes from the TXT to a round 14-pin connector, and then another cable that goes from the 14-pin to your 6, 9, and OBDII. For these customers you would need to purchase two things in order to upgrade:
---
CAN3 To CAN1
Now that you've figured out which option to purchase to use your old hardware, the next problem is the multiple CAN channels. While some truck diagnostic tools, such as the TEXA Truck, are able to manage this with software, the rest are not. This means you are forced to purchase a CAN3 to CAN1 cross-over cable. Several companies have released CAN3 to CAN1 cross over cables, and all of them work the same. The decision comes down to brand loyalty, price, and appearance. Here are the known CAN3 to CAN1 cross over cables on the market today.
---
NEXIQ CAN3 To CAN1 Crossover Cable
Nexiq is the world leader in the truck diagnostic hardware, and they manufacturer high-quality tools. The cable is roughly 12" long and simply converts your black 9-pin to a green 9-pin. The retail price is around $175.
---
DREW TECH CAN3 To CAN1 Crossover Cable
Drew Tech is the world's leader with automotive diagnostic programming devices and entered the heavy truck work several years back. They also make very high-quality tools, and this crossover cable works with all adapters for around $70.
---
Grandview CAN3 To CAN1 Adapter
This option is also universal and works with all tools. While the other options are cables, this one is simply a plug that converts the CAN3 to CAN1 channel for around $70.
---
SUMMARY
The short version of this blog post is that 2016 & newer trucks have a green connector. If your diagnostic tool has a black cable end, you probably don't need to purchase an entirely new tool. Simply purchase the new cable end. For certain 2016 and new trucks you will need a CAN3 to CAN1 cross over cable, and any of the options listed above will work just fine.
If you're looking for a deep dive into troubleshooting datalink systems with hands-on exercises, be sure to check out our Datalink "J1939/J1708" Troubleshooting for Technicians course offered by our Training Department.