Diesel Scope Advanced Oscilloscope Kit
files/Icon_Black_D.png

Diesel Scope Advanced Oscilloscope Kit
Black Friday Sale Nov. 24 - Dec 8! At least 5% Off Every Product!
See Details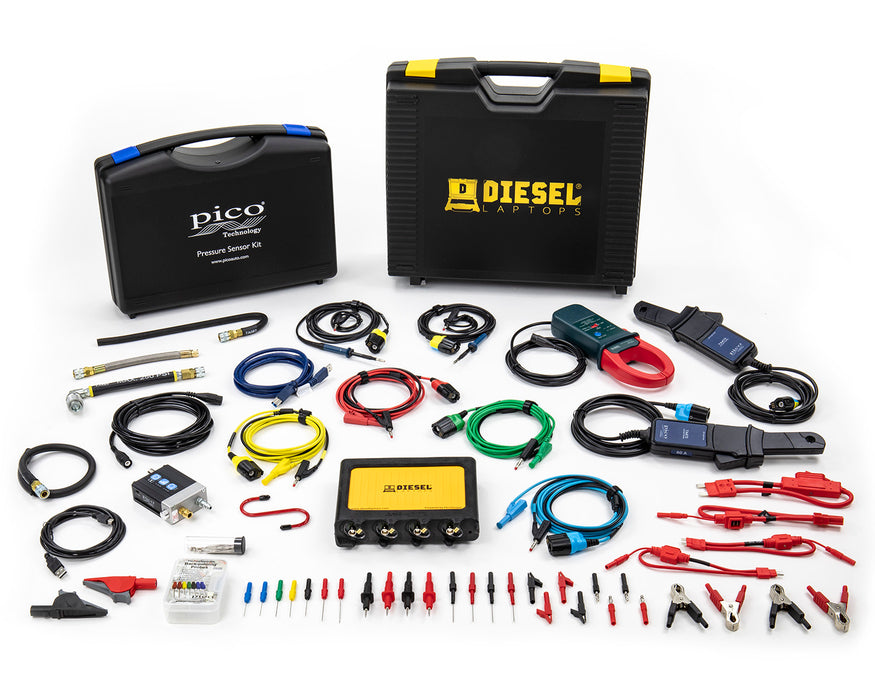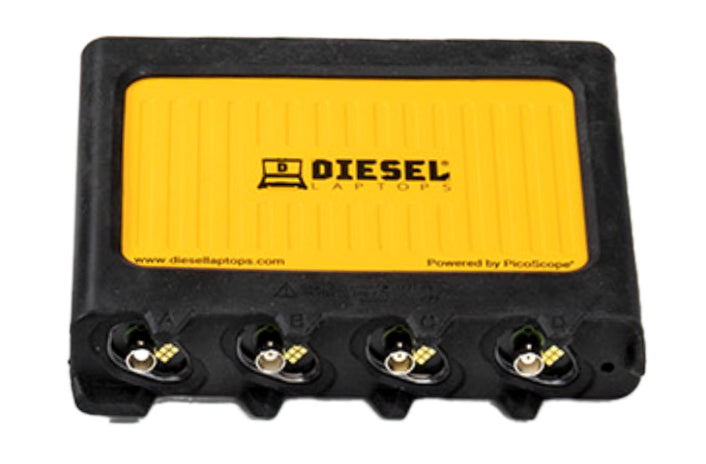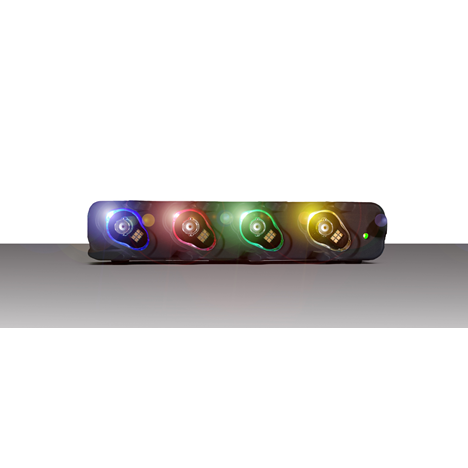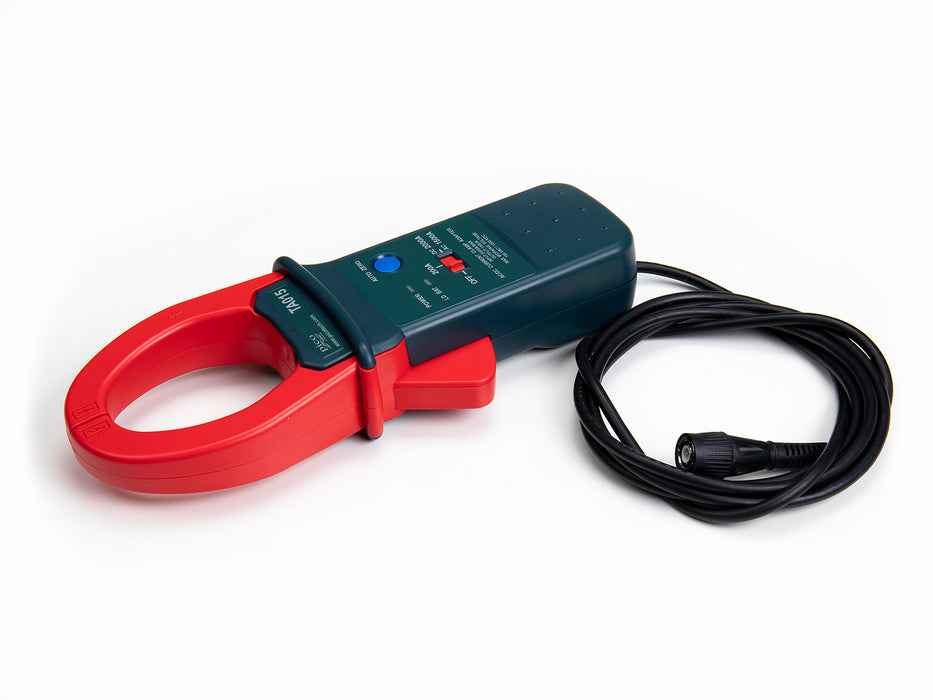 The Diesel Scope is a Digital Storage Oscilloscope geared for the heavy-duty diagnostics community. Diesel Laptops has partnered up with the leading manufacturer in automotive oscilloscope technology to bring the first Heavy vehicle and equipment geared oscilloscope to the market.

What is a Digital Storage Oscilloscope?
A digital Storage oscilloscope or DSO is a tool that is used to diagnose electrical problems that cannot normally be seen with a standard automotive multimeter. A DSO allows a technician to capture voltage readings over a period of time and view that information graphically. This allows the technician to get very detailed in their diagnostics and find issues that cannot normally be seen with a standard diagnostic tool. If you were to think of a normal handheld multimeter as a film camera that takes in a small amount of light to create a picture, then you can think of an Oscilloscope as a High definition video camera that lets you take detailed information over an extended period of time!
How can the Diesel Scope Help me?
Make you or your technicians more efficient!
The diesel scope will allow technicians to perform tasks in minutes that would normally take hours and hours of removing components and wasted time and parts. Removing valve covers and inspecting valvetrain components on modern commercial diesel vehicles can be a daunting task but hooking up the diesel scope and running a few common tests can lead the technician down the correct path to a successful and efficient repair.
Go further with your diagnostics!
The Diesel Scope allows technicians to get more granular than with most ordinary diagnostic tools. Dive deep into electrical issues and diagnose those difficult issues. Intermittent issues can be the bane of a technician's work existence, trying to figure out issues that only happen under certain conditions or fault codes that only come up irregularly can be very difficult to diagnose. Using an oscilloscope can let technicians hone in on these types of issues and create faster turnaround and less time wasted playing cat and mouse with broken wires and bad modules.
Guided tests
The diesel scope offers all the functionality of the standard Picoscope tools, with the added benefit of the incorporated Guided Diagnostic tests specifically for Medium and Heavy-Duty Vehicles. These tests will help walk technicians through specific tests as well as give them examples of good waveforms to compare with. This expanding library of guided tests will keep new and more efficient ways of doing things at the forefront of your diagnostics.
Support
Our Ex-Diesel Technician tech support team is on standby and have been trained in oscilloscope diagnostics. If you have issues or trouble connecting your scope to a piece of equipment or need help performing tests, our tech support team is here to help.
Backed by the leader in Automotive oscilloscopes. Pico Technology was established in 1991 and soon became a leader in the field of PC Oscilloscopes, data loggers, and automotive diagnostic equipment. Picoscope is known for being the go-to automotive oscilloscope for the automotive industries. Diesel Laptops and Pico Technologies are proud to bring one of the first and most comprehensive Heavy Duty Oscilloscope tools to the market.
Why buy the Diesel Scope over other automotive scopes:
All oscilloscopes aren't created equal
There may be other oscilloscopes on the market which are cheaper than the Diesel Scope, but one thing that is often overlooked by consumers when purchasing an oscilloscope are the specifications that are necessary for reading the sensors and actuators on today's' vehicle systems. The Diesel Scope is spec'd to handle all of your automotive related needs and will do so with power to spare.
Features specific to HD!
With the Diesel Scope, you are getting a tool that was created to work with heavy-duty equipment. That's why we do things like include Large Jaw Amp clamps even with our base kit so that tests can be run with the larger diameter cables of HD vehicles.
Software Extras!
Not only do we include the HD specific tests, but we give our Diesel Scope customer 1 free year of access to our Repair platform so they can look up repair information and most importantly wiring diagrams for heavy-duty vehicles.
New PicoBNC+® interface
The Diesel Scope features PicoBNC+ to help users connect, power and configure various probes, current clamps and other accessories. Color-coded channel status lights identify the accessory connected to each channel and indicate when it's ready to use. The interface recognizes compatible probes and automatically configures the software. PicoBNC+ also powers connected accessories, so batteries and recharging are no longer necessary. Finally, while many future capabilities will be facilitated through this interface, it is still backward compatible with accessories with standard BNC connectors are still functional as before with manual configuration.
The Diesel Scope Advanced Oscilloscope Kit
The Diesel Scope Advanced Oscilloscope Kit allows efficient voltage and current analysis of vehicle electrical and electronic systems to diagnose a wide range of potential faults. Built around a Diesel Scope 4-channel, diagnostic oscilloscope, the kit is ideal for viewing signals from sensors, and actuators. In addition, a selection of pressure transducer accessories are included to measure and display vacuum and pressure levels.
Kit Includes
Safety Guide: PicoScope 4225A and 4425A
Diesel Laptops kit carry case
Diesel Scope PS4425A-095
S Hook
Multimeter style test probe (black) (x2)
Multimeter style test probe (red) (x2)
Small crocodile clip (black) (x2)
Small crocodile clip (red) (x2)
Dolphin clip 1000V CATIII (black)
Dolphin clip 1000V CAT III (red)
Back Pinning Probe Set
4mm shrouded to unshrouded adaptor black (x2)
4mm shrouded to unshrouded adaptor red (x2)
3M PicoBNC+ to 4mm blue test lead
3M PicoBNC+ to 4mm red test lead
3M PicoBNC+ to 4mm green test lead
3M PicoBNC+ to 4mm yellow test lead
Cable: USB 3.0 blue 1.8m
Battery clip 4mm socket (red) (x2)
Battery clip 4mm socket (black) (x2)
Flexible back pinning probe black (x2)
Flexible back pinning probe red (x2)
2000a Large Jaw Current Clamp with BNC connector
PicoBNC+ automotive 10:1 scope probe (x2)
Breakout lead for ATC style fuses
Extension lead for mini style fuses
Extension lead for JCASE fuse
Extension lead for maxi style fuses
PicoBNC+ current clamp: 60A AC/DC (x2)
Manual: WPS500X Pressure Transducer
Carry case: WPS500 compression adaptors
WPS500X low-pressure transducer
Cable: USB A male to mini 5 pin 2m
Vacuum hose for WPS500 pressure transducer
Exhaust adaptor for WPS500 pressure transducer
Fuel hose for WPS500, small Schrader
Cable: insulated BNC to insulated BNC 5m
Diesel Fuel Rail adapter hose
A Note about the Software

Please note: After purchasing this kit you will receive an email with instructions to download the Diesel Scope Software. This file will allow you to use the Diesel Scope software, but to get the additional Diesel Laptops Support Items, please contact our Technical Support team to finalize the installation process.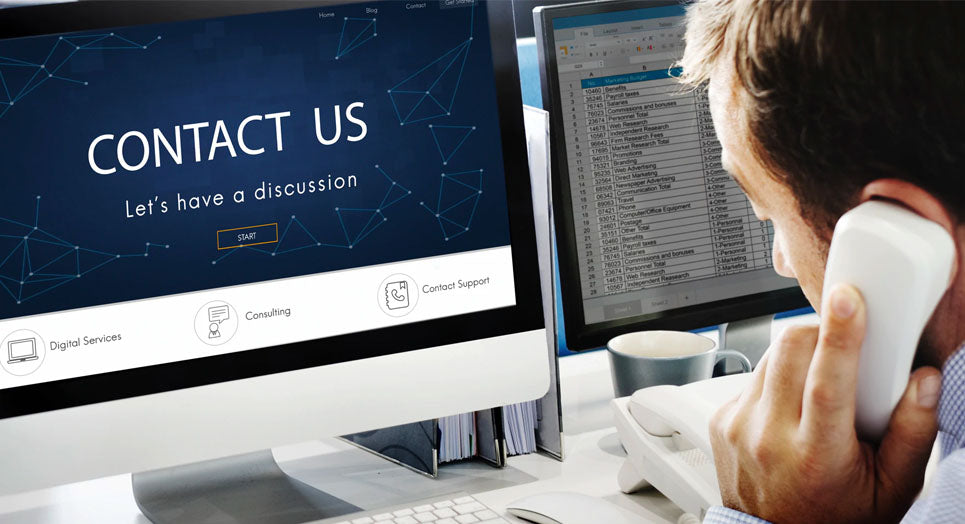 Questions?
If you have any questions about this or any other product, please don't hesitate to contact one of our Diesel Laptops experts at (888) 983-1975 or by clicking below!
Contact Us