files/Icon_Black_D.png

Diesel Handheld Pro
Black Friday deals, discounts, & special offers, November 24 through December 8.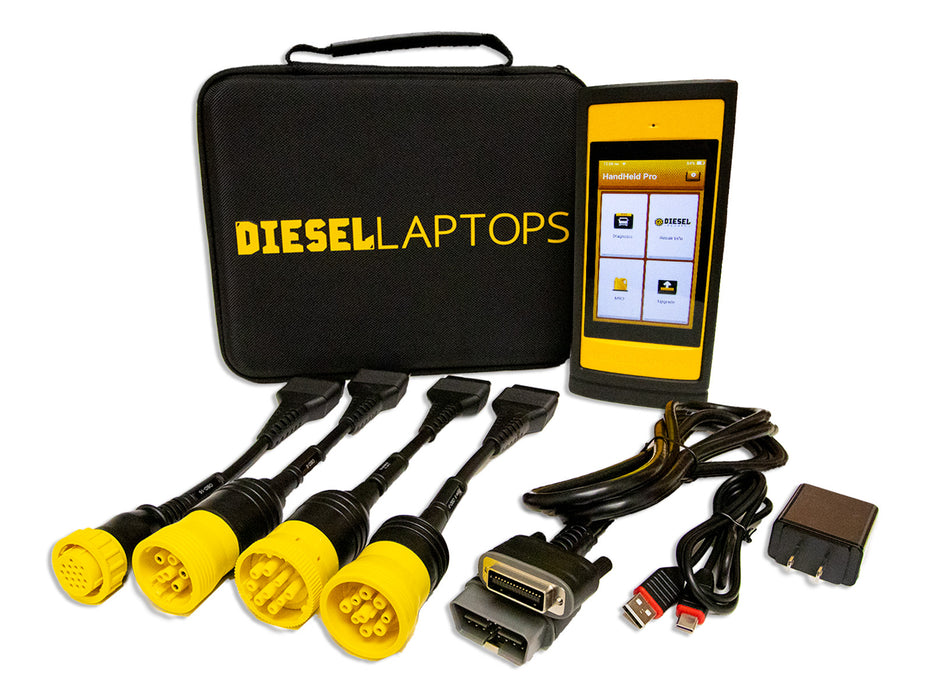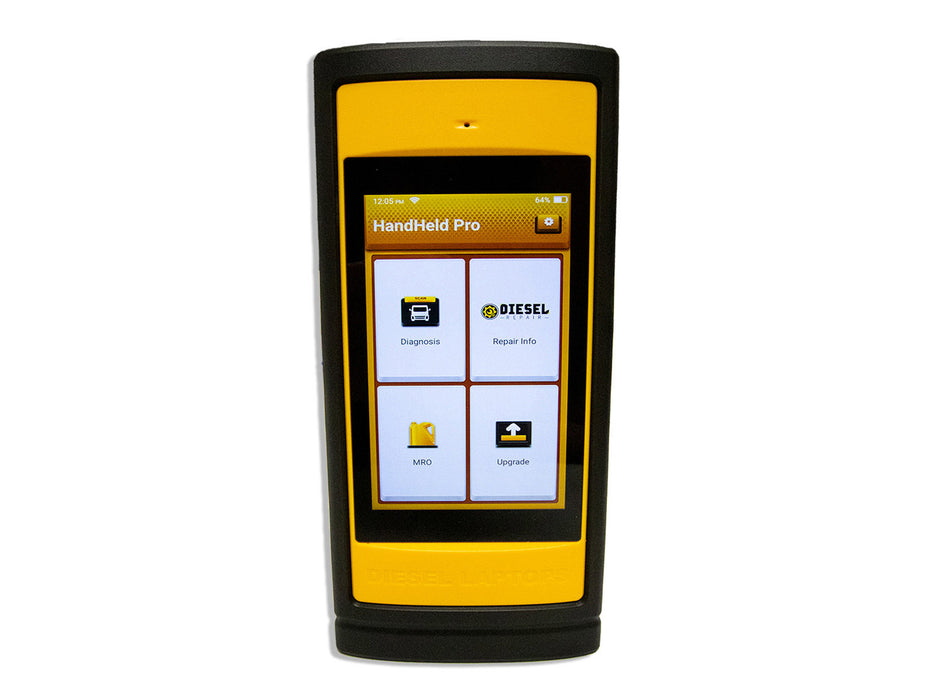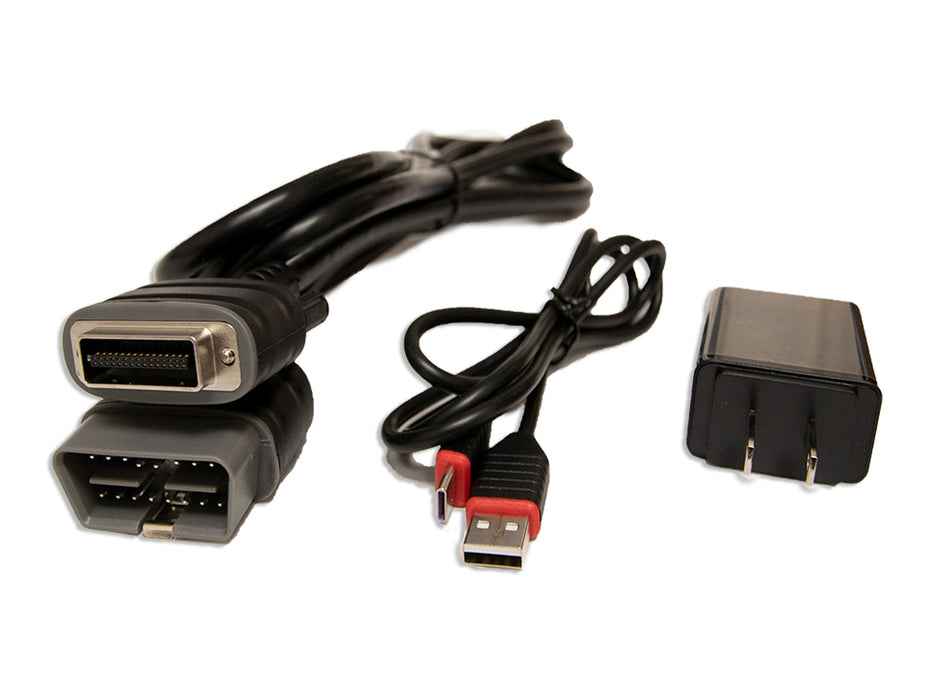 Designed for heavy-duty diagnostics, the Diesel Handheld Pro can read and clear DTCs, read live data, perform DPF regens on most makes and models, initiate emission and maintenance resets, and punch-out directly to the Diesel Repair platform. The Diesel Handheld Pro comes with a durable carry case and includes one (1) OBDII cable, one (1) 6 Pin cable, one (1) 9 Pin cable, and one (1) CAT 9 Pin cable. Portable and high-performance, the Diesel Handheld Pro is ideal for any maintenance shop or heavy-duty owner-operator.
Simple to Use
Using this tool is very simple. Plug it in, Choose HD or EOBD, run a systems automatic search to find the systems on the vehicle. This then brings you to a menu where you can choose from the systems found on the truck. You can then choose the options to read or clear faults, freeze frame data or view live data. Regens are simple and are accessed from the main menu by choosing "DPF Regen" and choosing your manufacturer from the list.
Included Hardware
Diesel Handheld Heavy-Duty Scan Tool - 4" LCD screen that works in 14-122 °F temperatures
Carry Case
6 Pin Cable
9 Pin Cable
OBDII Cable
Cat 9 Pin Cable
USB Cable
Capabilities and Features
Will read/clear codes and freeze frame data
Show live data and force Regens
Includes lifetime updates
Supports J1708 and J1939 protocols and French, Spanish, and English languages
See Full List of Commands
Read/Clear/Live Data for:
Brakes - Bendix, Wabco, Ford, GM, Dodge, Sprinter, Haldex
Body - Bluebird, Ford, Freightliner, GM, Dodge, International, Kenworth, Mack, Peterbilt, Sprinter, Sterling, Thomas Built, Volvo, Western Star
Bidirectional:
Cat - DPF Regen, Ash Service Regen, Ash Reset
Cummins - Regen, Aftertreatment DOC Maintenance Reset, Aftertreatment DPF Filter Reset, Aftertreatment Maintenance Filter Installation, Maintenance Interval Reset
Detroit - Regen, Ash Accumulator Reset New, Ash Accumulator Reset Cleaned, SCR Replacement, Fuel Filter Reset
Isuzu - Normal Regen, Slow Regen, DPF Reset, SCR Reset, Reset ALL DPF Reduction Status
Paccar - Regen, Install New DPF, Install Clean DPF, Reset Soot Level, Disable EGR Derate, DEF Derate Disable, Enable Regen After Aftertreatment System Repair
Hino - Regen, Reset DPR Status, SCR Related Memory Reset
Volvo/Mack - DPF Regen, SCR Regen, DPF Reset, SCR System Reset, Exit Inducement Mode
International - DPF Regen, DPF Replacement, SCR Fault Memory Reset, KOEO Standard Test, KOER Standard Test, Oil Maintenance Lamp reset
Ford - Parked DPF Regen, DPF Reset, SCR Fault Memory Reset
Dodge - DPF Regen, DPF Replacement
GM - DPF Regen, DPF/SCR Converter Reset, DOC Reset, SCR System Reset, Fuel Filter Reset, Oil Life Reset
Sprinter - DPF Regen, DPF Reset, DOC Replacement, SCR Reset, Air filter Reset, oil reset
Allison - Reset oil life
Eaton - Grease Interval Reset
Diesel Repair Professional - 30 Days Free!
Tap into the largest repair database in the HD industry with our cutting edge Diesel Repair platform. Click below to explore all the amazing tools you'll get for free with your purchase.
What's Inside Diesel Repair?
Purchase this item today and get a free 30 days of Diesel Repair Professional Edition, the HD industry's largest repair database.
Your 30-Day Pass to Diesel Repair Professional Includes:
Truck Fault Codes - Tap into the largest code database in the industry to search for MID, PID, SPN, and FMI, and OEM flash codes.
Technical Repair Docs - Instantly access, save, or print complete remove + replace information for your repair from anywhere.
Wiring Diagrams - Searchable, color coded, easy to understand wiring schematics for on-highway trucks that you can print or download to your device.
VIN Decoder - Quickly decode your commercial truck VIN. Get detailed information including manufacturer, make, model, type, fuel type, engine info, and more.
Symptom Based Troubleshooting - Provides easy to read diagnostic procedures for common fault symptoms.
Truck Labor Times - Win your customers over with accurate labor time estimates, and eliminate guesswork with our easy-to-use commercial truck SRTs.
Parts Cross Reference - cross 2.5 million+ heavy-duty parts at the push of a button. When you find the part, cross it with our aftermarket database to find the best option for you.
Exploded Views - find detailed exploded diagrams so you can identify the parts you need - even without a VIN.
Also Available for Purchase:
Equipment Fault Codes - Several hundred thousand repair documents for heavy equipment. We cover 3,000 ECMs including CAT, John Deere, Cummins, Volvo, Bobcat, Case, Deutz, Doosan, Genie, JLG, HINO, Isuzu, Challenger, Kobelco, Komatsu, New Holland, Perkins, Yanmar, ZF, and many more.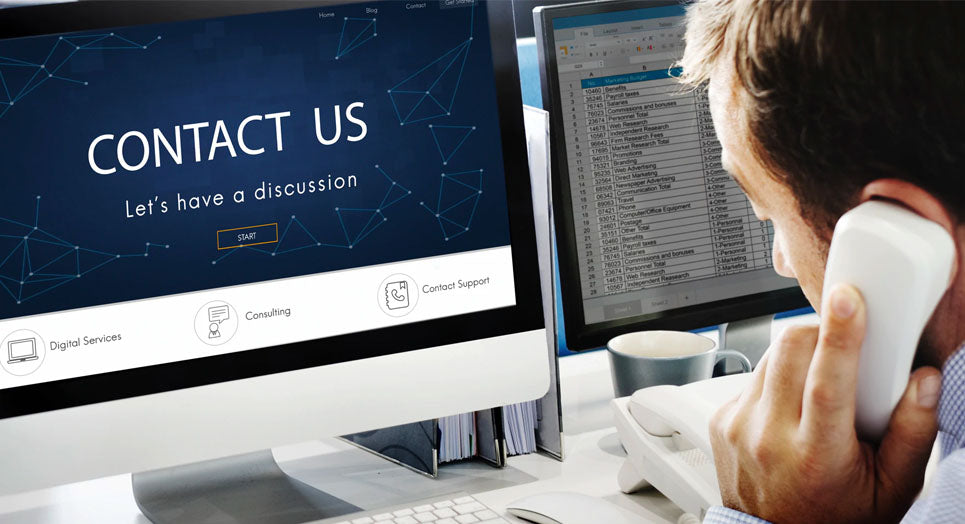 Questions?
If you have any questions about this or any other product, please don't hesitate to contact one of our Diesel Laptops experts at (888) 983-1975 or by clicking below!
Contact Us