TopDon ArtiPad I Automotive Dealer Diagnostic & Programming
files/Icon_Black_D.png

TopDon ArtiPad I Automotive Dealer Diagnostic & Programming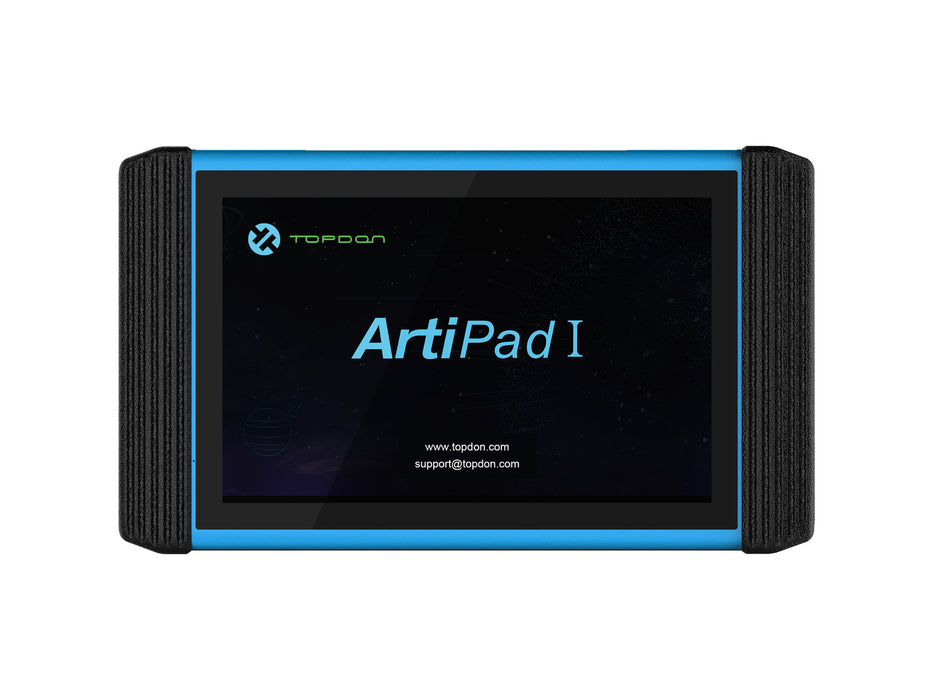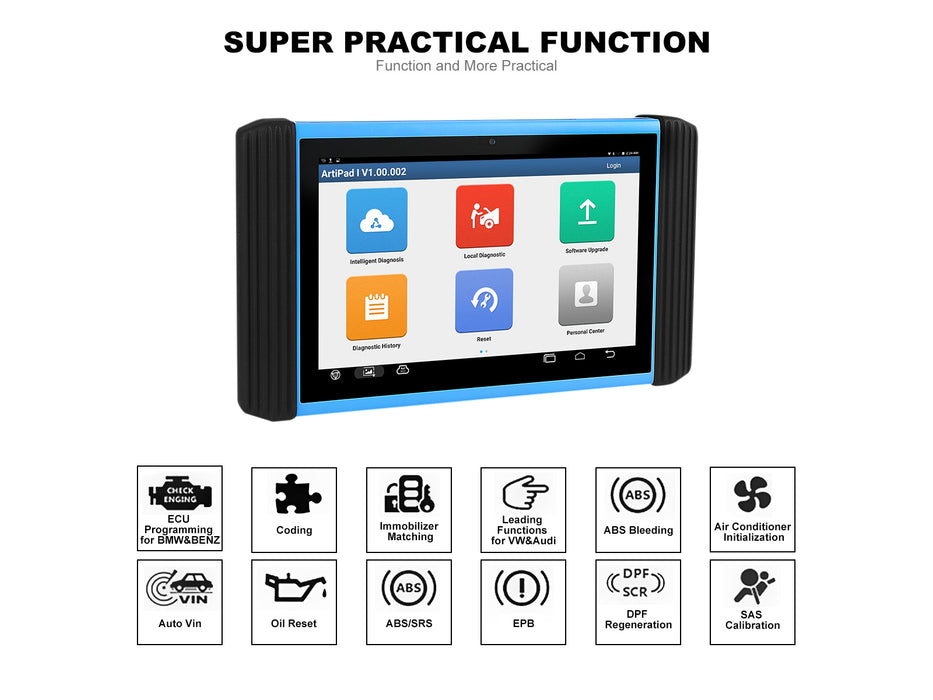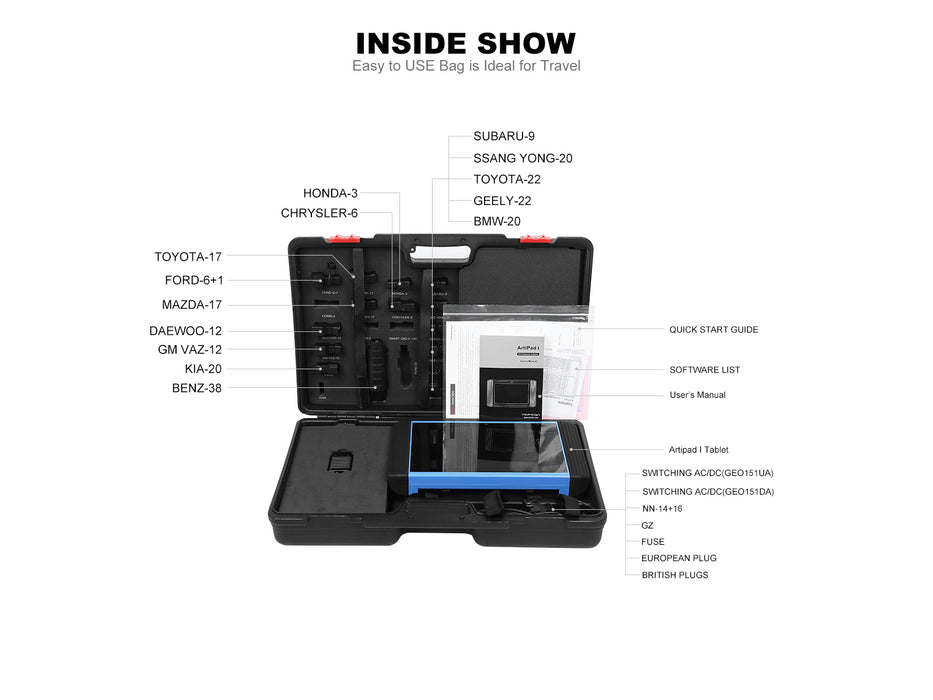 TopDon is the newest company in the automotive diagnostic industry! They have taken the best of what you see in Autel and Launch, and combined it into the most powerful automotive diagnostic tool you've ever seen. The ArtiPad I is an Android based, powerful and portable diagnostic tool for autmotive that also performs programming functions. Their cutting edge technology allows you to perform dealer level commands with the tap of a button.
Features
ECU CODING & PROGRAMMING - With the TopDon ArtiPad I, you have the ability to perform ECU programming without Internet access on Mercedes-Benz, BMW, Volkswagon, and Audi.
WIDE VEHICLE COVERAGE - TopDon ArtiPad I achieves full car model and full system vehicle trouble diagnosis for more than 100 US, Asian, and European vehicle makes and models, which also features deep vehicle system coverage for ALL electronic systems you'll find on todays modern automobiles. This includes vehicles where the OBDII standard became required, which is 1996 for USA based vehicles and 2000 European vehicles.
SPECIAL FUNCTIONS - This full-system diagnostic tool provides powerful special functions such as:

Oil Reset Service - Clear your oil lights and perform engine oil life resets.
Steering Angle Calibration - Perform steering angle adjustment, clear steering sensor fault memory and turn off steering wheel warning light.
Electronic Parking Brake Reset - Reset the brake pad after repairs in electronic parking brake system are completed.
Battery Register & Maintenance - Re-match the control module and motoring sensor for battery detecting more accurately, clear original low battery information and prevent the related control module from detecting false information.
ABS Bleeding - Perform various bi-directional tests to check the operating conditions of Anti-lock Braking System (ABS).
Electronic Throttle Position Reset - Initialize the throttle actuators to the default state for regulating throttle (or idle engine) operations accurately.
DPF Regeneration - Clear particulate matter from the DPF filter to stabilize the filter performance.
TPMS Reset - Reset tire pressure and turn off the tire pressure MIL.
Immobilizer Matching - Clear the lost car key's information and program the new key into the ECU database to protect user's car from being stolen.
Fuel Injector Coding - Program in the new fuel injector numbers after replacement to replace the ones previously programmed into the ECU.
Tooth Learning - Help user to finish tooth learning after changing crankshaft in car engine, so the new part can be used.
... and many more!
COVERAGE & FEATURES - With the TopDon ArtiPad I, you'll find that you have all the capability you've wanted. This includes advanced ECU coding & programming, interactive data logging sessions, and unparalleled sensor coverage for most vehicles worldwide. Other features include:

Read all vehicle data such as sensor ID, tire pressure, temperatures, battery condition, OE part numbers, and relearn commands.
Check Remote Keyless Entry (Key FOB).
Large screen enables multiple data comparisions to easily analyze results.
Pre-select process offers you faster activation and diagnostics.
Wireless connecthat that proper RF signal to prevent being fooled by other RF signals.
Save up to 10 TPMS records for future data review.
Automatic power-off to preserve battery life.
WARRANTY & UPDATE - ArtiPad I carries a complete 12-month guarantee from date of sale to ensure it is reliable and suitable for diagnosing work. We also provide free software update for newest car models & timely technical assistance for efficient diagnoses.
LANGUAGE OPTIONS - TopDon understands that not everyone speaks English, so the took itself can be changed to display data in any of the following languages: English, HK, Japanese, Korea, French, Espanol, Portugues, Italiano, Russian, Deutsch, Polish, Romanian, Dutch, Arabic, Czech, Danish, Greek, Farsi, Finnish, Hungarian, Swedish, Turkish, Serbian
Specifications
Operating System: Android 5.1
Processor: 8-core 2.0GHz processor
Memory: 2GB RAM &64GB Embedded Memory
Display: 12" display with 1920X1200 resolution & Capacitive touch screen
Connectivity: 802.11a/b/g/n/ac WIFI
2.0 3Mbs Bluetooth
RJ45 Ethernet Connection
2.0 USB (2.0 Compatible)
HDMI 1.4a
SD Card (Support up to 128GB)
Camera: Rear: 8.0 Megapixels, Autofocus with Flashlight
Front: 2.0 Megapixels
Sensors: Gravity Accelerometer
Audio Input/Output: Microphone, Dual Speakers, 3.5 mm stereo/standard headset jack
Power and Battery: 3.7V/15000mAH Lithium-polymer battery
Input Voltage: DC/5V/3A
Power Consumption: Max 20W
Operating Temperature: -10°C ~ 55°C  (14℉ to 131℉)
Dimensions (W x H x D): 376 X 220 X 50 (mm)
Weight: 2.1 kg
Package Contents
Qty 1 - ArtiPad I tablet
Qty 1 - VCI connector
Qty 1 - OBDII extension cable
Qty 1 - Power adaptor
Qty 1 - USB cable
Qty 1 - OBDI adaptor
Qty 1 - Cigarette lighter
Qty 1 - Battery clamps cable
Qty 1 - Password envelope
Qty 1 - Adaptor cable kit
Includes cables as follows: AUDI-4, BENZ-14, BENZ-38, BMW-20, CHRYSLER-6, DAEWOO-12, DAIHATSU-4, FIAT-3, FORD 6+1, GEELY-22, GM/VAZ-12, HONDA-3, KIA-20, MAZDA-17, MITSUBISHI/HYUNDAI 12+16, NISSAN 14+16, SSANGYONG-14, SSANGYONG-20, SUBARU-9, SUZUKI-3, TOYOTA-17, TOYOTA-22, UNIVERSAL-3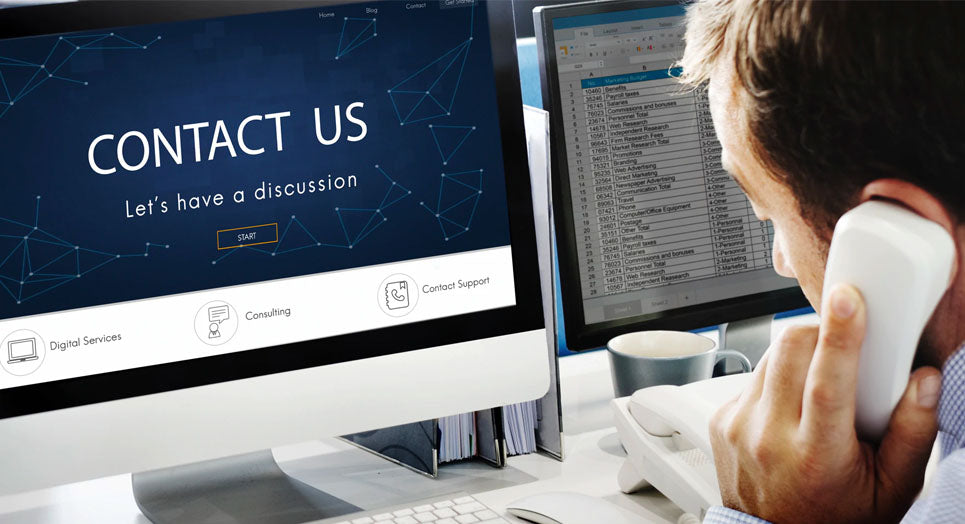 Questions?
If you have any questions about this or any other product, please don't hesitate to contact one of our Diesel Laptops experts at (888) 983-1975 or by clicking below!
Contact Us