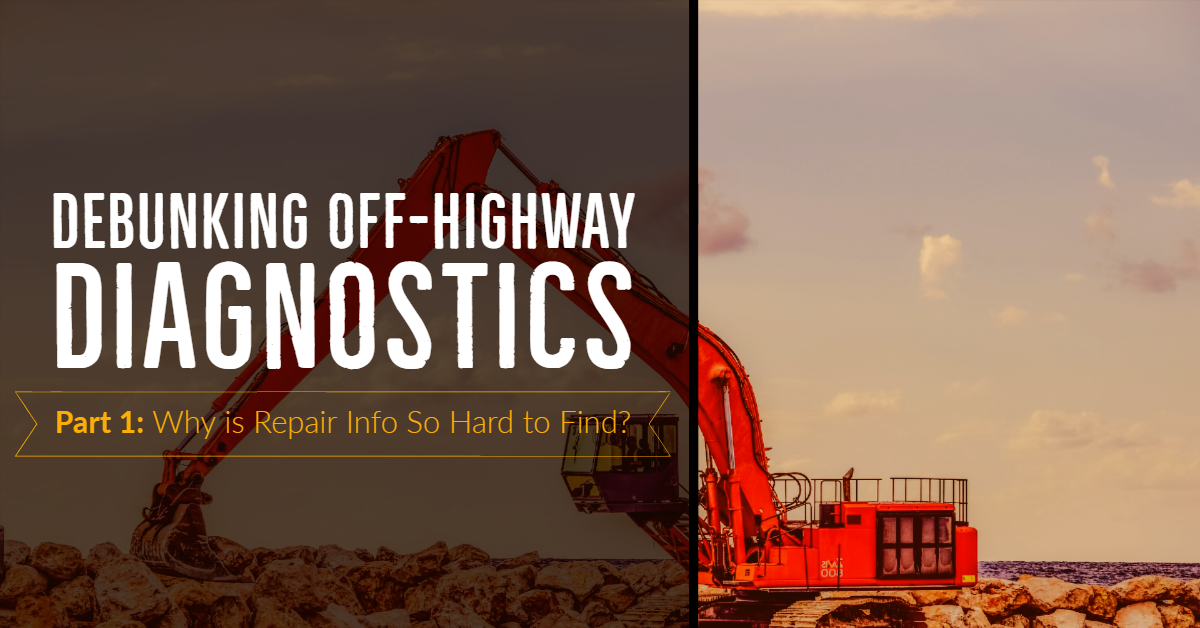 Debunking Off-Highway Diagnostics – Part 1
Why Is it So Hard to Find Heavy Equipment Repair Information and Tools?
The one thing that always comes up is the difference between commercial trucks and heavy equipment in the off-highway world. How different can they be? Well, very.
For starters, commercial trucks have just a handful of vehicle manufacturers while Off-Highway has upwards of 40. Not to mention the different common ECU components. In a commercial truck you're basically looking at an engine, ABS, body, and transmission. With Off-Highway equipment you've also got to tackle complications with hydraulics, the instrument panel, axles and GPS systems. These complexities on top of the number of engine manufacturers and diagnostic connectors needed for diagnostics makes them a beast to repair. You would think that with all of these moving parts that there would be tons of comprehensive diagnostic tool options to make the repairs less of a headache. Unfortunately, that's far from the truth.
THE PROBLEM: How to diagnose your construction & farming equipment?
There are a few barriers in the industry that have led to a huge gap in the information available to diagnose & make repairs on agricultural and construction heavy equipment. Some of the reasons for that are:
No 'Right to Repair Act' or Memorandum for Understanding - Government has not required manufacturers to share repair information like they have for the auto industry. There are no regulations to allow people access to OEM or aftermarket tools
Many. Variants.
Access to Equipment - There's such a variety of specialty equipment that it's almost impossible to create the repair information for every one.
OEMs refuse to sell software
If you work with more than one kind of machine or engine you have to buy each OEM's diagnostic hardware. More hardware = more $$
Cable Chaos
More often than not you will need a variety of cables in order to connect to your machine; one for the engine and one for the machine itself, maybe even one for the transmission.  So, there will be multiple cables needed to diagnose one machine in a lot of cases.
Keep in mind it won't matter as much what brand the equipment is as much as it matters what the engine the machine uses when trying to diagnose engine related failures.  For example, it may be a Doosan machine but have a Scania engine etc.
Once you have the right connection you must figure out where the port is and how to power it. It's not always intuitive. We have found them under the armrest, behind the gauge cluster - all over the place. Our technical support can guide you through where to look.  
Here is a guide for what cables you will need to hook up using your TEXA Diagnostic tool or your Cojali Diagnostic Tool. You may also need to plug in an external power source to run some of the commands you need.
Engine Confusion
There's a lot of rebranding that goes on with off-highway equipment. It can be confusing when you open a CAT and see a yellow engine, but in reality, you're looking at a Kubota engine with some yellow paint slapped on it. Here are a few examples we have run into:
So how do you know what you're looking at? See the image below. If you look at the top right of the image you can see that this engine is labeled as a C3.4B but in the bottom left corner in super fine print we can see where it says 'Manufactured by FPT Industrial S.P.A. In Italy' 
The Solution
For generations people in the industry have been relying on OEMs for repairs. These lead to expensive repairs and often long wait times. As the industry evolves aftermarket solutions have started to come on the scene. Our team has tested a number of these repair & diagnostic tools to narrow down which ones are worth the money. Take a look at the pros and cons we came across with each option in this blog, or give us a call at (888)983-1975.
See Debunking Off-Highway Diagnostics - Part 2: The Tools You Didn't Know Existed