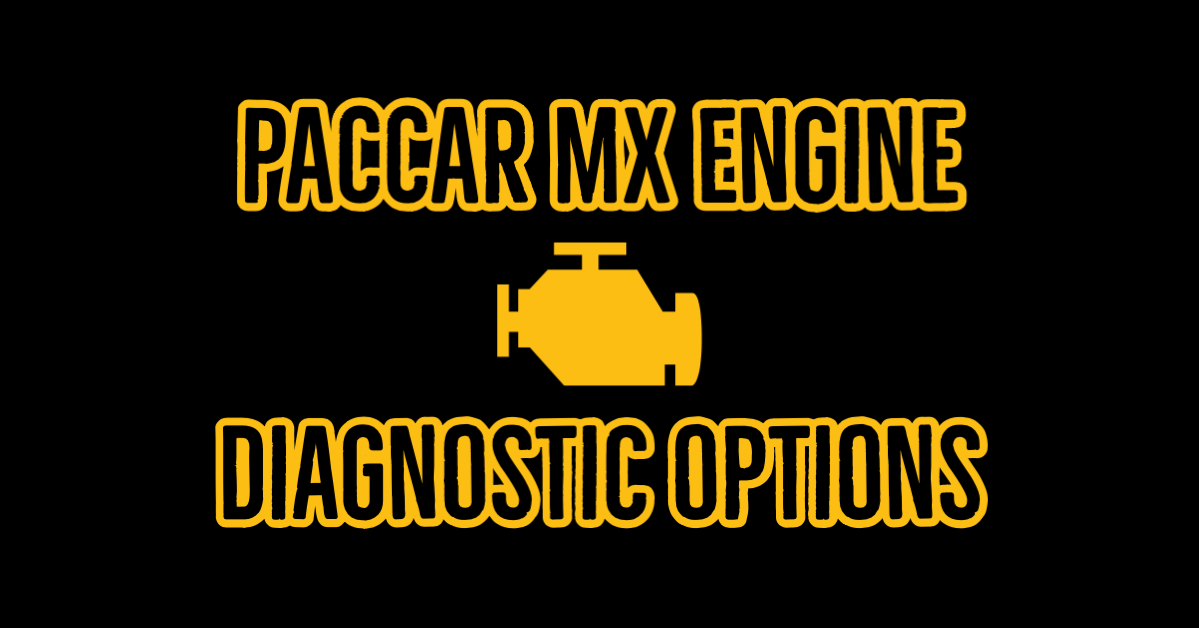 PACCAR MX Engine Diagnostic Options
PACCAR sells the PACCAR MX and the PACCAR PX engines. The PX engines are rebranded Cummins engines, and this blog post will focus on the PACCAR MX engines. At the ECM level, the PACCAR MX engines can be broken down into two categories. The first is 2010 EPA Emissions, which covers model years 2010 through 2012. The other is 2013 EPA Emissions, which covers 2013 through current.
PACCAR MX 2010 vs 2013 EPA
If you aren't sure which one you have, here are some quick ways to tell. First, the display panel inside the cab will look something like the one pictured here:
If you have an EPA 2013 or newer, your display should look something like this instead:
There were also some physical changes to the components as well. On the SCR canister, there is a new ammonia (NH3) sensor used to monitor DEF dosing performance. Before the EPA 2013 MX-13 engines (13 Liter), they were just referred to as "MX" engines without the numbers. 
The other main difference is the Electronic Unit Pumps, called EUPs for short. In EUP systems, the functions of pumping and control are separated from the injector. The PACCAR MX EPA 2010 emission engines used this technology. In the EPA 2013 and newer engines, this second-generation engine is managed by CR fueling. Below is a picture of what a 2010 Emission PACCAR MX system would look like.
PACCAR MX Fault Codes
Now that we've given a little clarity around which MX engine you have, we need to briefly discuss fault codes. We have a great blog post that goes in-depth explaining fault codes, but you need to understand this: There are two types of fault codes. There are generic, SAE standard codes that you will see displayed in some tools, and in the cab display on 2013 EPA emission engines. This will show things such as MID, SPN, FMI and other information. Unfortunately, these are not very helpful.
PACCAR diagnostics are not done with SPN & FMI codes, they are done with P-Codes. However, there is no known mapping between the SPN & FMI codes to P-Codes. This means that those codes you see on the dash displays in Kenworth and Peterbilt trucks are very hard to do anything with. The reason these displays even exist is because it was an EPA mandated functionality with 2013 and newer vehicles. PACCAR put these in here to comply with regulations, not to help drivers. 
With the SPN codes you see displayed, the best thing you can do is *maybe* use the description to try and narrow down your problem. If you find yourself on Google searching for SPN codes on PACCAR engines, you are really rolling the dice on the information you find. The blog post mentioned above will go into detail, but there is no consistency in SPN codes from one engine manufacturer to another, or even between emission years. 
Diagnostic Tool Options
Now that we have talked about which engine you have and explained PACCAR MX fault codes a bit more in-depth, let's talk about tool options! Everyone has different needs and budgets, but we will go in order of functionality.
PACCAR MX Code Readers
The important thing here is to find a tool that reads P-Codes. If your code reader only reads SPN & FMI information, it will not help you. This is a list of all known code readers that will read the proper P-Codes.
Beyond these tools, if you have a handheld tool that does read PACCAR P-Codes, please comment below and send us the details. We'd love to add it to the list!
KEY TAKEAWAY: Find a code reader that reads the P-Codes!
PACCAR MX Fault Code & Forced DPF Regen Tool
Made by OTR, this is a handheld tool that has no display. It will not read codes, but it will do three important things:
Reset the aftertreatment system
Perform a forced DPF regen
Clear the fault codes
This tool should only be used in emergency situations. If your truck has derated and won't perform a DPF regen, there is a reason why. This tool is not solving your long-term issue which is why your engine went into derate mode. It only does if you have a malfunctioning component on your vehicle. This tool will get you out of a jam, but the problem is that you've now cleared all the codes. If you immediately bring it to a repair facility, it will make it more complex for them to figure out why since the codes are no longer in the ECM.
KEY TAKEAWAY: No display, no buttons, but will get you out of a de-rate.
PF-Diagnose from Diesel Laptops
PF-Diagnose is our read-only software that works with all commercial trucks. This software program does require a PC and also a datalink adapter such as our DieselLink. At a $650 price point, this tool will allow you to:
View all proper PACCAR P-Codes
View live data
View vehicle information such as VIN, Miles, Hours, Fuel Used and more
Retrieve vehicle health reports
This software program has a lifetime license, so there are no ongoing annual fees unless you want to receive updates and support after a year. Besides commercial trucks, it also works with automotive and some off-highway equipment as well.
KEY TAKEAWAY: Reads codes only and requires a laptop and a datalink adapter.
Noregon JPRO Software
The Noregon JPRO software is an universal, "read everything" program that also does some of the more common tests and commands. This program also has a required annual fee, as it stops working after 12-months. You also need to pair it with a datalink adapter, such as our Diesel Link.
Priced at $1,518 per year, this software is really not what most people are looking for. As of the data of this blog post, you can do zero dealer level commands on 2017 and newer PACCAR engines. For the 2010 through 2016 model years, you can only run 7 commands:
Cylinder Performance Test
DEF Doser Pump Test
DPF Service Regen
Enable Regen after Aftertreatment System Repair
Install a new or cleaned DPF
Reset soot level
Turbo Actuator Effort Test
Noticeably missing from this list is the ability to change common parameters such as road and cruise speed along with the ability to take the engine out of a EGR or SCR derate mode.
Noregon JPRO also does not come with any repair information, which they charge an additional $1,200 per year for. Screen shot from the Noregon website:
KEY TAKEAWAY: Required annual fees, limited functionality, required data-link adapter.
PACCAR DAVIE4 Software
Your local Kenworth or Peterbilt dealer uses the PACCAR DAVIE4 software to perform diagnostics on PACCAR MX engines. This software is not cheap as it costs around $3,000 for the first year, and then another $1500 per year after. You will also need a PC laptop, along with an RP1210 adapter such as our DieselLink.
The other important thing to note here is that the version of PACCAR DAVIE4 that customers can purchase is different than the version that dealers use. The customer version can NOT change parameters such as cruise speed, max throttle speed, and all other settings. For how much it costs to get DAVIE4, you are better off looking at one of the options below.
This tool will read fault codes, clear fault codes, run the diagnostic commands, program injectors, un-derate PACCAR MX engines and more.
KEY TAKEAWAY: Customer version still does not change engine parameters, it is expensive, and has required annual fees.
Diesel Laptops Fleet & Triage Tool
The Diesel Laptops Fleet & Triage Tool is not specific for PACCAR engines as it works on all commercial trucks. For PACCAR engines specifically, you can expect this tool to do the following:
Read all proper P-Codes
View Freeze Frame data (Shows values of sensors from when the code appeared)
Perform all aftertreatment system functions such as DPF Regens, Aftertreatment Resets, and De-Rate Disables
Change common vehicle parameters such as maximum vehicle speed and cruise speed on 2013 EPA and newer PACCAR MX Engines
Perform all other common diagnostic commands
This tool is not a complete, full-blown dealer level tool. It gets you about 80% of the way there with the added benefit of having no required annual fees. You never lose functionality, and you even have an upgrade path to get you up to 100% of your value back for a dealer level tool.
KEY TAKEAWAY: Reads codes, clear codes, run common commands, and changes parameters on 2013 and newer.
Diesel Laptops TEXA Dealer Level Tool
For the customer that wants a great truck diagnostic tool with no required annual fees, the Diesel Laptops TEXA Diesel Level Tool is for you. This tool works on everything with a diesel, from an F250 all the way up to the larger class 8 commercial trucks. In respect to PACCAR MX engines, this tool will do everything the Fleet & Triage Tool mentioned above will do, plus the following:
Program Injectors
Accelerator Pedal Calibrations
Program EUPs
Change more parameters such as engine brake settings, idle times, and dozens more
Will only change cruise & road speeds on EPA 2013 & Newer MX Engines
VGT Actuator Calibrations
Detailed Repair Information
Labor Time Guide
... and a lot more!
In terms of functionality, this tool and the Cojali Jaltest are very similar. The difference is that this tool costs slightly less up-front and the annual fees are not required. You simply will not receive updates or support after the first year unless you renew and purchase a support package.
KEY TAKEAWAY: Dealer level functionality, no required annual fees.
Cojali Jaltest
This is not a cheap tool, but it does way more than just PACCAR MX engines. For most fleets or owner-operators, this tool may be a bit over powered for what you are wanting to do. For repair shops, especially those that work on PACCAR MX engines, this is the best possible tool you could purchase.
The Jaltest is a multi-brand, dealer level tool that performs diagnostics on all commercial trucks, not just PACCAR MX engines. It will cost you around $8,500 to purchase and has required annual fees of $1,325 or else it stops functioning.
This tool will perform all the dealer-level functionality you would receive out of DAVIE4 and it also allows you to perform other functions such as injector programming, forced DPF regens, de-rate disables and much more.
You essentially have full-blown diagnostics not only on PACCAR MX engines but all other commercial trucks as well. Specifically for PACCAR engines, you can do the following commands:
EPA 2010 Engines
Injector coding
Unit pump coding
Idle speed changes
PTO configuration
Fan control
Speed limit changes
Cruise control changes
DPF reset
EGR disable derate
DEF disable derate
EGR valve reset
Boost pressure control valve reset
VGT calibration
DPF regeneration
Trip data reset
EPA 2013 & Newer
Injector coding
Speed limit
Idle speed
Cruise control settings
Engine speed settings (maximum torque, remote control…)
Accelerator pedal calibration
Accelerator pedal reset
Rail pressure control valve calibration
Oil level sensor calibration
VGT calibration
Enable/Disable idle shutdown timer temporally
EGR disable derate
DEF disable derate
DPF regeneration
DPF reset
Trip data reset

Injection rail pressure control valve reset
KEY TAKEAWAY: Most functionality for PACCAR engines with multi-brand coverage but has required annual fees.
Honorable Mentions
There are some tools that we do not have access to, or have seen in use. For now, we will summarizes these tools here. If you know something about these tools that we do not, please leave us a comment!
Nexiq Pocket HD - This is handheld device that costs $1,750 to purchase, plus you need to purchase their DPF regen software ($450) to pair up with it. We have not been able to confirm that it reads the proper P-Codes. We also are not sure if it just does the DPF regen function, or other aftertreatment commands as well. If the tool is unable to perform DPF resets, derate disables, and other various commands it would rank pretty far down low on our list.
Summary
Hopefully, this post helped shed some light on available diagnostic tools for PACCAR MX Engines. Each client has a unique situation, and there is no one tool that fits everyone. It is our goal at Diesel Laptops to find the right tool for each customer.
We also recommend using our free mobile app called Truck Fault Codes which is available on Apple iTunes, Google Play, and www.TruckFaultCodes.com. This platform will allow you to view repair information on all diagnostic fault codes that exist, including the PACCAR MX series engines.