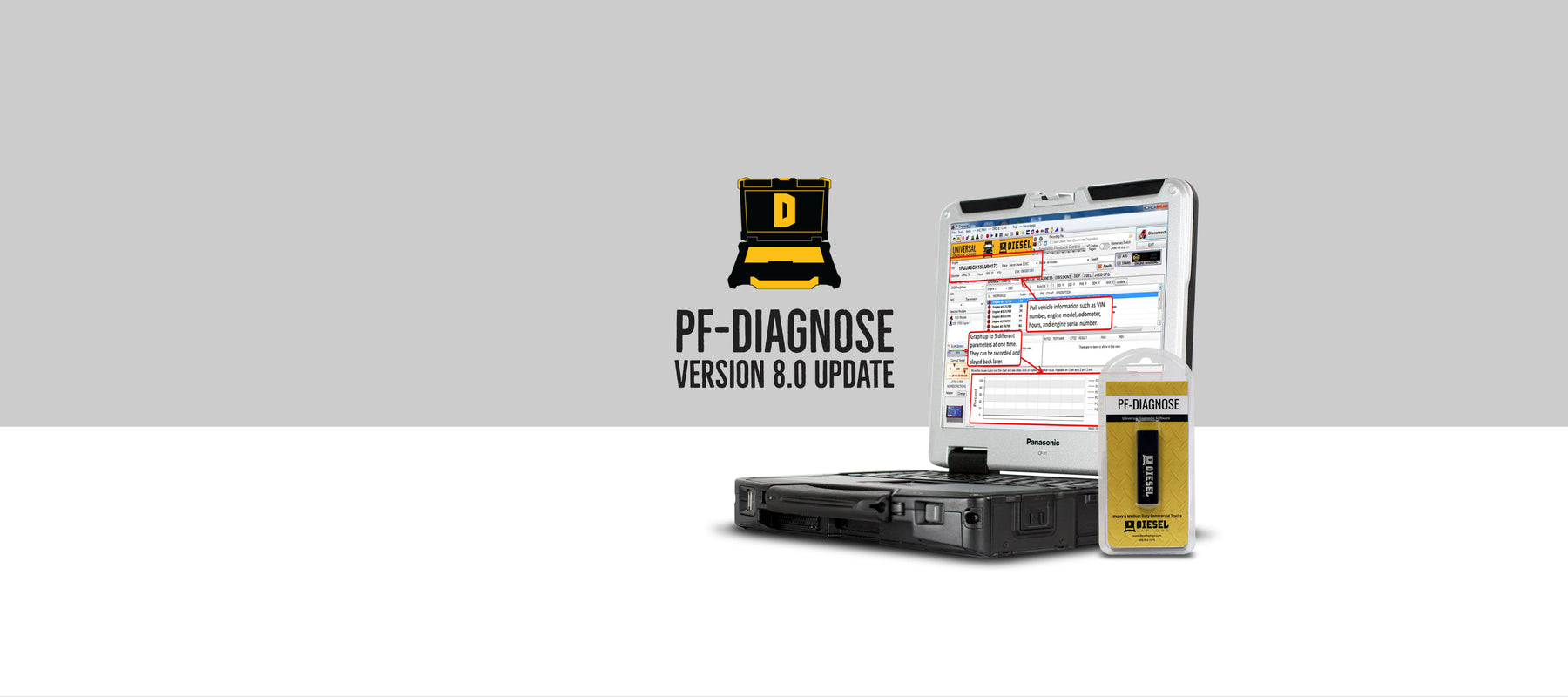 PF-Diagnose Huge Version 8.0 Update Adds Regens, Emission Resets, VIN Decoding and More
PF-Diagnose works with commercial trucks, automotive, and some off-highway equipment.
This software has a lifetime license that never expires. Software updates are not required, but are recommended to get the latest features and information. 
Click here to learn about our special upgrade offer for existing PF-Diagnose customers.
PF-Diagnose New Features
The new version 8.0 update is one of the largest in the software's history, packing in tons of impressive features, including Regen capabilities, emission resets, VIN decoding and UDS Support.
DPF Regens
PF-Diagnose will now perform DPF Regens on the following engines:
Cummins ISX12 CM2350 (2013-2019)
Cummins ISX15 CM2350 (2013-2019)
Cummins ISL CM2350 (2013-2019)
Detroit Diesel DD13 EPA2010 (2010-2012)
Detroit Diesel DD15 EPA2010 (2010-2012)
Detroit Diesel DD16 EPA2010 (2010-2012)
MaxxForce 11 EPA2010 & Newer (2010 & Newer)
MaxxForce 13 EPA2010 & Newer (2010 & Newer)
MaxxForce 15 EPA2010 & Newer (2010 & Newer)
---
Emission Resets
Run Ash & SCR Accumulator Resets on Detroit Diesel DD13 & DD15 EPA2010 (2010-2102) Models
Run the Following Reset Commands:
SCR Accumulators Reset for new SCR Catalyst replcement
Ash accumulator reset for new DPF install
Ash accumulator reset for DPF installation due to failure
Ash accumulator reset after ACM replacement
---
Better Fault Codes Descriptions
We are now integrating our existing fault code databases right into PF-Diagnose. This means you will see more well-defined explanations of fault codes, and clearer information to help you repair those problems. Expect to see the full integration of step-by-step repair information in the near future!
---
Automatic VIN Decoder
We have integrated out Diesel VIN decoder into PF-Diagnose. When your laptop is connected to the Internet and a commercial truck, you can now view detailed vehicle information such as exact model, detailed engine information, build information, and much more.
---
UDS Support
With Unified Diagnostic Services (UDS) Support, PF-Diagnose can now view previously hidden proprietary diagnostic codes, such as specific emission or body controller fault codes. All of these are now displayed.
---
Auto Protocol Support
Tired of having to manually select J1939 or J1708? You can now just select "Auto" and our software will connect on all available protocols eliminating the possibility of user error.
---
Full Windows Compatibility
This program is compatible with Windows XP, Windows Vista, Windows 7, Windows 8, and Windows 10.
---
3 Ways to Purchase PF-Diagnose
Version 8.0 is available now for purchase in three ways.
Option 1
Stand Alone
PF-Diagnose is available as a stand alone purchase.
Buy it now
Option 2
As a Bundle
PF-Diagnose can be purchased with a Diesel Link, NEXIQ USB Link 2, or DrewLinQ.
Option 3
As Part of a Complete Kit
PF-Diagnose can also be purchased as part of select complete laptop kits.
Buy Universal Diesel Truck Diagnostic Tool & Scanner Laptop Kit
Buy Diesel Laptops Universal Truck Diagnostic Tablet Edition
Limited Time Upgrade Offer

If you have any previous version of PF-Diagnose, you can upgrade to version 8.0 for only $195. This offer is only valid until December 31, 2020. Call us at 888-983-1975 for details.