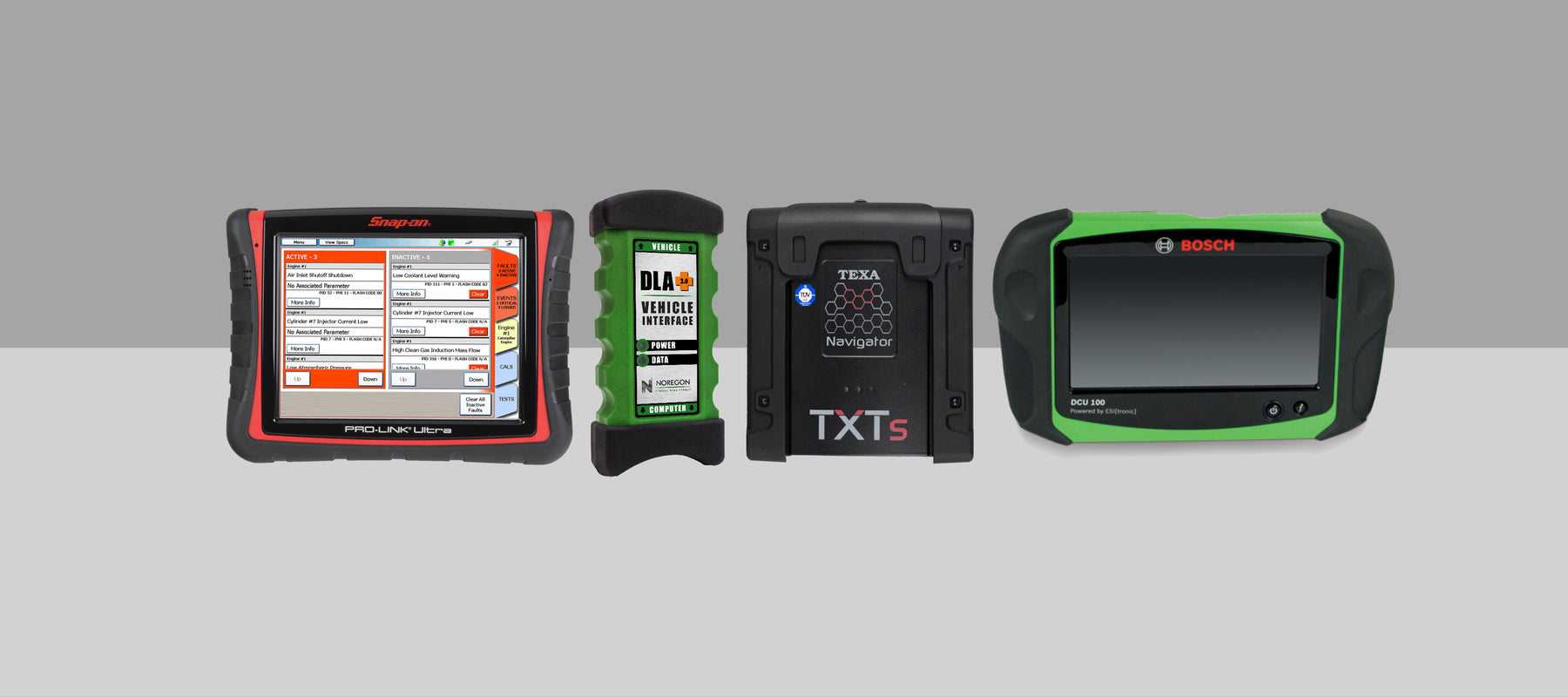 Professional Level Truck Diagnostic Scan Tool Comparison
We often are asked the question of how the various "professional" level scan tools compare to each other. The tables and information below represent our opinion and our own text on the 4 major players in the heavy-duty truck diagnostic market.
SNAP-ON ULTRA PRO LINK
Previously this made by Nexiq Technologies and sold as the IQ System. Nexiq was acquired by Snap-On, and they sold the "blue" one under Nexiq and the "red" one under Snap-On. Their model is such that you purchase the "base" unit first, which includes the hardware and some generic software. This is priced generally around $2,500. You then must purchase the licenses for each OEM that you wish to receive dealer level functionality on. The list price for purchasing all the modules with the hardware comes in at around $18,500, and updates run several thousands of dollars per year on top of that.
JPRO
Created by Noregon, the JPRO software is a clean, easy to use diagnostic program that started added dealer level commands several years back. They mainly cover the common commands and parameter adjustments that are asked for, such as DPF regens and injector cut-out test. The entire list of commands can be found on our website, along with Noregon's. This tool is typically a great fit for a shop or fleet that wants to do all the common commands and functionalities that are commonly used.
BOSCH ESI 3824
In our opinion, this is not a good tool. Bosch doesn't do the development of this tool, as they license it from another company. It is advertised as "dealer level" but is missing quite a few commands. Couple that with required annual fees, and additional pricing to obtain repair information, it really becomes a poor option in the marketplace. However, we still do sell it to customers that really want it.
TEXA IDC5
The software, IDC5, is made by TEXA. Currently, this is our preferred solution for clients looking to get as close to OEM level as possible. It performs as close to dealer level, which also NOT having the required annual fees. The version of TEXA you receive from Diesel Laptops also includes wiring diagrams, repair information, labor time guide, parts cross reference, iOS, and Android apps, and a ton more.
Pricing and Features
SNAP ON ULTRA PRO LINK
JPRO
BOSCH ESI 3824
TEXA
Part #
EEHD707004
26035
BOS3824
TEXA-TRUCK-LAPTOP
Retail Price
$18,449
$3,703
$8,233
$7,995
Lifetime License
Yes
No
No
Yes
Fee After 1st Year
Not Required
$1,518/year
$1,418/year
Not Required
Repair Info Included
No
No
Limted (3,000 codes)
Yes
Repair Info Cost
$1,200/year
$1,140/year
$1,195/year
Included
Repair Info Available Online
No
No
No
Yes
Return Policy
None
None
None
30-day Money Back Guarantee
Tech Support for Software & Connectivity
Yes
Yes
Yes
Yes
Tech Support Help with Commands and Fixing Trucks
No
No
No
Yes
Off-Highway Equipment Updgrade Available
No
No
No
Yes
Coverage Score
7
5
8.5
9.5
Featured Listing on FleetPal.io
No
No
No
Yes
Diesel Defense
No
No
No
Yes
iOS & Android Apps
No
No
No
Yes
Remote Diagnostic Tools Available
No
No
No
Yes
Includes Free Training on Software via Internet
No
Yes
No
Yes
Includes Free Classroom Training Experiences
No
No
No
Yes
Estimated 3 Year Cost
$29,550
$10,159
$14,877
$10,385*
*Note: Total 3 Year Cost of TEXA Dealer Level Truck Diagnostic Tool includes two years of TEXA Truck Support - Level 3 (Premium)
Engine Coverage
SNAP ON ULTRA PRO LINK
JPRO
BOSCH ESI 3824
TEXA
International Engines
2007 - Current
17 Commands
80% of Dealer Commands
All Dealer Level Commands (50+)
International Engines
2006 & Older
No commands listed
Read Only
Bosch/Jaltest
All Dealer Level Commands (50+)
PACCAR MX Engines
4 Commands
(Does not cover EPA 2017 & Newer)
80% of Dealer Commands
All Dealer Level Commands (75+) Except Parameter Changes on 2010-121
2017 MX Video
Mack Engines 2006 & Older
Read Only
Read Only
80% of Dealer Commands
All Dealer Level Commands (200+)
Mack Engines 2007-Current
13 Commands
80% of Dealer Commands
All Dealer Level Commands (300+)
Detroit Diesel Engines 2007-Current
80% of Dealer Commands
Detroit Diesel Engines 2006 & Older
1 Command
80% of Dealer Commands
All Dealer Level Commands Except VPOD Install 2
Cummins Engines 2007-Current
80% of Dealer Level Commands
Isuzu Engines
2 Commands
80% of Dealer Commands
All Dealer Level Commands & Parameters (100+)
Ford Engines
3 Commands
Not Covered
GM/Chevy
5 Commands
3 Commands
Not Covered
All Dealer Level Commands & Parameters
Sprinter
Not Covered
12 Commands
Not Covered
All Dealer Level Commands & Parameters
Volvo Engines 2006 & Older
Read Only
Read Only
80% of Dealer Commands
All Dealer Level Commands & Parameters
Volvo Engines 2007 - Current
26 Commands
13 Commands
80% of Dealer Commands
Hino Engines
2005 & Newer: 34 Commands 2004 & Older: Read Only
Read Only
80% of Dealer Commands
All Dealer Level Commands & Parameters
Mitsubishi FUSO Trucks
Not Covered
Not Covered
80% of Dealer Commands
CAT Engines Pre-ACERT
47 Commands
Read Only
80% of Dealer Commands
CAT Engines ACERT 2003 - 2009
9 Commands
Read Only
80% of Dealer Commands
MBE 900 & 4000 Engines
3 Commands Also Performs 30+ Parameter Changes
Read Only
80% of Dealer Commands
Dodge with Cummins Engines
3 Commands
Read Only - Not Officially Supported
Not Covered
Transmission Coverage
SNAP ON ULTRA PRO LINK
JPRO
BOSCH ESI 3824
TEXA
Allison
Dealer Level
Read Only
80% of Dealer Commands
All Dealer Level Commands
Eaton
Read Only
Read Only
80% of Dealer Commands
All Dealer Level Commands
Mack mDrive
Not Covered
Read Only
80% of Dealer Commands
All Dealer Level Commands
Volvo IShift
Not Covered
Read Only
80% of Dealer Commands
All Dealer Level Commands
ABS Coverage
SNAP ON ULTRA PRO LINK
JPRO
BOSCH ESI 3824
TEXA
WABCO
Dealer Level (40+ Commands)
3 Commands
80% of Dealer Commands
Bendix
Dealer Level (19 Commands)
3 Commands
Dealer Level Commands
Haldex Trailer
Unknown
Read Only
Unknown
All Dealer Level Commands
Cab Controller Coverage
SNAP ON ULTRA PRO LINK
JPRO
BOSCH ESI 3824
TEXA
International
Read Only
Read Only
Unknown
Read Only
Freightliner
Read Only
Read Only
Unknown
Kenworth
Read Only
Read Only
Unknown
20+ Commands
Peterbilt
Read Only
Read Only
Unknown
20+ Commands
Volvo
Read Only
Read Only
Unknown
All Dealer Level Commands
Mack
Read Only
Read Only
Unknown
All Dealer Level Commands