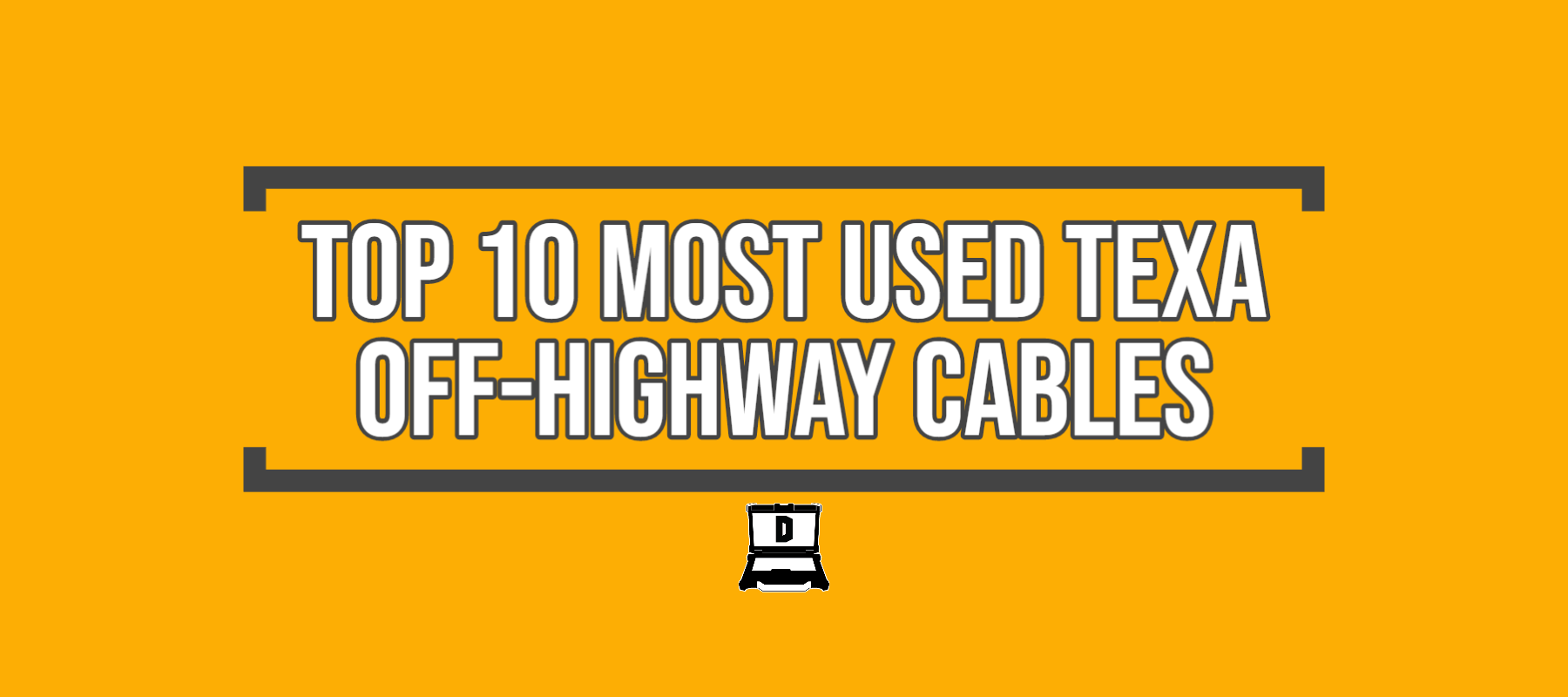 Top 10 Most Used TEXA Off-Highway Cables
Here's a guide that breaks down the 10 most common cables you need to diagnose different equipment on your Diesel Laptops TEXA Off Highway Complete Kit. 
What Cables Are Included in Your TEXA Off-Highway Kit?
When you open your TEXA Off-Highway kit you will automatically receive these cables:
6/9/obdii and cat 9 pin. This covers Cat older than 2015, John Deere, Case, Case IH, Isuzu, Hino, New Holland, most JCB and more.
What Other TEXA Cables Do You Need?
We've compiled a list of the 10 most common recommended cables not included in your kit:
TOP 10 TEXA OFF-HIGHWAY CABLES
T50
Diagnose Cummins engines connecting directly at the ECM. 
T11B
Diagnose Volvo construction equipment Tier 4 interim and older. 
T61
Diagnose Caterpillar equipment with the new style 14 pin connector. The T38 style is already included in your kit. 
T27
Diagnose Deutz engines, can be used in variety of equipment including telehandlers and boom lifts.
T54
Diagnose Hitachi equipment and John Deere excavators to diagnose the machine's body computer and instrument cluster.
T55
Diagnose Kubota engines which can be equipped in multiple types of machines including skid steers, excavators and farm tractors.
T63
Diagnose Doosan/Bobcat engines including ones used in Bobcat skid steers and pull-behind air compressors.
T65
Diagnose Yanmar engines which are used in a variety of equipment including Takeuchi.
T67
Diagnose engines in Komatsu equipment.
T02B+Adapter 13
This is a combination of two separately purchased cables to diagnose FPT engines in Tigercat equipment
For a full list of TEXA cables needed for each make & model of equipment, click HERE
Bundle and save with our TEXA essentials kit, here. 
Farming and Construction Equipment Diagnostics
Our team can help you find the cables you need or answer any questions you have, just give us a call. As an added bonus your kit comes with US-based support and hands on training from certified Diesel Technicians.