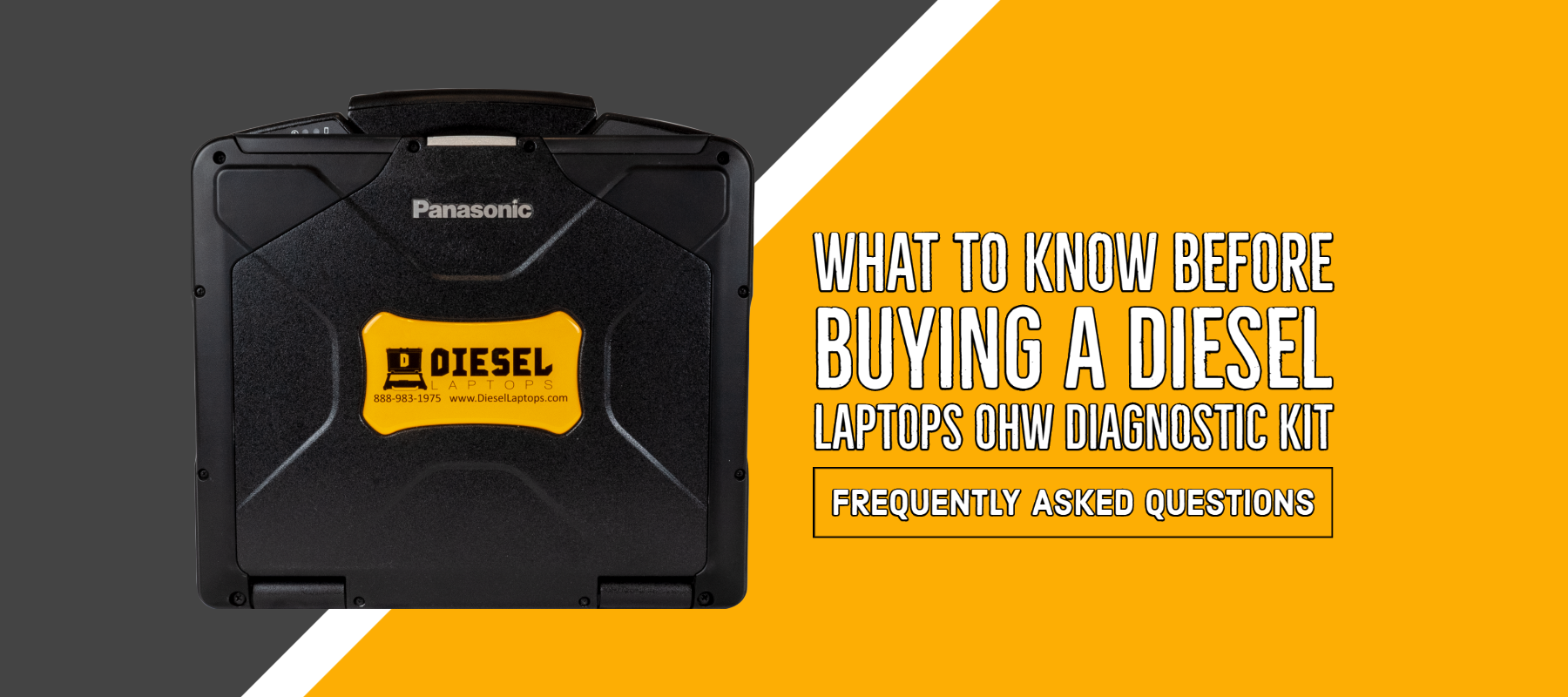 What to Know Before Buying a Diesel Laptops Off-Highway Diagnostic Kit [FAQs]
Purchasing an off-highway diagnostic tool is an investment. We want to make sure that you are picking the best possible tool for your needs. To help, the Diesel Laptops team has put together a helpful list of Frequently Asked Questions that we hear from customers. If you have additional questions, please feel free to leave a comment below and we will get back to you!
What Can a Diesel Laptops Off-Highway Kit Do?
Here is a video overview of the off-highway kit.
This is not just a scan tool. With this dealer-level tool you can have bumper to bumper functionality on commercial trucks, construction equipment and agricultural machines. You will be able to connect to engines, cab controllers, hydraulic systems, GPS, and a variety of others.
It allows you to run a wide array of commands including programing parameters, stationary regens, cylinder cut-out tests, joystick calibrations, injector programming, and thousands of other controls. If there is a specific command, test, or functionality that you are looking for reach out to one of our Diesel Technicians.
What Software is Included When You Get the Diesel Laptops Kit?
There are two diagnostic software options that we will help you decide between based on your needs; TEXA IDC5 and Cojali Jaltest. They each have several modules that you can mix and match to get the coverage that you need: Truck, Off-Highway (Construction), Agricultural and marine.
Here's a video overview of our TEXA kit.
On top of that, Diesel Laptops has developed exclusive apps that will be on your kit including:
DTC Solutions Off Highway - This is the world's first and only off-highway repair information program. Troubleshoot codes with detailed step-by-step repair information and wiring diagrams. View video overview.
Knowledge Base - This program puts access to tens of thousands of PDFs in your hands when you need them. This includes step-by-step PDF guides, wiring diagrams, remove and replace instructions, and much more. This software program covers both Truck and Off Highway.
Labor Time Guide - easy-to-use software that allows you to quickly and easily access common labor times and build professional looking custom estimates on commercial trucks. This software has a lifetime license, no annual fees and even works without an internet connection.
Is Anything Else Included?
Yes, your kit comes with everything you need:
Laptop and Setup - Whichever software you select will be pre-installed on a Panasonic CF-31 Toughbook with 240GB SSD, 8GB RAM, Wi-Fi/Bluetooth, Windows 10 Pro and a 12-month warranty. This kit also includes a rugged carrying case to house your laptop, cables and accessories.
Diesel Laptops Power Bank - Makes it easier to connect to off-highway equipment. View video.
Standard 6, 9, & OBDII Cable - Please contact us for pricing & information on other cables
Technical Support - One year of Premium Technical Support is included. During this time, you will have unlimited access to certified IT professionals and field trained Diesel Technicians.
Free Training - (1) Free voucher for our in-classroom training and (1) Free voucher for our web-based training.
Why Should I Spend Money on This?
This tool is an investment that pays for itself, here are a few things to consider:
A great diagnostic scanner and tool will help save your shop money and generate additional income
It will eliminate high dollar mandatory OEM renewals
Reduce repair fees from dealers and repair facilities
A poll of Diesel Laptops off-highway Kit Users showed:
It costs an average of $1,200 each time a dealer comes out, so the kit pays for itself after approx. 7 repairs.
Customers saved an average of 30 hours per repair with a Diesel Laptops Kit vs. waiting for a dealer
Kit owners saw reduced repair costs, equipment downtime, and scheduling delays
92% of customers were completely satisfied with their Diesel Laptops experience.
Who Can Benefit from the Diesel Laptops Diagnostic Kit?
This tool is great for anyone with more than about 5 pieces of construction, farming and/or commercial trucks that they perform maintenance and repairs regularly on. We have helped businesses including:
Repair facilities & shops
Municipalities
Construction companies
Farms
Heavy equipment rental companies (see how we helped Sunbelt Rentals)
Airlines
Mining Operations
Forestry
Railways
And many more!
How Often Are New Makes & Models Added?
Expect to see 3 to 5 major updates per year, plus there are small patches in between releases.
Are Updates Included?
Updates are included in the first year, then you have the choice to purchase them.
What Happens If You Don't Pay For Updates After the First Year?
If the machines you work on are included in the version you currently have, you may choose not to renew and your diagnostic software will keep working as-is. When you decide it's time to update your kit you can call in and catch up on all of the updates you missed.
What Will My Diesel Laptops Off-Highway Kit NOT Do?
You will not be able to reprogram or reflash the ECM. The functionality on commercial trucks is phenomenal. The coverage on construction and agriculture equipment is better than any other aftermarket product, but it does not have every make and model of equipment. There will be some cases with smaller manufacturers where sub-systems are not developed out, however you will still have functionality with the engine.
What Makes/Models Are Covered?
Click the links below to see the manufacturers covered by each off-highway diagnostic software:
Cojali Jaltest Manufacturer Coverage Guide
TEXA IDC5 Manufacturer Coverage Guide
Makes and models are constantly being added to the software. If the machine you are looking for isn't listed, contact us.
If I Don't See My Make/Model Listed Does That Mean It's Not Covered?
No, if you don't see the piece of equipment you are looking for please contact our technical support. With constant updates the list is always growing.
Does the Kit Come With All of the Cables I Need to Connect?
It comes with a Standard 6, 9, & OBDII Cable.
If you're not sure what cable you need to hook up to your equipment use our Cable Finder. Or contact us for pricing & information on other cables
How Long Does Setup Take Once I Get My Kit?
No time at all. everything is installed, licensed, configured, and tested before it leaves our facility. You just need to unpack it from the box and start using it.  The kit with Cojali software does require registration to access expert mode which must be done by the end-user but this process is quick and painless upon arrival of the kit.
Is it Hard to Learn How to Use the Kit?
The software is pretty intuitive, so most people get the hang of it quickly. But, like any new piece of technology, there is a slight learning curve. To help make life easier, when you purchase a Diesel Laptops Diagnostic kit you get (1) Free voucher for our in-classroom training and (1) Free voucher for our web-based training. We also have free webinars each week, so you can tune in as needed.
For additional support, customers have access to our Technical Support for the first year. After that you can choose to purchase support if needed.
Is there a Payment Plan?
Financing is available through Diesel Laptops, click here.
What If I Don't Like the Kit?
If you're not completely satisfied with your kit you can return it within 30 days of receipt for a full refund. All refunds are paid within 5 business days of receipt.
We have found that 9 times out of 10 people that don't like the kit just haven't taken the time to get familiar with it. To help, we strongly suggest taking our training course that is included with the kit. We also encourage you to call our technical support if you are stumped for more than 5 minutes – they can usually talk you through the issue.
Do You Have Diagnostic Kits in Spanish or Other Languages?
Yes, the Cojali software has English, Spanish, and French options for the US market, but others are available. The TEXA software offers English, French, Spanish, and others available for an additional cost.
Who Can I Talk to About Getting the Right Kit for my Needs?
We never try to sell something based on our needs.  Rather, we identify what our customers' needs are and make well thought-out recommendations based on those needs. Talk to our sales support by calling (888) 983-1975
Where Can I See All of the Kit Options?
Take a look at the kits on our website, here.
Additional Questions?
If you have more questions about the kit, click here or leave a comment below! Our team would love to talk to you.