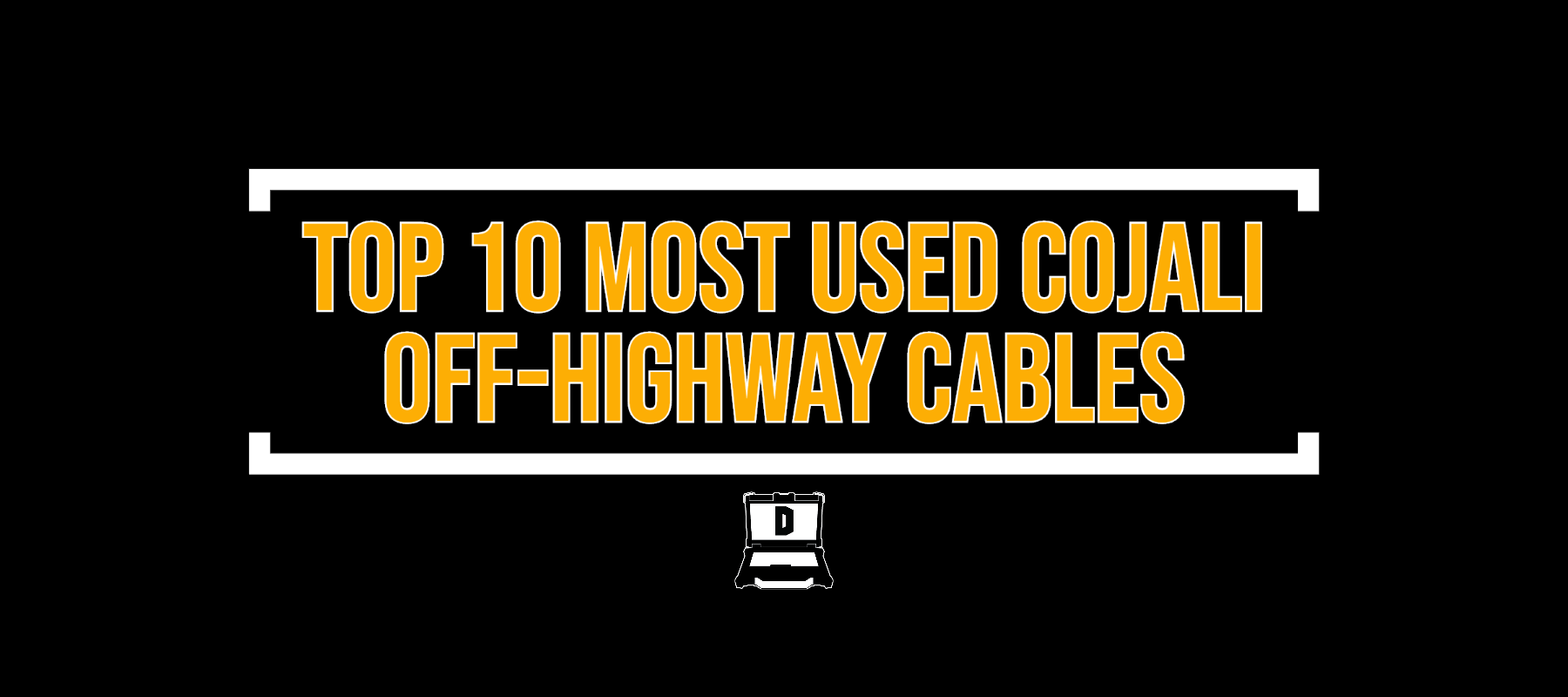 Top 10 Most Used Cojali Off-Highway Cables
Here's a guide that breaks down the top 10 cables needed to diagnose different equipment on your Diesel Laptops Cojali Jaltest Agriculture or Off-Highway Complete Kits.
What Cables Are Included in Your Cojali Agriculture or Off-Highway Kits?
When you open your Cojali Kit you will automatically receive these cables:
OBDII and pinout which covers Cat older than 2015, John Deere, Case, Case IH, Isuzu, Hino, New Holland, most JCB and more.
What Cojali Cables Do You Need?
We have compiled a list of the 10 most common recommended cables not included in your kit:
TOP 10 COJALI OFF-HIGHWAY CABLES
JDC217M3
The newer "green 9 pin" used with manufacturers such as John Deere, Case IH and New Holland.  Note: If you purchased an Off-Highway kit this is included, but it is not included in the Agricultural kit. 
JDC505A
Diagnose Cat equipment prior to the new 14 pin connection and also Perkins engines and some Terex equipment. 
JDC513A
Diagnose Massey Ferguson agricultural equipment. 
JDC523A
Diagnose Kubota engines used in Agricultural and Construction equipment such as skid steers, excavators and farm tractors.
JDC216A
Diagnose Cummins engines in a variety of machines ranging from industrial settings to farm equipment.
JDC201A
Diagnose Volvo construction equipment Tier 4 interim and older.
JDC504A
Diagnose Deutz engines used in agricultural and construction equipment.
JDC538A
Used for diagnostics on Yanmar engines and a variety of Yanmar construction equipment.
JDC533A
This is the 14-pin cable needed to diagnose new CAT equipment.
JDC539A
Used for the machine side of Bobcat equipment and is equipped with the remote switch.
For a full list of Cojali cables needed for each make & model of equipment, click HERE
Farming and Heavy Equipment Diagnostics
Our team can help you find the cables you need or answer any questions you have, just give us a call. As an added bonus your kit comes with US-based support and hands on training from certified Diesel Technicians.