Diesel Repair Desktop (Free Fault Code Information)
files/Icon_Black_D.png

Diesel Repair Desktop (Free Fault Code Information)
Black Friday Sale Nov. 24 - Dec 8! At least 5% Off Every Product!
See Details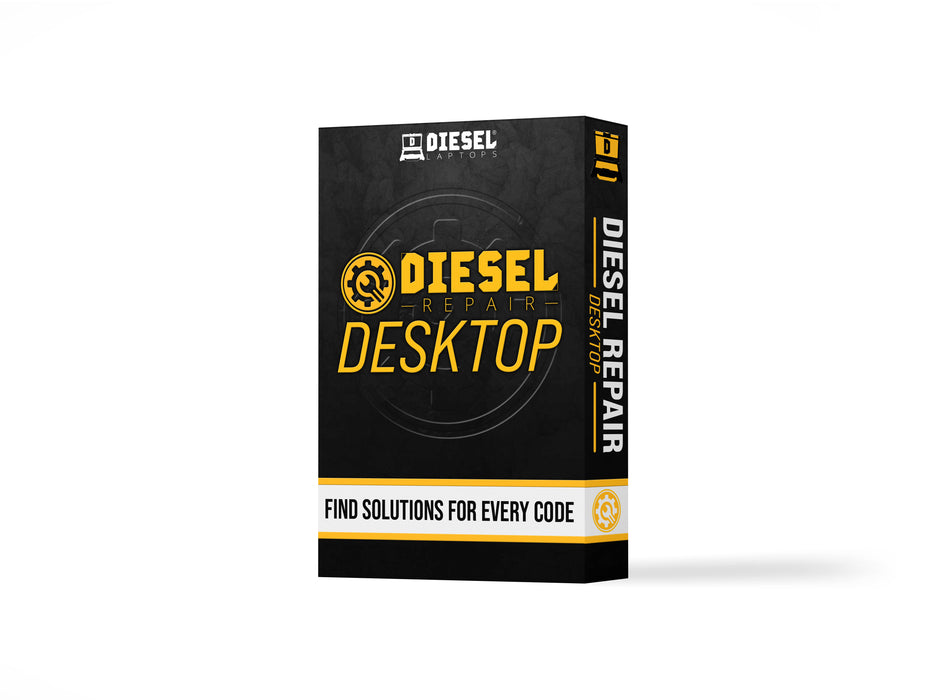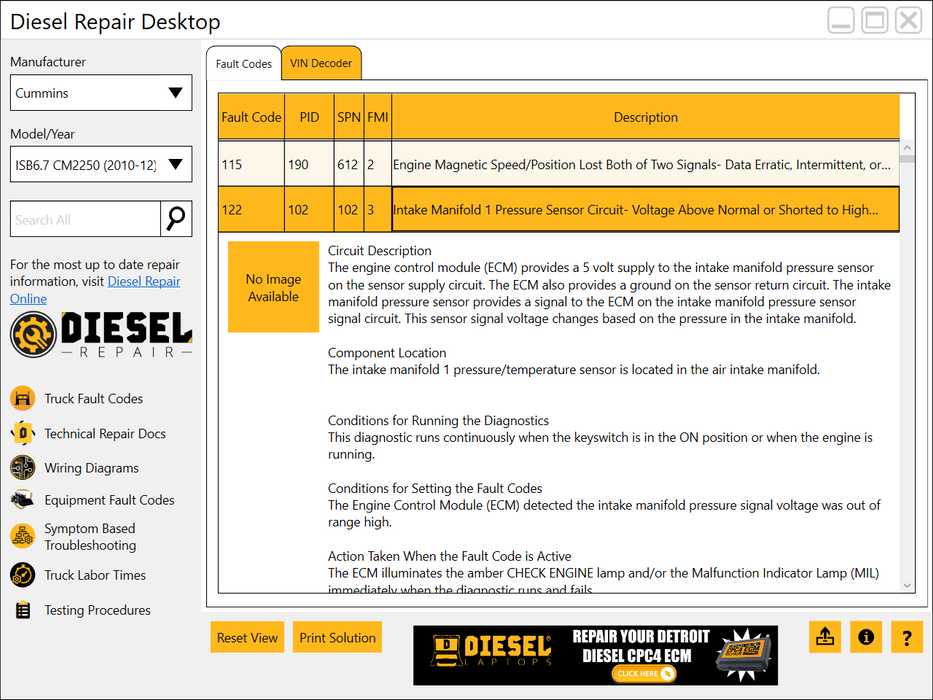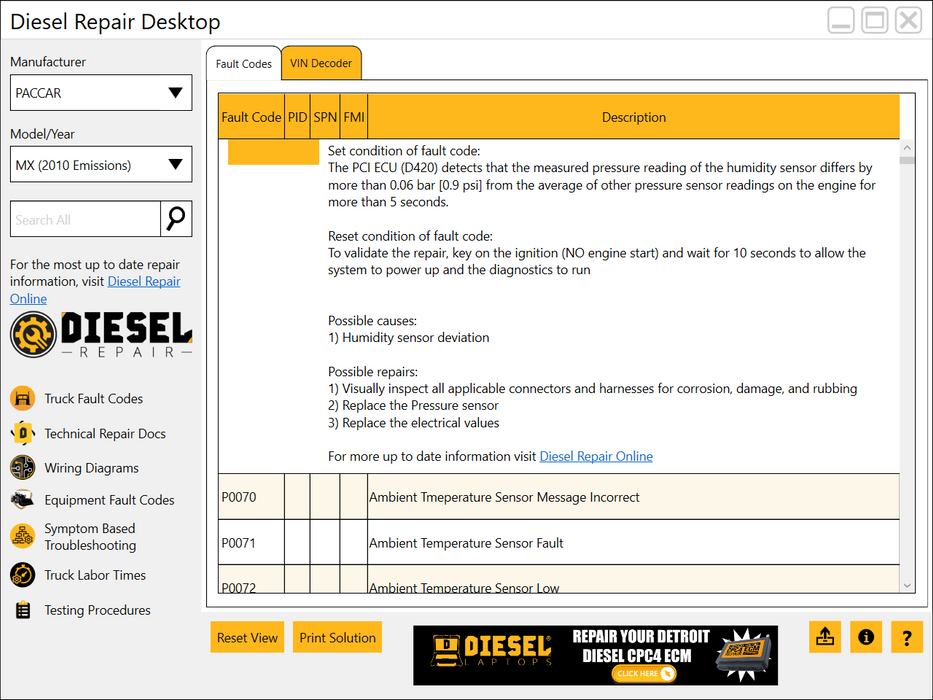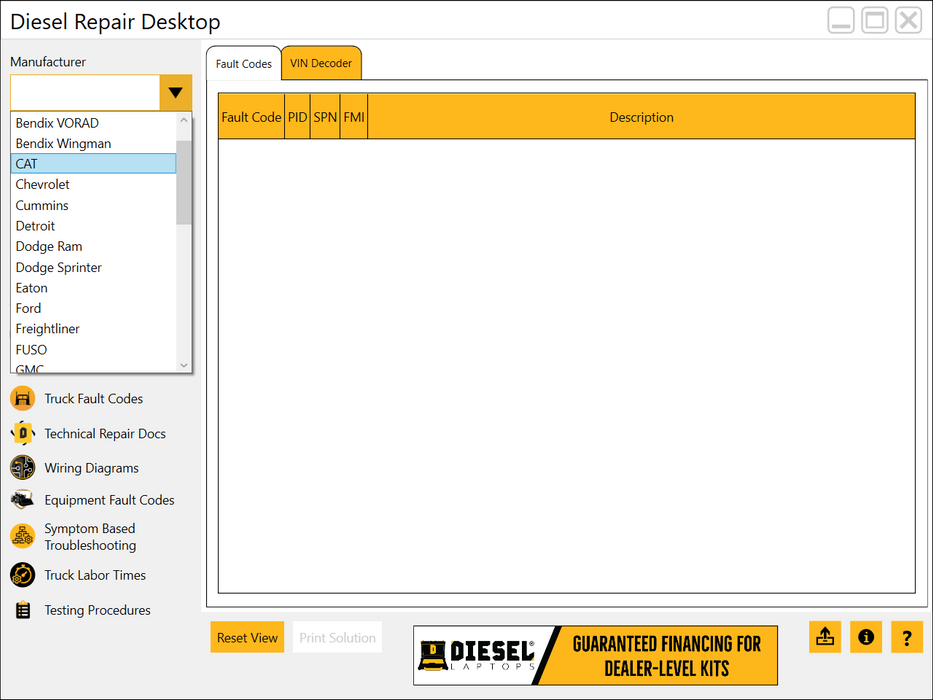 When you don't have the best internet connection (or none at all) and can't get to our online Diesel Repair platform, our desktop version allows you to get quick repair information for fault codes without the need to be connected.
Using the program is very simple:
Step 1 - Select the Manufacturer & Model/Year or Search
Step 2 - Pick your code
Step 3 - Read the solution
Comprehensive Coverage
This is the most concise, easy to use diagnostic code troubleshooting software you will ever see. We will provide you with a download link by email after your order is completed.
See Engine Coverage
Engine Coverage
Unless noted otherwise, coverage is complete for all on-highway electronic engines for each vendor and current to 2018 model years.
CAT: 3100 HEUI, 3126B, 3126E, 3406E, C-10, C-12, C-15, C-16, C11, C13, C15, C7, & C9
Cummins: N14, M11, ISX, ISB, ISM, ISC, ISL, & Signature
Cummins engines in Dodge Trucks
Detroit: Series 60 DDEC II to DDEC VI, EPA07, EPA10, DD series, GHG14, DDEC VI, DDEC10, DDEC13
Ford PowerStroke: 6.7L, 6.0L
FUSO: All engines from 2008 to Current
HINO: JO8E (2011 & Newer) and J05E Engines (All Years)
International Engines: DT466, VT365, VT275, HT570, DT530, T444E, MaxxForce 5, MaxxForce 7, MaxxForce 9, MaxxForce DT, MaxxForce 11, MaxxForce 13, MaxxForce 15, N9, N10, N3
MBE900: All Years
MBE4000: All Years
UD Nissan: 2005-2007
Isuzu: 4HE1 (1999-2004), 4HK1, & 6HK1
Mack: 2004 to Current
Volvo: 2004 to Current
PACCAR MX: 2007 to Current
Sprinter: OM612 (2002-03) & OM647 (2004-06)
Transmission Coverage
Allison: 1000/2000, 3000/4000, WTEC II, & WTEC III
Eaton: Generation 1, Generation 2, Generation 3, Fuller Advantage
Mack: mDrive
Volvo: IShift
ABS Coverage
Bendix ABS: EC-30, EC-60, EC-80, & Trailer TABS-6
WABCO: C-Version, D-Version, E-Version, Hydraulic, Easy Stop, Trailers, & Dollies
Body Controllers
Freightliner: Cab, Chassis, Central Gateway, & MSF
International: ProStar & Medium Duty Trucks
Dodge RAM (2006-Current): Transmission, ABS, Airbag, Amplifier, Radio, Body, Center Stack, Console, Driver & Passenger Door, and 20 more
Mack: Panel, Satellite, Vehicle, Climate Control, Seat Belt, Radio, Lighting Controller, and Cab Shifter
Volvo: Panel, Satellite, Vehicle, Climate Control, Seat Belt, Radio, Lighting Controller, and Cab Shifter
Thomas Bus: Specific codes for only Thomas Bus (All Years, All Components)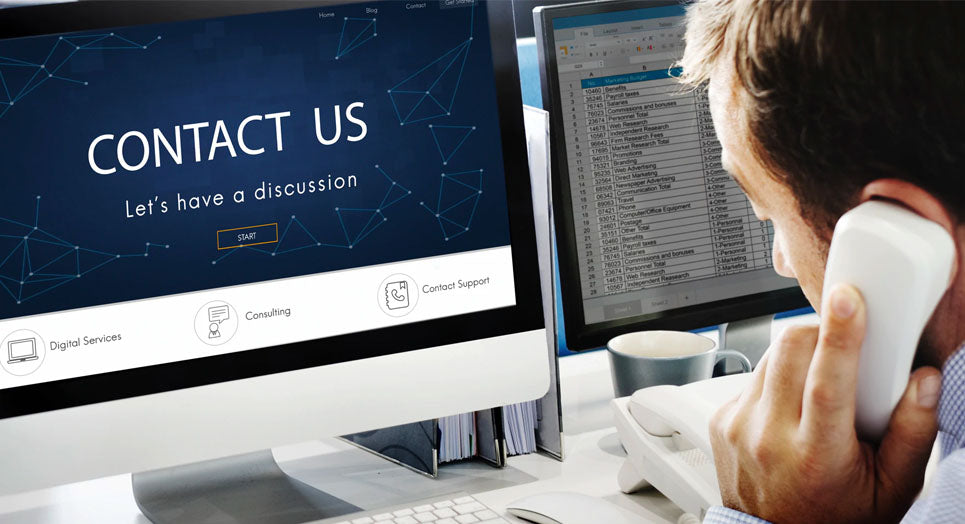 Questions?
If you have any questions about this or any other product, please don't hesitate to contact one of our Diesel Laptops experts at (888) 983-1975 or by clicking below!
Contact Us