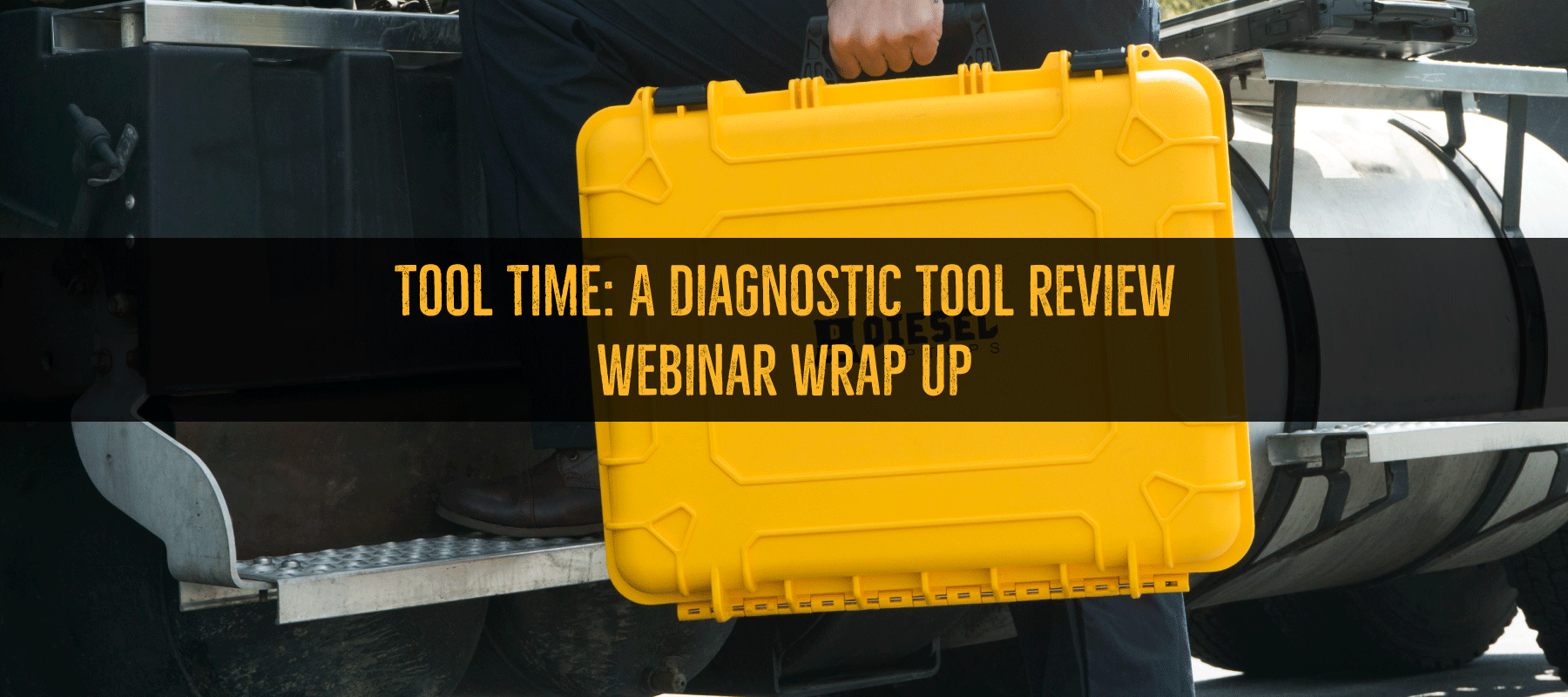 Tool Time Webinar Wrap Up
Shopping for a new diagnostic tool can be a daunting task with all the options out on the market these days. In this blog post, we'll be giving you the pros and cons of all your choices from Bluetooth readers up to dealer level kits. We did a webinar all about this topic on December 11, 2019, as well if you'd like to watch the recording below. If you're still looking for more information on a certain tool or need help deciding what's the best fit for you, feel free to reach out to a member of our sales team at 888 983-1975 ext. 1.
OEM Software is the best on the market if you have unlimited funds and resources but typically, that's not the case. We'll be comparing all of the different options to this.
Pros: Receive support from the OEM factory
Cons: Expensive, some software is impossible or very difficult to get, don't always include repair information, every software has a learning curve, multiple licenses to manage, required annual fees.
Pirated Software can seem like it's a good deal but, in reality, could end up costing you more than all these tools combined.
Pros: Seemingly inexpensive
Cons: Illegal so it opens you up to legal liabilities including fines, some OEM software can leave a digital footprint of what equipment it has been hooked up to, the software is usually several years behind and quality cannot be verified, absolutely no support 
Bluetooth Readers are a good entry-level, read-only tool priced between $120 - $450.
Pros: Able to give you basic information, easily updateable through the Internet
Cons: Most likely will not read OEM flash codes, difficult for us to provide support
Handheld Readers are another affordable option priced between $300 - $600.  
Pros: Self-contained system so you don't need to pair it with a phone,
Cons: Very difficult to update, functionality and performance varies greatly
OTR Performance is a new option on the market priced between $400 - $1300.
Pros: No need to pair it with a computer or another device, resets derates and fault codes, great to get you out of a pinch
Cons: No display, no buttons, and doesn't allow you to actually fix the problem
PF-Diagnose is a PC-based software program priced at $650 that must be used in conjunction with an RP1210 device.
Pros: Lifetime license, universal read everything, gives OEM flash codes and live sensor data, allows you to clear any codes and run reports on your equipment
Cons: Cannot change parameters or run tests, limited built-in troubleshooting,
The Universal Signature Kit is a kit made by Diesel Laptops priced at $2,595 that includes everything you need to use the PF-Diagnose software (?).
Pros: Includes everything you need to start diagnosing trucks right when you get it, includes Diesel Laptops repair information and technical support, ability to add-on OEM software if you need more capabilities for just one manufacturer, upgrade path (link to Trade Up) to better tools
Cons: Cannot change parameters or run tests
China Import Tools are self-contained units from companies like Autel, TopDon, Matco, and others priced between $2,500 - $3,500.
Pros: Lifetime license, universal read everything tool, live sensor data, hit or miss bi-directional commands
Cons: Commands oftentimes won't work, tough to support because it's not possible to remote into them and there's no company to call to receive information
JPRO by Noregon is another read everything option priced around $5,000 for a complete kit that can also run a handful of bi-directional commands on commercial trucks.
Pros: Reads codes very quickly, easy to use, gives OEM flash codes and live sensor data, solid software with rarely any bug issues,
Cons: Coverage gaps, required annual fee (around $1,500), must use their DLA + 2.0 adapter to use their software on the automotive side, repair information is another additional cost
SnapOn ProLink Ultra Heavy Duty is a tablet that starts at $2,500 with basic code reading software and ranges up to $15,500 depending on desired functionality.  
Pros: Many bi-directional commands included
Cons: Lots of coverage gaps, not going to find a lot of the commands and functionality you're looking for, you don't know how often updates come out or how much they cost, repair information is an additional cost
Diesel Laptops Fleet and Triage Tool is a kit made by Diesel Laptops that includes a Windows-based tablet that runs TEXA IDC5 and will work on all diesel engines priced at $4,295.
Pros: Entry-level tool that will run basic functions like regens and cut out tests, lifetime license that never expires, eligible for our trade-up program
Cons: Won't do programming events
ESI Truck by Bosch is another self-contained unit that runs Windows and is priced at $8,500.
Pros: Adapter is RP1210 compliant so it can be used with other software
Cons: Hardware isn't very rugged or durable, ports and plugs would break when dropped, prone to system failures, the software is anywhere between 3-6 months behind Jaltest, repair information isn't included, required annual fees 
Cojali Jaltest is one of the two software options in our Diesel Laptops All Makes Dealer Level Diagnostic Kit.
Pros: Software is very easy to use, great coverage and capabilities, always adapting with updates every 3 months, the adapter is RP1210 compliant so it can be used with other software, add on modules are available, great customer support
Cons: Required annual fees, the adapter cannot be used with Cojali's marine module
TEXA IDC5 is one of the two software options in our Diesel Laptops All Makes Dealer Level Diagnostic Kit.
Pros: Widest and deepest coverage in the market, always adapting with anywhere between 4-6 major updates a year along with some minor patch updates, add on modules are available, no required annual fees
Cons: Adapter cannot be used with other software, no integrated repair information
eTruck by TEXA is a new kind of remote diagnostic tool for commercial trucks.
Pros: Allows you to see what's going on with your equipment out in the field and allows you to remotely run a DPF regen with the driver's assistance
Cons: Must be paired to an Internet-enabled device, only available in packs of five
Your tool is just one piece of the diagnostic puzzle. To get the most out of your investment, you also need to have training to use the tool, repair information to help you fix your issue, and support when things go wrong. Purchasing your kit from Diesel Laptops ensures you get all of these pieces to help keep trucks out of the shop and on the road!
Training

At Diesel Laptops, we're passionate about ensuring technicians have access to training opportunities which is why we offer classes both online and in-person. These classes range from software-specific courses all the way to electrical diagnostics. To learn more about these training opportunities, check out our training website. 

Repair Information

Great, you've got your code. Now what? Diesel Laptops offers a variety of software with repair information for heavy-duty trucks, construction equipment, agriculture equipment, and even marine equipment! Our software, included with your purchase of a kit or for sale separately, will help you figure out how to clear your code with troubleshooting trees, parts cross-referencing, wiring diagrams and more!

Support

Diesel Laptops has a technical support team made up of both IT professionals and former diesel technicians to help our customers with any issues they come across! We offer support in English, Spanish, Japanese, and Portuguese. Our hours are Monday-Friday: 7AM - 9PM EST and Saturday 8AM - 4PM EST.