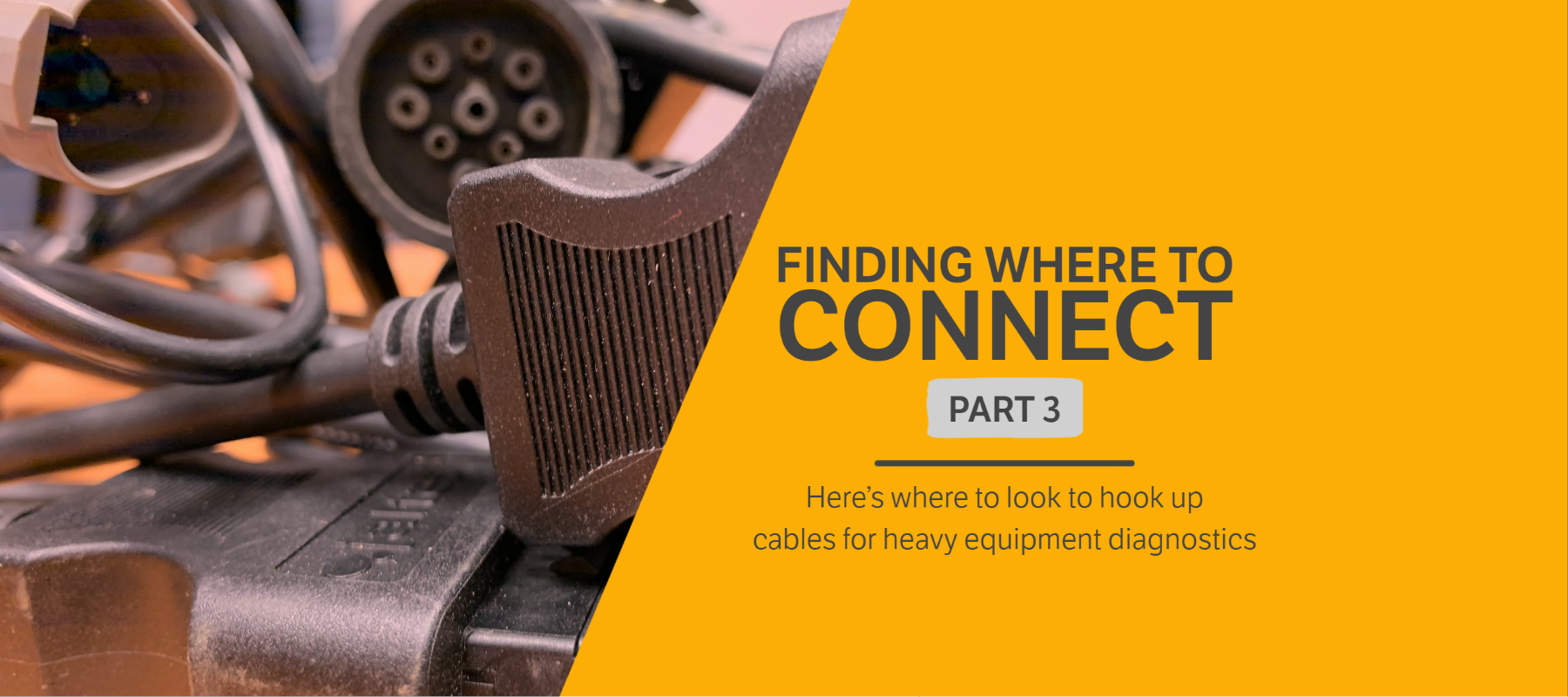 Where to Find Cable Connections on Off-Highway Equipment (Part 3)
We get tons of calls from people struggling to find where to hook up, since port locations can vary on every make and model. In this blog series, Diesel Laptops breaks down where the cable connections are on some of the most common construction and farming equipment we work on with our Diesel Laptops Diagnostic kits. 
Here are the other blogs in the series:
Part 1: Bobcat Skid Steer, Bomag Roller (Deutz Engine), CAT Dozer, CAT Excavator, CAT Grader, CAT Loader, CAT Skid Steer and CAT Backhoe
Part 2: JLG Aerial Lift (Duetz Engine) and Telehandler, JCB Excavator and Telehandler, Hamm Roller 
If you're not sure what cable you need, click here to view our cable guide for each make & model of construction, agricultural and industrial equipment.
WHERE TO CONNECT
---
Doosan Excavator
Depending on what model you have your hook up is located behind the seat (photo 1), on the engine, it at the back side of the engine (photo 2):
Behind the seat:
Back side of the engine: 
---
Kobelco Excavator
Location will vary slightly based on engine type, both are behind the seat. Hino Engines (photo 1) or FPT engines (photo 2)
Kobelco Excavator with Hino Engine: 
Kobelco Excavator with FPT Engine:
---
Linkbelt Excavator
Cable connection is behind the seat
---
John Deere Backhoe 
Connections can be found in the console: 
---
John Deere Excavator 
JD Excavator connections are found in one of the following places: behind the seat (photo 1), by the batteries (photo 2), or at the ECM (photo 3).
Behind the seat: 
By the batteries: 
At the ECM: 
---
John Deere Skid Steer
Diagnostic port is located by the gauge cluster
---
---
John Deere Loader
Hook up is found on the console
---
Takeuchi Excavator
Connection is under the seat
Heavy Equipment Diagnostic Connection Assistance
Diesel Laptops carries a full range of diagnostic cables, if you don't see what you're looking for contact our team.
If you are having trouble connecting your TEXA or Cojali Off-Highway diagnostic kit to your machine reach out to us, one of our trained diesel technicians can help troubleshoot the issue.