Cojali Truck Diagnostic Rental Kit
files/Icon_Black_D.png

Cojali Truck Diagnostic Rental Kit
Black Friday Sale Nov. 24 - Dec 8! At least 5% Off Every Product!
See Details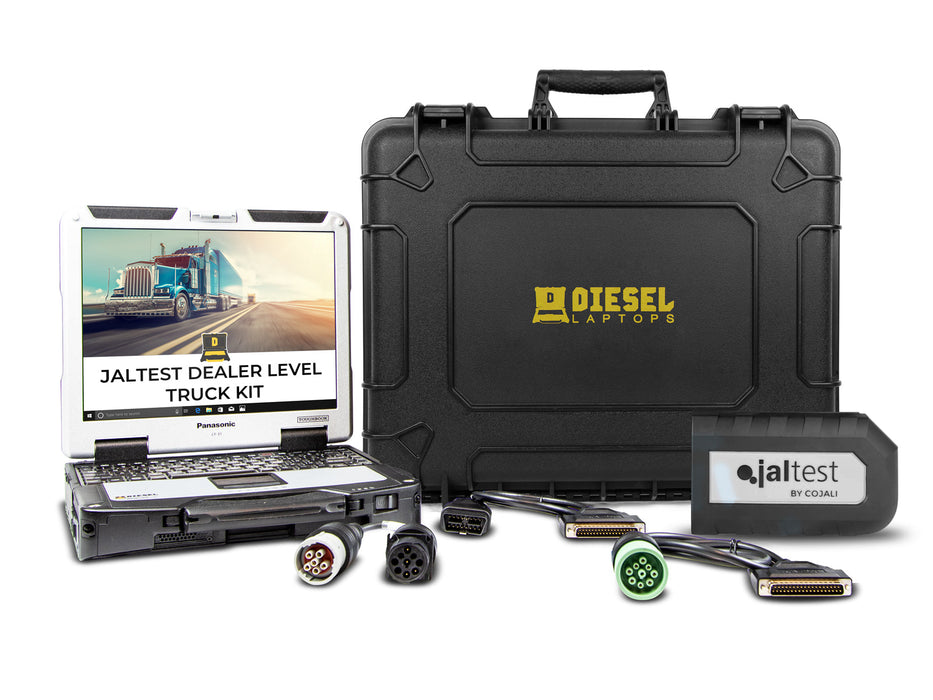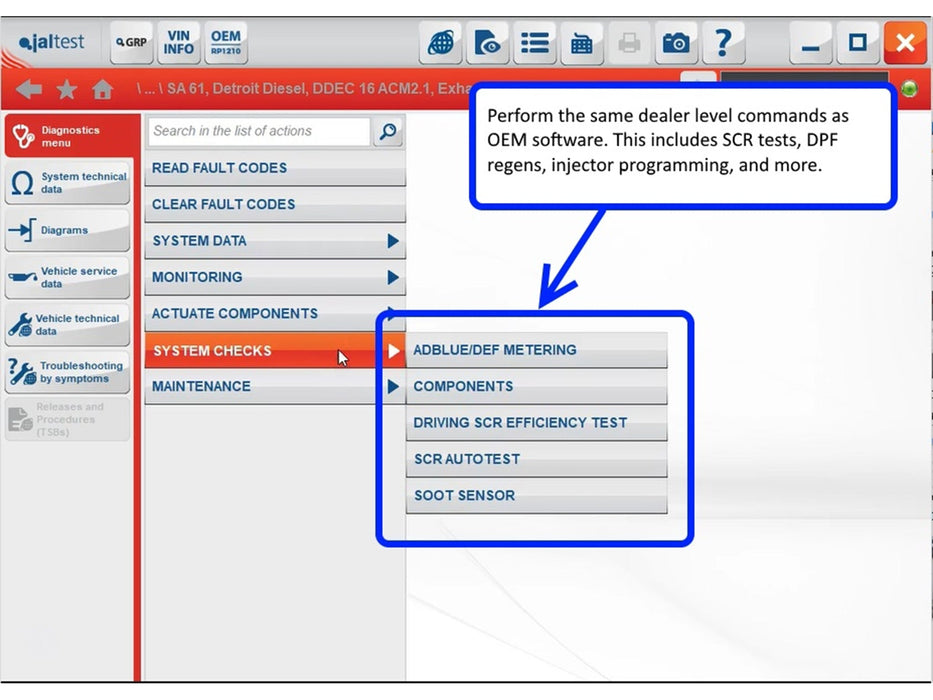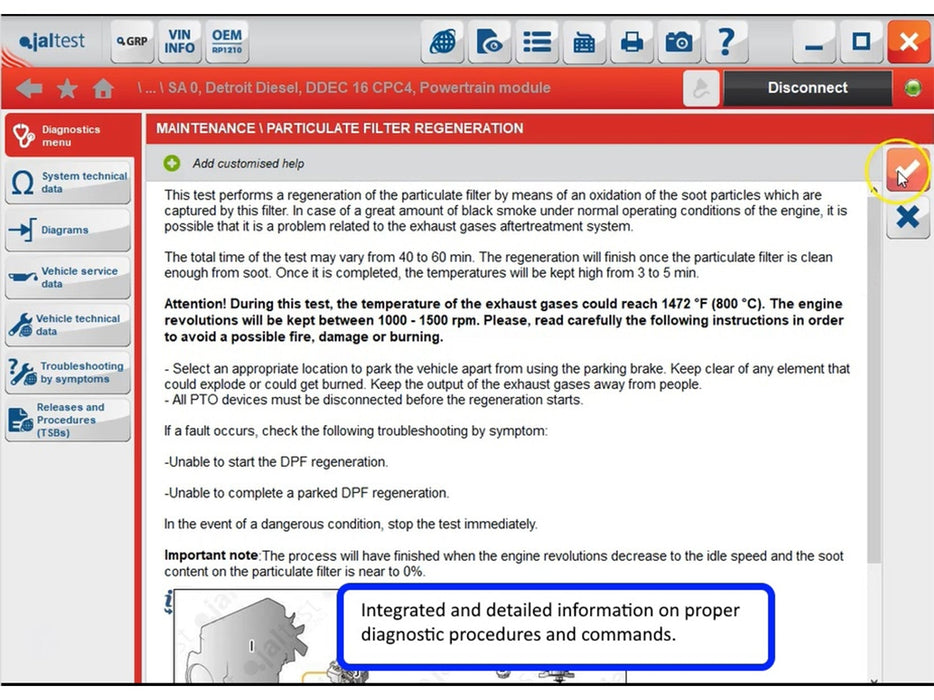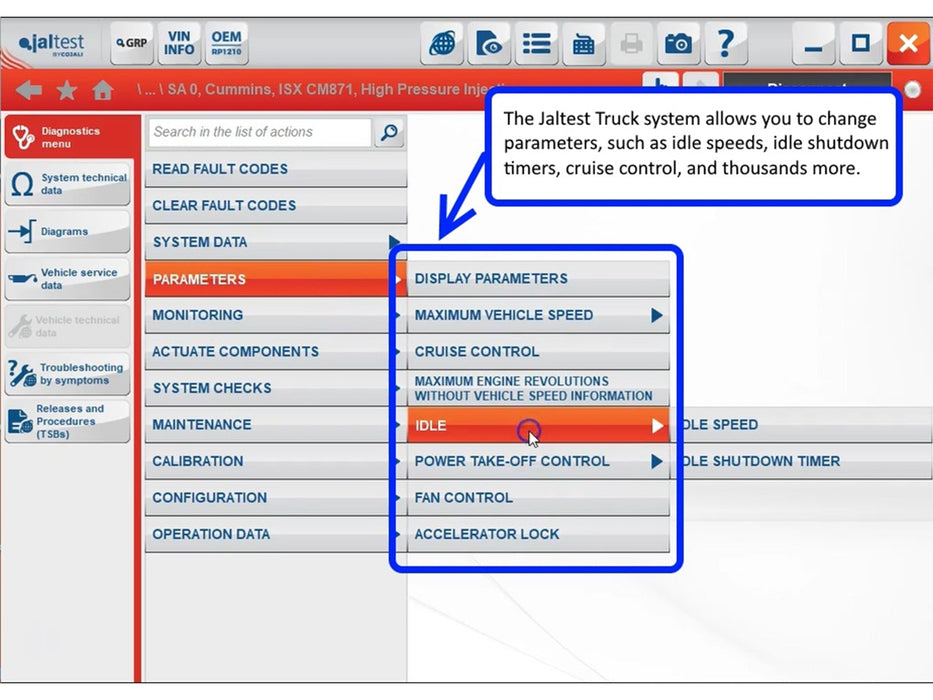 Our premiere dealer level kits from TEXA and Cojali are available to rent. Even better is that every month you rent a kit, a portion of that payment can be used towards a down payment on the purchase of a new unit for when you are ready to buy.
Rentals are month-to-month. Upon signing a rental agreement and your first months payment a kit will be shipped to you.
The Cojali Jaltest Diagnostic Laptop Tool is a multi-brand system that allows you to perform dealer level commands on commercial trucks. Perform injector programming, DPF regenerations, cylinder cut-out tests, change parameters and more. 
This kit combines Jaltest expert diagnostics and with Diesel Laptops repair information, technical support, and training.
Jaltest Truck Software
This self guided, intuitive software allows you to check connections, actuate components, change perameters, configure system data, clear errors, run diagnosis reports and more on virtually all trucks.
See Coverage
Truck Coverage
Caterpillar on-highway engines
Cummins on-highway engines
Detroit on-highway engines
Ford
Freightliner
Hino
International
Isuzu
Kenworth
Mack
Mitsubishi Fuso
Nissan
PACCAR
Peterbilt
Sterling
UD
Volvo
Western Star
Bus Coverage
Alexander Dennis
BCI
BLK
Blue Bird
BMC
DINA
ENC (Eldorado)
Ford Custom Chassis
Freightliner Custom Chassis
GCA
Gillig
Golden Dragon
Higer
Hyundai
IC (International)
Isuzu
Iveco/Irisbus
MAN
MCI
Mercedez-Benz
NABI
Neoplan USA
New Flyer
Nova Bus
Orion
Prevost
Scania
Setra
Temsa
Thomas Built
Van HoolUSA
VDL
Volkswagen
Volvo
Light Commercial Vehicles
Dodge
Fiat
Ford
Foton
Freightliner
GMC / Cheverolet
Great Wall
HINO USA
Hyundai
Isuzu USA
Iveco
KIA
Mercedes-Benz
Mitsubisi
Mitsubisi FUSO USA
Nissan
Piaggo
Sterling
Toyota
UD Trucks
Volkswagen
Workhorse
ABS
Bendix Tractor
Bendix Trailer
Haldex Trailer
Meritor Wabco Tractor
Meritor Wabco Trailer
Wabash Trailer
Transmissions
Eaton
Isuzu
PACCAR
Twin Disc
Voith
ZF Meritor
Diesel Repair Desktop
When you don't have the best internet connection (or none at all) and can't get to our online Diesel Repair platform, our desktop version of Diesel Repair allows you to get quick repair information for fault codes without the need to be connected. Pick your ECU and model, find your code, and see exactly what you need to know about that code, including components to look at for repairs.
Create Professional Labor Estimates
Labor Time Guide is easy-to-use software that allows you to quickly and easily access common labor times and build professional looking custom estimates. This software has a lifetime license, no annual fees and even works without an internet connection.
Rugged Hardware and Accessories
Rest assured that your software comes pre-loaded on the toughest laptop on the planet: a Panasonic CF-31 Toughbook with 240GB SSD, 8GB RAM, Wi-Fi/Bluetooth, Windows 10 Pro and a 12-month warranty.
This kit also includes a rugged carrying case to house your laptop, cables and accessories.
See Cables and Accessories
Jaltest HD Link
6-Pin, 9-Pin & OBDII Cable
Technician Training is included
Not only do we offer weekly online Cojali training courses to help you get to know your software, but we offer Diesel Technician training as well.
One free Diesel Technician training class is included with your purchase.
Expert help is standing by
One year of Premium Technical Support is included. During this time, you will have unlimited access to certified IT professionals and field trained Diesel Technicians.
Our experts can guide you through any issue from basic connection issues to complex software issues and everything in between. Multi-lingual support is also available.
Works with Diesel Explorer
This Heavy and Medium Duty Diagnostic Software allows you to...
Easily see every DTC
Get information on components
View live parameters
View trip data
Generate reports and more!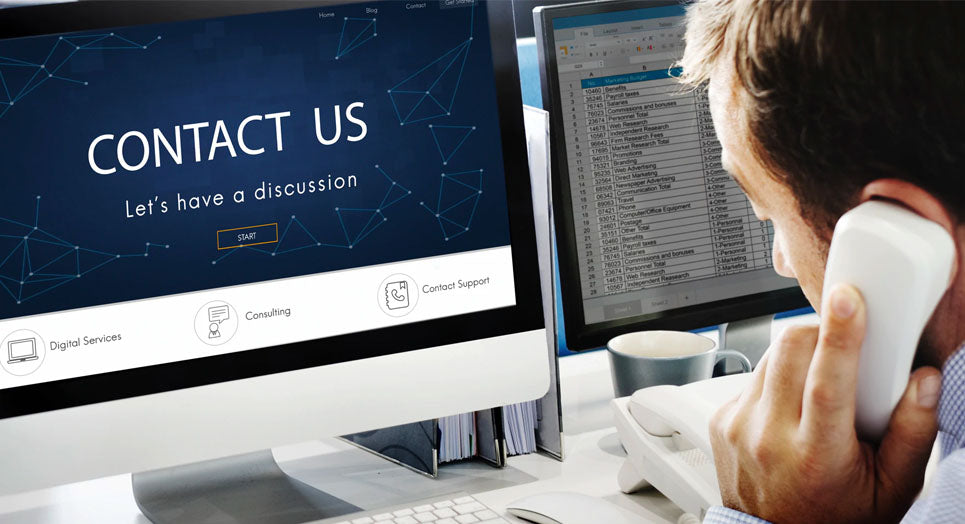 Questions?
If you have any questions about this or any other product, please don't hesitate to contact one of our Diesel Laptops experts at (888) 983-1975 or by clicking below!
Contact Us