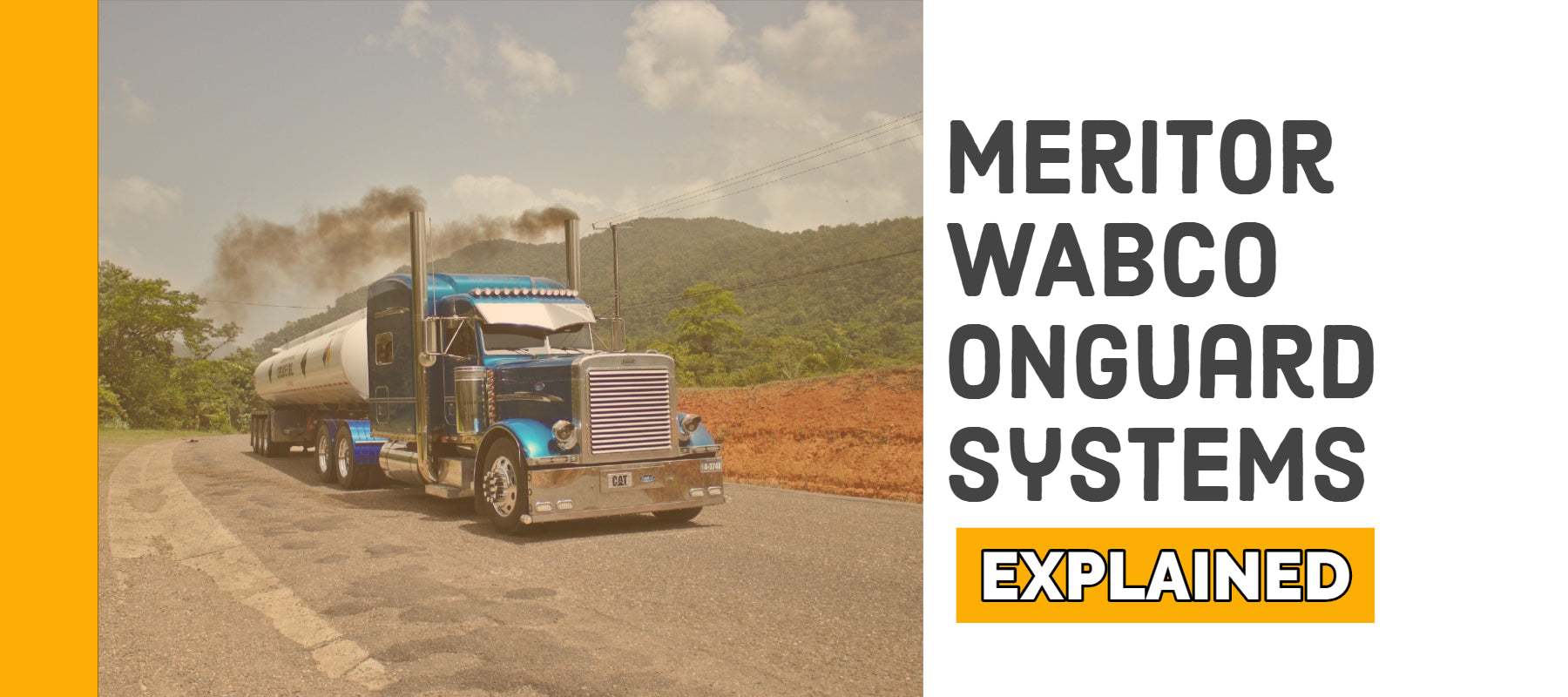 Meritor WABCO OnGuard Systems Explained
WABCO first introduced the OnGuard system to the commercial truck industry in 2008. The OnGuard is a Collision Mitigation System (CMS) that provided a variety of functions that help commercial trucks and buses avoid accidents. This is done through Forward Collision Warning (FCW), Adaptive Cruise Control (ACC), and Active braking. These systems are "always on" and working in the background to help assist drivers.
This system has made tremendous technology leaps since 2008, and by 2017 the OnGuard system was used in over 500,000 commercial trucks and buses, with over 70% of the Top 50 For Hire fleets using the platform.
Around early 2016 WABCO released the latest version called OnGuard Active. While the previous version would alert the driver, this new version would perform vehicle functions such as full braking capability and other advanced functions and improvements. This included the ability to detect road objects in zero-visibility conditions, more alert functions in the cab, and better object filtering due to technological advances.
WABCO hasn't released their next version yet, which is called OnGuardMAX. This next generation provide autonomous emergency braking, along with pedestrian detection and other improved technology for radar improvements.
OnGuard can be installed with new truck orders, or it can be installed afterwards as well. Besides the CMS mentioned above, WABCO also has other systems that provide other functions. This includes the OnSide Blind Spot Detection System, the OnLane Lane Departure System, and TailGuard Rear BlindSpot. These provide features above and beyond what comes with the OnGuard ACTIVE system.
Keep in mind that WABCO isn't making the only CMS in the market. Bendix has their Wingman system, and Freightliner has their Detroit Assurance. There are some vast differences in these platforms when you dig into the details. For example, the OnGuard ACTIVE system only works when the truck is doing at least 15 MPH. The Detroit Assurance will work all the way down to zero MPH.
OnGuard Active System Maintenance
One of the most common questions we receive from users on these systems is around the maintenance. There appears to be confusion on what should be done, how often it should be done, and how to go about performing those procedures. Hopefully this blog post will shed some light on those areas.
To answer the question of "when" you should perform maintenance or inspection on the system, it is simple. You should do it when you perform your regularly scheduled preventative maintenance. The process doesn't take much time, and its to ensure the safety of your driver, general public, truck, and cargo.
The inspection process itself is very straightforward and doesn't take very long to complete. Here is what you need to do:
Remove the fascia and inspect the bumper positioning. Verify the bumper is not physically touching the radar sensor, fascia or mounting bracket at any point. If the bumper is touching the fascia, reposition the bumper so there is a minimum of 1/4-inch (6.35 mm) clearance between it and the fascia at all points.
Visually inspect the radar connector and housing for any damage. Inspect the edge of the fascia for any signs of wear or prior contact with the bumper. Also, inspect the routing of the radar sensor harness to ensure it is not pinched in the bumper or damaged at any point. The rubber boot on the radar harness connector must fully cover the connector.
Verify the radar sensor and mounting hardware is secure.
If the radar passes all these inspections, reinstall the fascia.
OnGuard Active System Training
WABCO has been nice enough to include a great training video, which we have displayed below. The important there is to realize this is an assistance system, not a substitute for proper driver behavior.
OnGuard Active Operation Issues
While this is a great safety system that saves lives, it is another complex and advanced system that is going an already advanced and complex piece of machinery. You now have a radar system, more wiring, and in-cab displays that need to be understood.
There are a couple of very common issues that can cause operational problems. For example:
Debris such as dirt, snow, and ice on the radar fascia, or between the fascia and radar, can cause the system to not work or through fault codes.
The radar sensor mounting may become loose from the mounting bracket, causing it not read correctly or even at all.
The wiring for the system may become damaged or have water intrusion causing electrical issues.
The radar itself may not be aligned or calibrated properly, resulting in improper readings or loss of functionality.
If your fleet is running the Meritor OnGuard Active system, or you work on a client's trucks that have this system, it is highly recommended that you get acquainted with how it works, the common components, and how to properly troubleshoot issues.
OnGuard Active Alignment Procedure
The time will come where you need to replace one of the radars, or even perform the alignment procedure on the existing radar. This procedure isn't overly complicated, but we more often find that technicians aren't even sure what to do.
It is also important to note that there many times you should run this procedure even if you don't have an issue. This procedure is required anytime there is an adjustment, repair, replacement, or maintenance of common components on commercial trucks. This includes:
Chassis parts replacements
Steering or suspension parts replaced, adjusted, or aligned
Tire replacements
Tire inflation or size changes
Front body parts replaced or adjusted
Installation of non-OEM bumpers, hoods, and brush guards
As you can tell, there are a lot of times the alignment procedure should be done, but is probably not being done in the market.
To do this procedure, you are going to need proper software to perform this function. Diesel Laptops currently offers two different diagnostic tools that can perform this procedure.
The first is the WABCO Toolbox software. The software is going to run your around $450 for a lifetime license, plus you'll need an RP1210 compliant adapters like our Diesel Link.
The second is the Cojali Jaltest laptop kit. While this is more expensive, this tool will perform dealer level commands on every possible commercial truck that you can think of, including all the subsystems.
Whatever your tool of choice, the procedure goes as follows:
1. Using either software program mentioned above, find the function called "Service Alignment Function".
2. This function will initiate the radar alignment sequence. The Meritor OnGuard display in the cab will now change, and you should see something like the following:
3. You must now perform a road test. During the road test, you want to find a straight road where you can do above 30 MPH. Also try to find a road that has telephone poles, sign posts, or other non-moving objects along the road. You will also want to keep at least 150 feet away from vehicles ahead of you.
4. As you are driving, the service alignment bar will continue to increase. Most alignment procedures take less than 10 miles to complete. Once completed, you will see this:
Note that sometimes after you complete this process, you may have a fault code shown on the screen. If this occurs, turn the ignition key off for at least 2 minutes, and then start the vehicle again. The code should disappear. If not, or the radar alignment fails, the error code should indicate the direction in which the sensor is incorrectly aimed.
OnGuard Active Troubleshooting
The OnGuard Active system is very sensitive to over vehicle systems. Often a fault code in the engine, cab, transmission, or ABS system will cause a code in the OnGuard system. It is highly recommended that you repair active fault codes in other systems before looking at active OnGuard Active fault codes.
The good news is that it isn't required to read fault codes on the OnGuard Active system. You can use the display panel in the dash to view diagnostic codes. Here is an example of a fault code displayed on the in-cab display:
All fault codes are listed in our free Truck Fault Codes platform, which also includes repair information on how to fix these codes. You can access this platform at www.TruckFaultCodes.com, or you can visit the Apple iTunes or Google Play to get the app for your mobile device. Did we mention this is free?
Summary
Hopefully you found some useful information here regarding the WABCO OnGuard Active system. The key takeaways include:
The radar alignment procedure needs to be done quite often.
Codes are easy to read, and troubleshooting is available for free.
There are multiple options for performing the radar alignment procedure.
Diesel Laptops is here to help you with training, software, and support!